Why Dahlia Archer From Citadel Looks So Familiar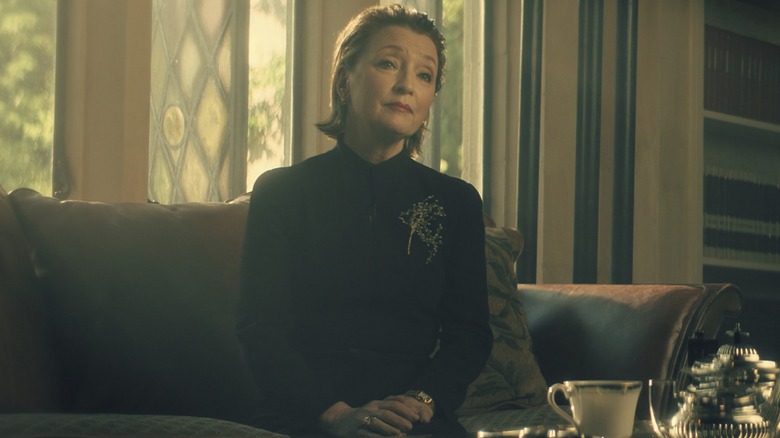 Amazon Studios
Contains spoilers for "Citadel" Season 1, Episode 1
Amazon Prime's sci-fi spy thriller series "Citadel" follows a pair of elite agents who lost their memories when their organization collapsed eight years ago and must now work together to regain their abilities and stop a global threat. It's a lot to handle, especially when you toss trust issues and love dodecahedrons into the mix.
That global threat is Manticore, a syndicate of wealthy elite somehow unsatisfied with the reach of their power. And it seems to be spearheaded by one Dahlia Archer, the British Ambassador to the United States. A convincing and vicious woman, her villainy is made all the more real thanks to the actor who plays her, Lesley Manville.
Although it's only in the last decade or so that the English actor has become more prevalent stateside, Manville has a stunning number of credits to her name – her on-screen résumé includes over 120 roles dating all the way back to the mid-1970s. That said, here are some of her highest-profile projects for American audiences.
Lesley Manville is Flittle, an incompetent pixie, in Maleficent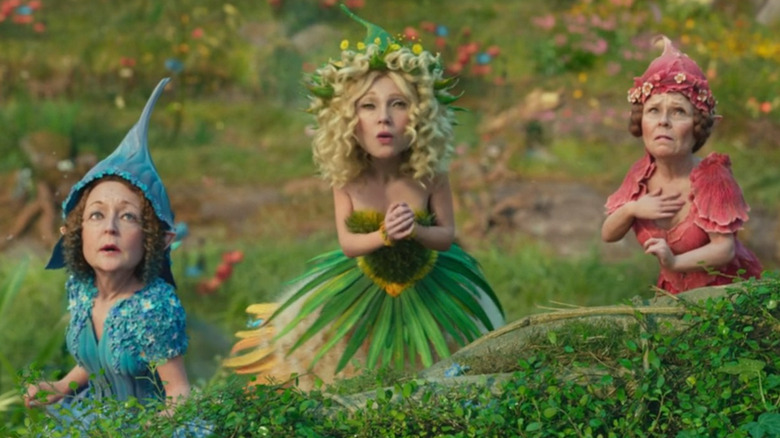 Walt Disney Studios Motion Pictures
Disney's live-action fantasy film "Maleficent" portrays the titular fairy in a very different version of the events depicted in Disney's "Sleeping Beauty." In this iteration, Maleficent (Angelina Jolie) is no great villain ... only a woman with a broken heart and a scarred body. Her afflictions were caused by an ambitious peasant boy who betrayed her love so that he could become king. To punish him, Maleficent curses his child, Aurora (Elle Fanning), on her christening day, causing the old duffer to exile his infant daughter to the woods under the "protection" of three witless pixies.
Lesley Manville portrays one of these pixies, Flittle, who is dressed in blue. Along with her sisters in duty, the green-garbed Thistlewit (Juno Temple) and the pretty-in-pink Knotgrass (Imelda Staunton), Flittle is hilariously bad at every single aspect of parental care, so much so that Maleficent, out of both necessity and genuine care, must step in to keep the young princess alive.
Manville reprised her role in 2019's "Maleficent: Misstress of Evil." It is currently unknown if she will return again for the as-yet-untitled "Maleficent 3" that is in development.
She played distrusting businesswoman Cyril in Phantom Thread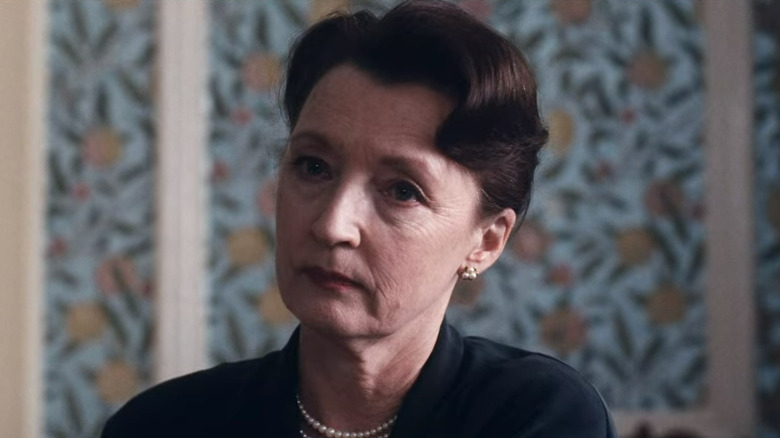 Focus Features
The historical drama "Phantom Thread" explores the relationship between obsessive and controlling fashion designer Reynolds Woodcock (Daniel Day-Lewis) and his muse, Alma (Vicky Krieps). Although he just wants to focus on his work, he shoots himself in the proverbial foot by choosing to marry her. They bicker constantly, leading them to the edge of divorce, but Alma, ambitious and stubborn, just can't accept returning to a life without a rich man by her side. So she poisons him not once but twice — not to kill him, though, only to keep him dependent upon her care. The whole thing's a mess.
Lesley Manville played Cyril Woodcock, Reynolds' sister who keeps the books while he does the work. She puts up with her brother's nonsense because it pays the bills, but it obviously grates on her soul. Initially, she's against her brother's choice of partner, but she eventually comes around, which just goes to show that you should always trust your first instinct about a person. Otherwise, your tool of a brother ends up being poisoned by wild mushrooms for the rest of his life. And where's the money in that?
Manville played cancer survivor Joan Thompson in Ordinary Love
The romantic drama "Ordinary Love" depicts an ordinary couple in an ordinary marriage that is threatened by an all too ordinary disease: cancer. The struggles begin when the wife, Joan (Lesley Manville), discovers a lump in her breast while showering. After receiving the diagnosis no one wants to hear, she undergoes surgery to remove the cancerous growth, chemotherapy that causes her hair to fall out, a double mastectomy, and finally, breast reconstruction surgery. Fortunately, her husband, Tom (Liam Neeson), is there for her through the entire process.
Sure, they bicker and fight, but that's only natural when two people are under such an extraordinary amount of stress for so long. While Tom is always positive in front of Joan, he is privately scared. Meanwhile, Joan sometimes puts on a brave face for Tom, but other times, she simply allows herself to mourn. But they fight for every ounce of joy they can muster, and in the end, Joan survives to live another day.
She was Ada, the queen of retail therapy, in Mrs. Harris Goes to Paris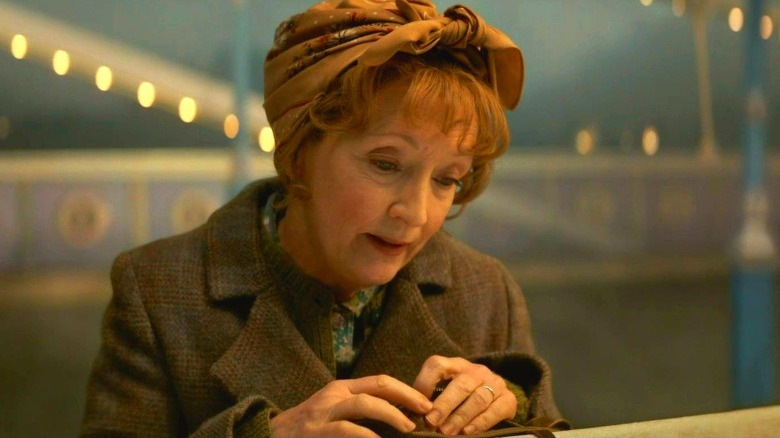 Focus Features
Set in 1957, the historical dramedy "Mrs. Harris Goes to Paris" follows widowed cleaning lady Ada Harris (Lesley Manville) as she travels abroad for the greatest medicine of them all: retail therapy. In London, one of the titular widow's clients shows her her Dior dress, and she decides that she really needs one too.
As luck would have it, Mrs. Harris finally receives her war widow's pension, including back pay, which she puts toward a trip to Paris to have her very own dress made. Along the way, she organizes a strike against Dior's failing leadership and helps a young couple fall in love based on their mutual interest in existential philosophy.
Mrs. Harris is a woman with a lot of heart, and that heart affects the people around her, so much so that when she lends her hardwon Dior dress to a struggling starlet who literally catches it on fire, the company immediately sends her a replacement. Isn't that just the sweetest thing?
Manville portrays Margaret, a royal second fiddle, on The Crown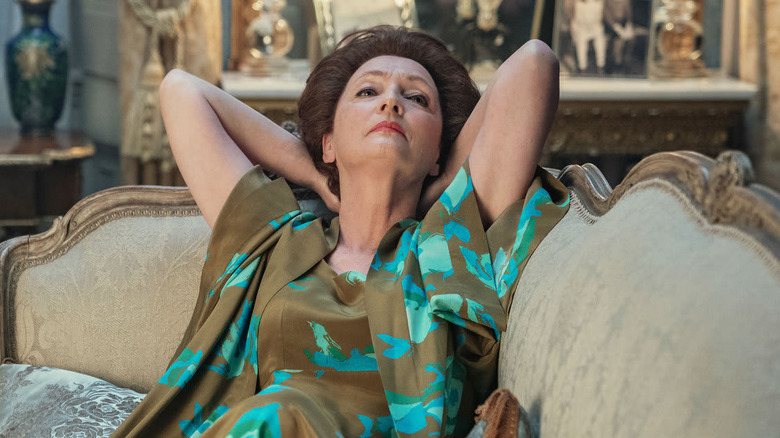 Netflix
Netflix's ongoing historical drama series "The Crown" follows the political and personal lives of the British monarchy from Queen Elizabeth II's marriage to Philip, Duke of Edinburgh, in 1947 to the beginning of the 21st century. "The Crown" is interesting in that it recasts many of its primary figures every couple of seasons to more accurately depict their real-life counterparts as they age.
For example, in Season 5 and the upcoming Season 6, Lesley Manville portrays Princess Margaret, the Countess of Snowdon and Queen Elizabeth II's younger sister. She's clever and outgoing yet endlessly exhausted by her older, more successful sister's dedication to royal tradition. But while her power is lesser, her freedom of expression is greater, which is just a fancy way of saying that Margaret can throw a mad rager from time to time, if she so chooses.