The Crown Season 6 Release Date, Cast, Plot, Trailer And More Details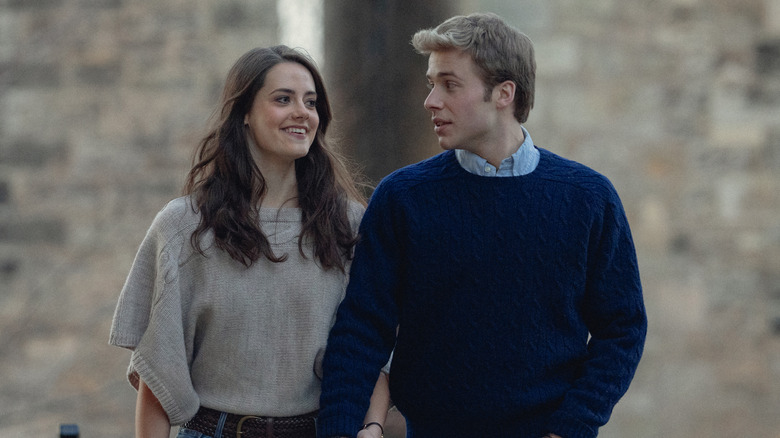 Justin Downing/Netflix
"The Crown" has enraptured viewers all over the world with its dramatic retelling of Queen Elizabeth II's reign. This isn't a tawdry soap opera, as it might have become in lesser hands — this is prestige drama at its best. The series has earned massive critical acclaim and an ocean of accolades, including a whopping 21 Emmy Awards.
The first five seasons of the series take viewers from the queen's 1947 wedding to the trials and tribulations of the '90s. While the events covered in this span of time are very literally world-changing, Season 6 promises to be even more explosive. This slate of episodes, which will conclude the series, ventures into the 2000s, where attitudes towards the monarchy fluctuated by the week, tabloids became almost obsessively fixated on the royal family, and the world underwent technological change on an unprecedented scale. Which famous faces will populate these final episodes? What events will the series focus on? And, above all, when will fans finally get to watch Season 6? Sit tight — we've got it covered. This is everything we know so far about Season 6 of "The Crown."
When will The Crown Season 6 be released?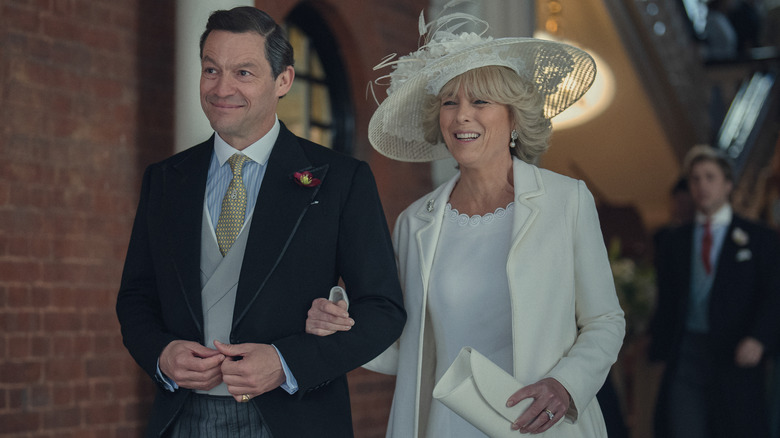 Justin Downing/Netflix
Fans of "The Crown" have spent months waiting patiently for news regarding Season 6's debut. Now, their long vigil is over. Part 1 of "The Crown" Season 6 hit Netflix on November 16, 2023, while Part 2 will debut a month later on December 14.
Many fans might be surprised by this — "The Crown" has never split a season into two parts before. It's not a perfectly 50-50 split, either: Part 1 consists of four episodes, while Part 2 will span six. When viewed as part of the wider streaming landscape, however, this decision is less surprising. Many different series have recently taken a bifurcated approach to releasing new seasons; "Stranger Things," for example, split its fourth season into two parts, while animated series "Invincible" will take a similar tack for its second season. "The Crown" is simply following an already established trend.
What is the plot of The Crown Season 6?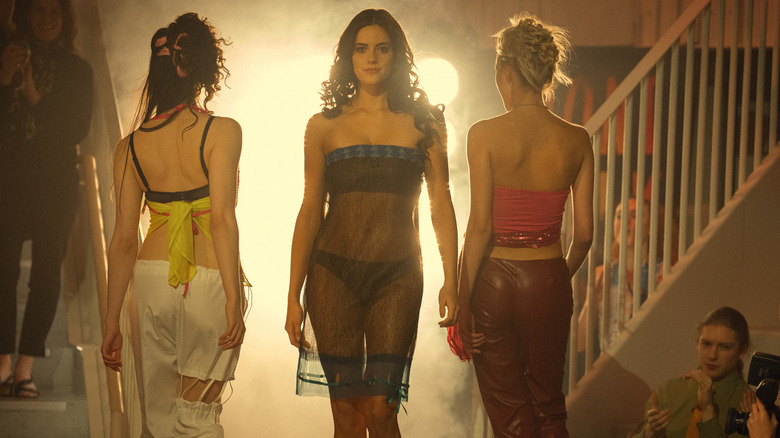 Justin Downing/Netflix
"The Crown" Season 6 covers an incredibly important period in the history of the British royal family: the late '90s and early '00s. Specifically, the season begins in 1997. The first four episodes delve into Princess Diana's devastating death. The second half of Season 6 will conclude the story in 2005, and refocus on the line of succession: Elizabeth, Charles, and William. Charles and Camilla Parker Bowles' wedding will provide a particularly important tentpole for the story. Fans have spent quite a lot of time with the couple by this point, who occupy a unique and deeply fascinating position in the story. 
They're not the only romance, either — Season 6 will also explore the early courtship between Prince William and Kate Middleton. Screencaps of the moment Kate caught his eye, courtesy of a daring fashion show ensemble, have already made waves. William and Harry's experiences following their mother's death, and the former's ensuing college years, will form a major part of the story. William is, after all, the future of the crown — a future that draws nearer every day.
Beyond everything, though, there is the queen herself. "The Crown" has always been, first and foremost, her story, and Season 6 will continue this tradition by exploring Elizabeth's transition into the 21st century. The 2002 deaths of Queen Elizabeth The Queen Mother and Princess Margaret, which changed the queen's life forever, will make especially major impacts. Notably, Season 6 will also be the first season to be produced after the real-world sovereign's death in 2022.
Who is starring in The Crown Season 6?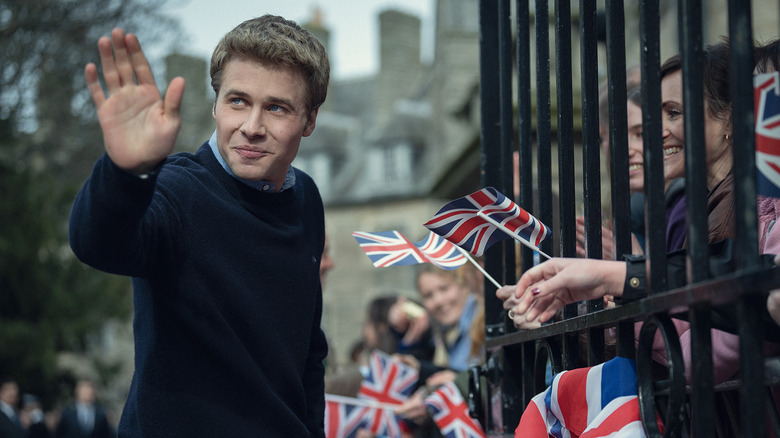 Justin Downing/Netflix
"The Crown" has earned effusive acclaim for all sorts of things, but its dazzling cast might be the single biggest inspirer of praise. For the most part, the actors who people Season 5 will be the ones we follow throughout Season 6. This means Imelda Staunton will continue in the role of Queen Elizabeth II, suceeding Claire Foy and Olivia Colman before her. You could hardly ask for three more incredible actors; each has done the role enormous justice. Portraying the iconic regent after her death was a unique experience, according to Staunton, who remarked (via Variety), "We carried on with as much dignity and grace as they have always done on 'The Crown' but, obviously, there was a very different temperature in the world ... we were all a wee bit sad."
Staunton will be joined by Jonathan Pryce as Prince Philip, Lesley Manville as Princess Margaret, Dominic West as Prince Charles, and Elizabeth Debicki as Princess Diana. This core group of actors brought Season 5 to thrilling life, and are poised to do it again in Season 6. According to West, filming Season 6 was a tad bit more relaxed, which surely came as a welcome surprise. The cast will be further rounded out by a mixture of returning talents and new faces. The former group includes Khalid Abdalla as Dodi Fayed, Claudia Harrison as Princess Anne, Bertie Carvel as Tony Blair, and Olivia Williams as Camilla Parker Bowles. The latter group includes Luther Ford as Prince Harry, Ed McVey as Prince William, and Meg Bellamy as Kate Middleton.
Is there a trailer for The Crown Season 6?
The trailer for the second half of "The Crown" Season 6 is incredibly poignant. It begins with the royal family having their portrait taken. William, who appears somewhat agitated, must be reminded to keep smiling — and not just for the portrait, as the trailer goes on to make clear. His star has risen as he's grown up, and the scrutiny it's brought — fraught with the memory of his late mother — makes life ever more complicated. Support isn't always easy to find, either; as Prince Charles notes, father-son relationships are complex among the royals. But new love is on the horizon, in the form of Kate Middleton. The 21st century is nigh, and ready or not, William must meet it.
As William looks ahead, Elizabeth looks back. Viewers get especially stirring glimpses of her as a young woman, riding in a convertible with her handsome husband and dancing with her sister among the crowds on V-E day. These moments gain even more weight as we see Princess Margaret in a hospital gown, facing the end of her life, and a coffin that might belong to the Queen Mother. Is Elizabeth satisfied with her life? Does the royal family have a future? These are the questions that lie heavily upon this trailer, and will guide the last half of the show's final season. It's sure to be a stunner.
What will The Crown Season 6 be rated?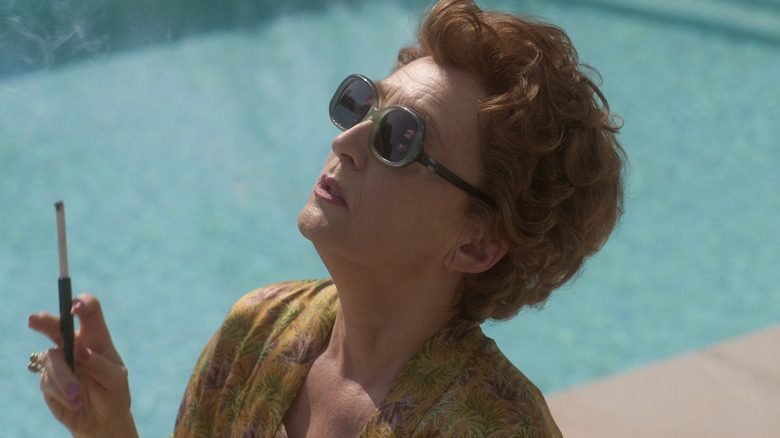 Netflix
Thus far, "The Crown" has been rated TV-MA, and Season 6 is no exception. TV-MA productions are intended for "mature audiences," which means they're considered to be unsuitable for viewers under the age of 17. Sexuality, violence, and coarse language may be present within a TV-MA show — or, in some cases, all three. As fans of "The Crown" know, it's one of those cases. Granted, "The Crown" doesn't feature a huge amount of graphic violence (especially when compared to many other series that earn this rating). But brutality is a fact in this series — consider the bombing death of Louis Mountbatten.
The other two factors are more often present on "The Crown." These are adult characters, after all, whose private lives have been tabloid fodder for decades. Season 5 faces this head-on, and Season 6 does the same. Because of this, "The Crown" isn't the sort of thing to put on when young children are running around. If, however, there's an older teenager with a keen interest in recent history in your life, you should use your best judgement regarding whether or not they can handle this celebrated series.