Workin' Moms Creator Catherine Reitman Almost Brought Frankie Back In Season 7
The TV series "Workin' Moms" follows the lives of four women as they juggle work and maternity in their 30s. The show's 7th season has been announced as its last. and it arrived on Netflix in late April.
In an interview with Variety, creator and showrunner Catherine Reitman, who also plays Kate Foster, was asked about the potential return of Frankie Coyne, played by Juno Rinaldi, in the show's final season.
Reitman replied that the problem with Frankie was that it isn't possible to have her on the show in just a small dose. She noted that having Frankie appear for a single scene, or in only a small part of the season, would backfire because the audience would just want more of her, rather than being satisfied with just seeing her involved a bit. However, having Frankie be a major part of the season was also not an option.
Thus, Reitman concluded, while the team put a lot of thought into whether or not to have Frankie be part of the series finale, they ultimately decided against it so that the show's fans wouldn't be disappointed with a brief appearance.
Reitman managed to get another major performer back for Season 7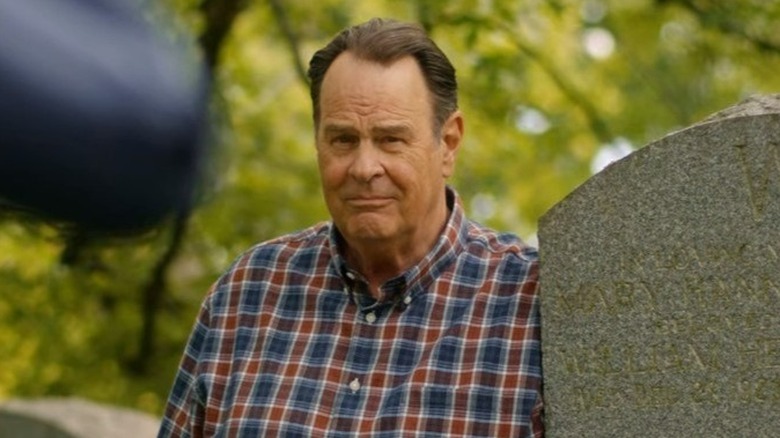 Netflix
While Juno Rinaldi didn't return as Frankie Coyne, another performer did, in the form of Dan Aykroyd, who plays the late father of Kate Foster. Catherine Reitman said that Aykroyd was happy to reprise his role for the show, and she spoke to him at the funeral of her own father, filmmaker Ivan Reitman. Ivan and Aykroyd worked together numerous times as well, most notably in the 1984 horror comedy "Ghostbusters."
Catherine Reitman went on to say that Aykroyd agreed very quickly when she pitched her idea for his character.  "My head spun, I was really moved by his commitment, and a part of me can't help but wonder if my dad was part of that choice, if he was there and helped me out," she said. As she worked on the scenes with Kate and her father at the cemetery, Reitman was reminded of her own father, whose passing was only a few months prior at the time. In addition to performing in the scene, Reitman also wrote it, and had her own father in mind when formulating the scene. Thus, being able to perform it with Aykroyd, who had such a longstanding professional relationship with Ivan Reitman, was a surreal experience, and a high point in Catherine's career.