The Staircase: The True Story Behind The HBO Crime Series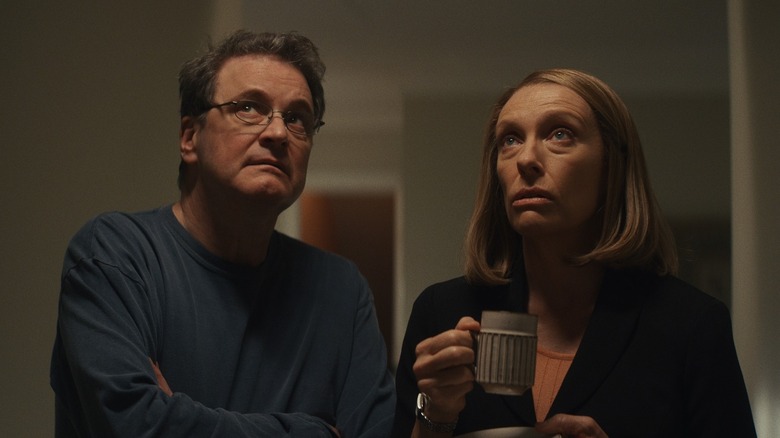 HBO Max
In 2022, HBO Max introduced its audience to the complicated and tumultuous trial of Michael Peterson through a dramatized miniseries starring Colin Firth as the novelist-turned-murder-suspect. The series made no conclusions about Peterson's innocence in the death of his wife, Kathleen (Toni Collette), and instead focused on how this case could have affected their family and their lives.
Of course, for marketing's sake at the very least, HBO's "The Staircase" was presented as a true crime whodunnit — an approach some may take issue with if they (like Peterson and his legal team) maintain that his wife's death was an accident. It may behoove viewers to revisit the facts of the case before or after watching the series, though they offer little closure. As would be true for any case where a man claims innocence while pleading guilty, we may never be fully confident about what happened on his staircase that night.
Michael Peterson ran a fraternity and worked for the government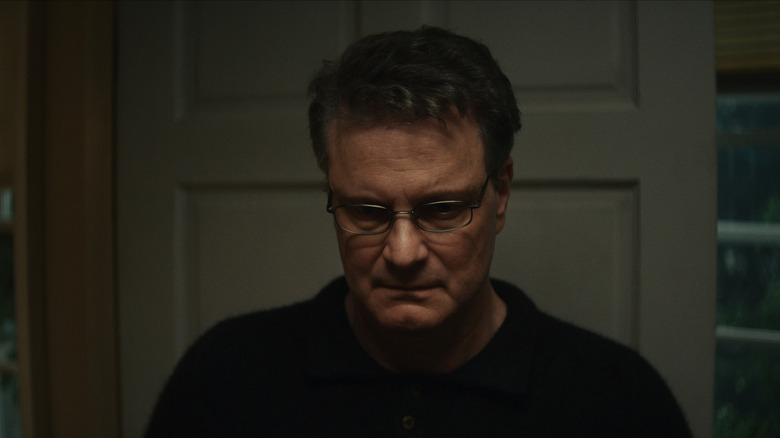 HBO Max
Peterson had been at least controversy-adjacent for most of his adult life, even before accusations of murder were beginning to come his way. In the early 1960s, he left his home state of Tennessee to attend North Carolina's Duke University, where he graduated with a bachelor's degree in political science in 1965.
In addition to severing as the editor of the prestigious college newspaper The Chronicle, Peterson was also president of Duke's Sigma Nu fraternity during its heated desegregation debate. The fraternity upheld segregation nationally in 1964, and wouldn't formally allow the admission of non-white or Jewish students until the late '60s, after which Sigma Nu was still subject to allegations of racism, homophobia, and brutal hazing (just ask Jon Hamm, who allegedly used the claw of a hammer to lead a pledge around the house by his genitals, among other brutalities).
After graduating, Peterson quickly began working for a think tank run by the U.S. Department of Defense that's sole purpose was to research ways to justify The Vietnam War (a task the DoD seemingly struggled with on their own, despite receiving nearly 10% of the U.S. GDP in 1967). He later served in the war himself as a Marine, though he was discharged after a severe injury. During his 1999 mayoral bid, Peterson claimed these injuries were sustained in combat, and that he was awarded two Purple Hearts as a consequence – in reality, he was in a car accident while stationed as a U.S. Military Police Officer in Japan after the war.
He was married twice, and was a father to five children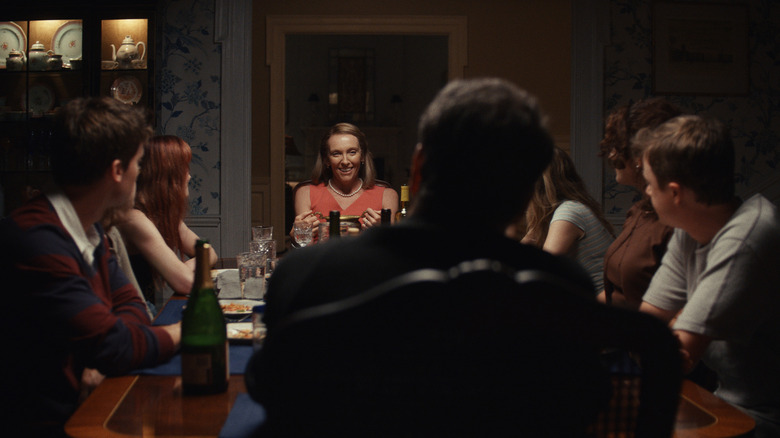 HBO Max
The Peterson family was an unconventional one, with five total children from different parents. While working for the government, Peterson married his first wife Patricia Sue, with whom he had two children. While living in Germany, the family became incredibly close with another family of four, the Ratliffs. After the tragic death of the Ratliff parents, Michael Peterson became their two children's legal guardian — he would later come under suspicion for the death of their mother, Elizabeth.
In 1987, Peterson and Sue parted and finalized their divorce, after which the former would quickly strike up a relationship with Nortel Networks executive Kathleen Atwater. They began living together in 1989 and were married eight years later. Atwater had one child from a previous marriage, to whom Peterson became a stepfather.
Peterson and Atwater lived with their now five children in Durham, where he would eventually mount a failed mayoral campaign and write for a local newspaper — his articles were extremely critical of state police, as well as Durham County D.A. James Hardin Jr. He also wrote and co-wrote a litany of fiction and non-fiction books dealing with war and politics. This quiet life was tragically upended by the death of Kathleen Atwater.
Kathleen Peterson (née Atwater) was found dead at the bottom of a staircase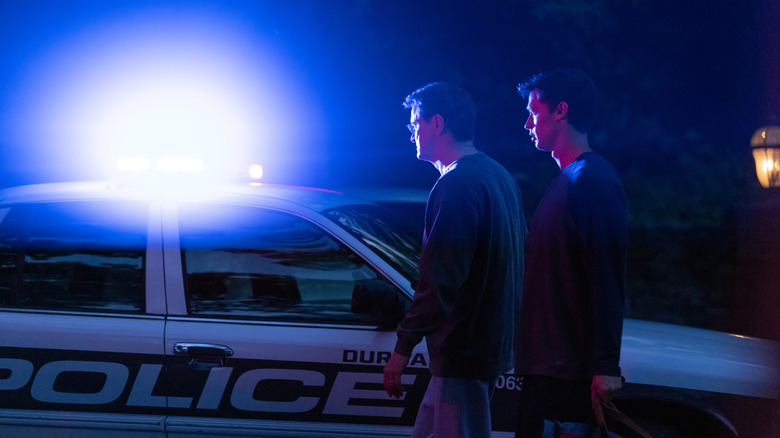 HBO Max
In December of 2001, Peterson called state police to his home, claiming to have found Atwater bleeding out at the bottom of a staircase in their home (he stated at the time that he had been outside of the house when her alleged fall had taken place). He quickly hypothesized that the incident had occurred as the result of mixing depressants (Valium) and alcohol.
Atwater's death was immediately shrouded in conflicting theories and reports, though, and Peterson became a prime suspect. While his defense team argued ferociously that the fall was an accident, the prosecution — led by James Hardin Jr. — believed Peterson had killed Atwater in an act of premeditated violence, striking her with a fireplace poker (though this specific instrument was later forensically ruled out as the murder weapon). Analysts from both sides of the case continued to produce conflicting findings throughout the trial, which was historically protracted by state standards. The state's autopsy, which provided possible evidence of foul play, shook Atwater's daughter's faith in Peterson's innocence.
The prosecution eventually argued that the death of Elizabeth Ratliff — who was also found dead at the bottom of a staircase — could have served as Peterson's inspiration for the alleged murder of Kathleen Atwater. Though Peterson was not on trial for Ratliff's death, an exhumation and second autopsy of Ratliff ordered by the prosecution did provide sufficient evidence to rule her cause of death as a homicide, and Peterson was the last known person to see her before her death.
Peterson was found guilty of premeditated murder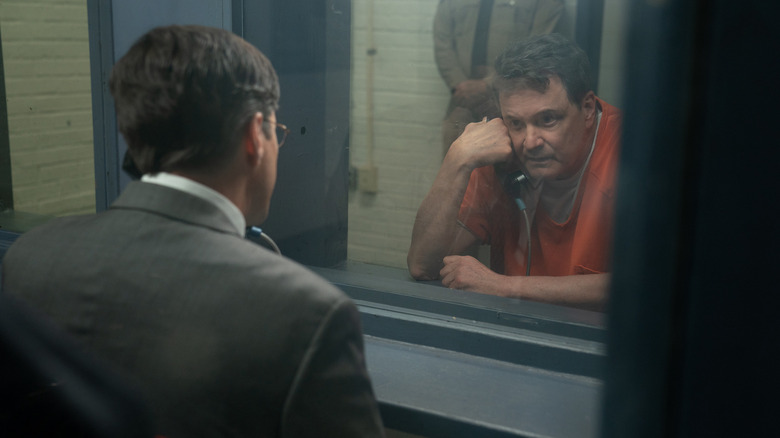 HBO Max
Peterson's jury ultimately found him guilty of Atwater's murder, and he was subsequently sentenced to life in prison. They also found that the murder was premeditated, even if just by a few moments, which allowed the judge to deny him parole.
The prosecution proposed that Peterson was motivated to take Atwater's life because he was hiding his homosexual identity and noted that he had taken out a $1.5 million life insurance policy on Atwater. The defense rejected the idea that Peterson's sexuality was anything but immaterial, as Atwater had apparently accepted Peterson's bisexuality and encouraged him to explore further. Family and friends also maintained throughout the trial that their marriage was a happy and stable one.
However, after Peterson's sexuality came to light, Atwater's sister withdrew her support of Peterson. Peterson's children (excluding Atwater's daughter) continued to believe his innocence after the trial — Atwater's daughter, on the other hand, filed a civil suit against Peterson, which was ultimately settled out of court for $25 million.
He is now a free man, though his innocence is still in question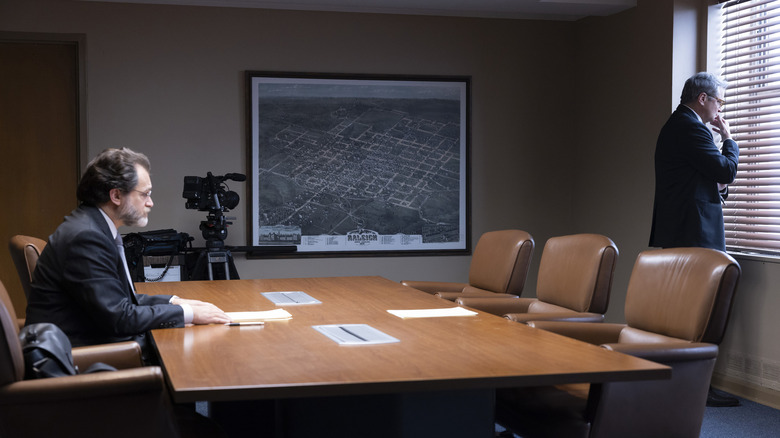 HBO Max
Peterson's waning legal team filed appeals to have his verdict overturned and his case retired, but none were successful until 2010. Though there were allegations of jury and prosecutorial misconduct, the key development seems to have been the discovery that the state's bloodstain analyst had given false testimony. In addition to allegedly perjuring himself in a court of the law, the witness was also found to be troublingly inadequate when it came to analyzing bloodstains. Because of this finding, all evidence found after this witness arrived at the crime scene was made inadmissible, as was his damning testimony.
Peterson's case was set to be heard once more in 2017, though he worked with prosecutors to put together a plea deal beforehand. A month before the retrial was to commence, Peterson's Alford plea (which admits no wrongdoing but acknowledges the amount of evidence against the defendant) for voluntary manslaughter was accepted by the court, and he was released on time served. He now lives his life as a free man, though speculation continues to swirl around his innocence (or possible lack thereof) in the deaths of Atwater and Ratliff — many believe him to be guilty in both cases.
After being released from prison, Peterson was ostensibly financially ruined by both the civil suit and the protracted legal battle. He moved into a house in Durham, NC, with his first wife, Patricia Sue. She died at the age of 78 in 2021, after suffering a heart attack. Of course, Peterson is aware of the numerous pieces of media covering his life story, and called the HBO series "an abomination."