10 TV Shows Like The Staircase That Crime Fans Need To Watch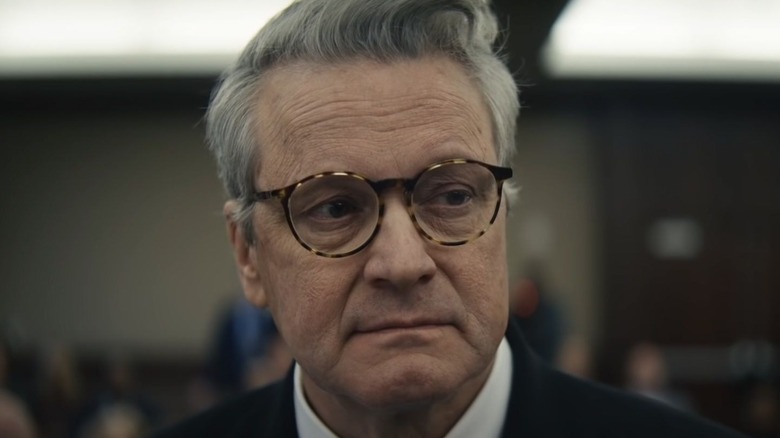 HBO Max
A perennially popular genre with a long history, the true-crime category has boomed on the big and small screen in recent years. More and more gruesome yet fascinating murder cases are discussed in articles, books, podcasts, or documentaries and then adapted into captivating miniseries with prestigious actors. That's exactly how the 2022 HBO Max show "The Staircase" came to exist. Antonio Campos' limited series is based on Jean-Xavier de Lestrade's 2004 docuseries of the same name, which followed and documented Michael Peterson's case for over 15 years.
The show stars Colin Firth as famous novelist Michael Peterson and Toni Collette as his wife Kathleen. She was found dead at the bottom of a staircase in their home in Durham, North Carolina, in December 2001. "The Staircase" differs from many similar series in a way that we not only get to see the aftermath and the consequences the Petersons suffered but also a dramatization of their past leading up to the devastating incident. The story also features the film crew of Lestrade and how they became emotionally involved with Peterson and his family while filming. It's an engrossing series with several breathtaking turns. It leaves the viewers to make their own minds up about what might've happened.
Here, we gathered 10 other brilliant TV shows that fans of "The Staircase" and the true-crime genre will surely appreciate.
Under the Banner of Heaven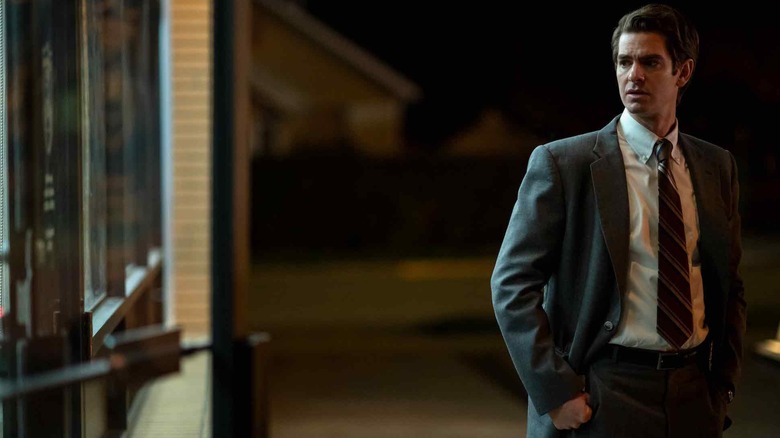 FX/Hulu
"Under the Banner of Heaven" is a limited series from this year that investigates the grisly murder of a Mormon mother and her infant daughter. Based on Jon Krakauer's nonfiction book of the same name, the plot follows Jeb Pyre (Andrew Garfield), a devoted Mormon detective who gets tangled in LDS (Latter-day Saints) fundamentalism as he desperately tries to find the killer of Brenda (Daisy Edgar-Jones) and Erica Lafferty in Utah in the 1980s. His partner in trying to solve the double homicide is Bill Taba (Gil Birmingham), an atheist Native American detective who serves as a moral compass to Pyre and his faith, often expressing the ugly truth that no one in this religious community wants to hear.
Given the extreme religious fanaticism portrayed in the series, "Under the Banner of Heaven" isn't an easy watch. The Laffertys often act on abnormal and deviant desires in the name of God. At times, it's infuriating to watch these characters commit real crimes and selfishly justify them as actions that a higher power told them to do. Still, it's also hugely rewarding to get immersed in this show thanks to its thorough depiction of Mormon history, thought-provoking writing, and compelling performances. Garfield is especially outstanding, a genuine spectacle throughout the seven episodes. True crime fans shouldn't miss it.
Defending Jacob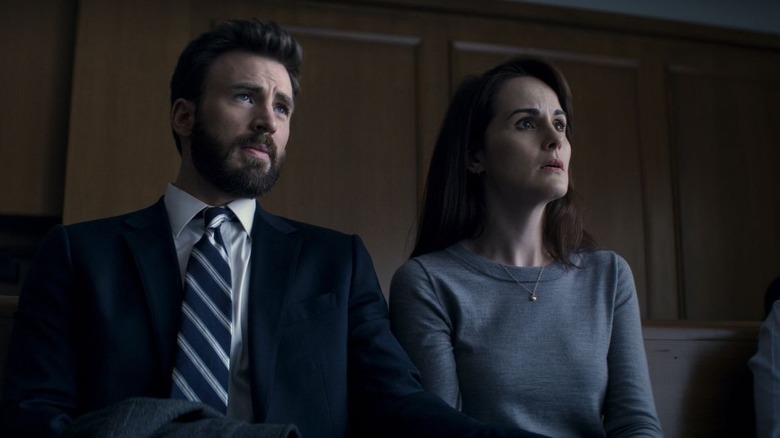 Apple TV+
Similar to "The Staircase," Apple TV+'s 2020 miniseries "Defending Jacob" also centers around a family as one of its members is accused of murder. Based on a 2012 novel by William Landay, the plot follows the suspect, Jacob Barber (Jaeden Martell), and his parents, Andy (Chris Evans) and Laurie (Michelle Dockery), as they try to prove his innocence. We witness how the community in Newton, Massachusetts, ostracizes them. As the story moves forward, Andy and Laurie start questioning their parenting and begin to have doubts about Jacob's blamelessness. 
"Defending Jacob" is a dazzling character study that makes us wonder whether one can truly know a person. From episode to episode, it constantly reminds us that it's impossible to fully know someone's thoughts, feelings, and desires, whether they're our child, parent, spouse, or closest friend. There's heavy trauma underneath the surface as the family is forced to dig up their past and face personal ghosts that they left behind for a reason. Critically, the series triggered some controversial opinions — despite having a rather positive consensus — but genre fans could find many likable aspects about this show. For one, an excellent performance by Chris Evans, who proves once again that his range is a lot wider than what we see in blockbusters such as "Captain America" or the "Avengers."
Big Little Lies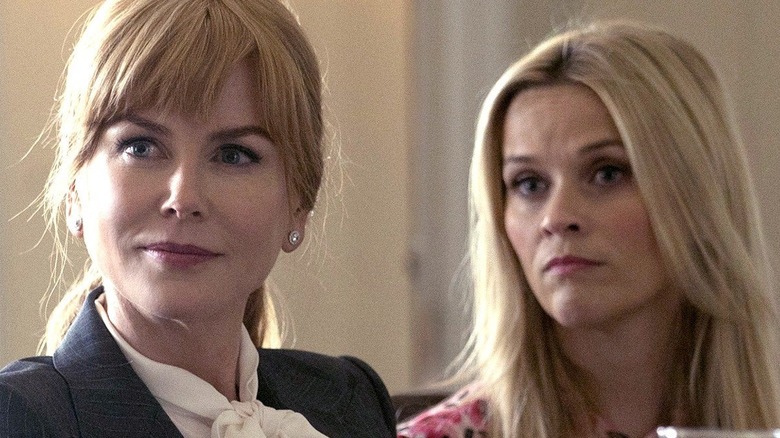 HBO
HBO's Emmy-winning series "Big Little Lies" isn't as somber as "The Staircase," but underneath its sunny Californian landscape, many disturbing secrets lie. The plot — based on Liane Moriarty's bestselling novel of the same name — follows a group of rich women and their families in Monterey, California, where they all get involved in a murder investigation. However, we have no clue who the victim or the perpetrator really is. As the police interrogate the locals, we see flashbacks that slowly unravel the truth these women hide behind the seemingly perfect and glamorous lives they lead as mothers and housewives.
The intricate relationships and personal dramas of these female characters eventually become much more interesting (and exciting) than the murder mystery. That's not too surprising given that the tightly written script is performed by an amazing cast that includes Reese Witherspoon, Nicole Kidman, Zoë Kravitz, Laura Dern, Alexander Skarsgård, Adam Scott, and Shailene Woodley, among others. That's not to say the investigation itself isn't intriguing. 
Critically and commercially acclaimed, "Big Little Lies" was an absolute triumph that won numerous awards and garnered dozens of nominations. Critics and audiences both loved it, and it quickly became one of those HBO hit series that is often cited in lists like this one. Trust us, there's a good reason for that.
The Night Of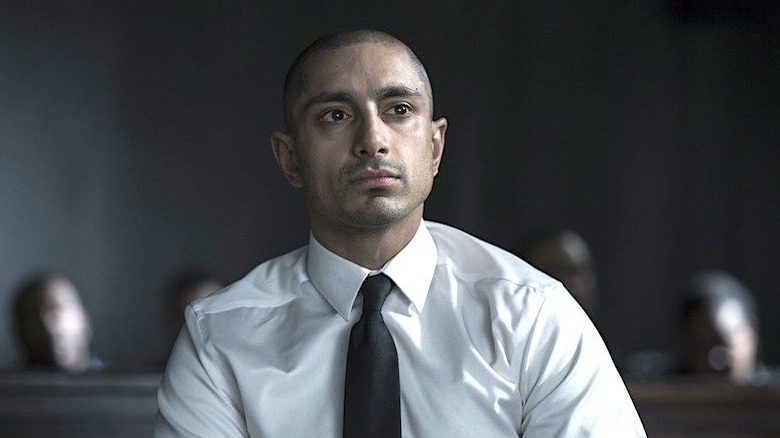 HBO
Based on the first season of Peter Moffat's British series "Criminal Justice," Richard Price and Steven Zaillian's "The Night Of" came at the perfect time to impress and succeed in 2016. It delivered a fascinating, obsession-worthy murder mystery. The 8-episode-long show gave a tremendous opportunity to Riz Ahmed to showcase his acting chops in a leading role as the wrongfully accused Pakistani-American Nasir 'Naz' Khan. Next to him is veteran actor John Turturro, who brings his best as the burnt-out lawyer John Stone.
The plot follows Naz after a sex and drug-fueled night out turns into a horrific nightmare. On his way to attend a party in New York, Naz meets a gorgeous and charming young woman, Andrea (Sofia Black-D'Elia), and ends up spending the night with her. Everything seems to be going well until he wakes up in her apartment to find Andrea stabbed to death, lying next to him. Due to the drugs he's taken, Naz has no recollection of what happened. He panics and leaves the scene, and shortly after, he's stopped by the police. He gets arrested for a traffic violation and spends the night in a cell at the police station, where things take a turn for the worse. After a body search, the detectives find a knife on him, and witnesses positively identify Naz as the man they saw with Andrea earlier. His only chance to get out of this mess becomes the state-provided defense attorney, John Stone.
"The Night Of" is a devastating study on the flaws of the American justice system. It illustrates how an innocent man at the wrong place at the wrong time becomes a product of his environment. It's a poignant and gripping story that critics and viewers consider a superb example in the genre.
Bloodline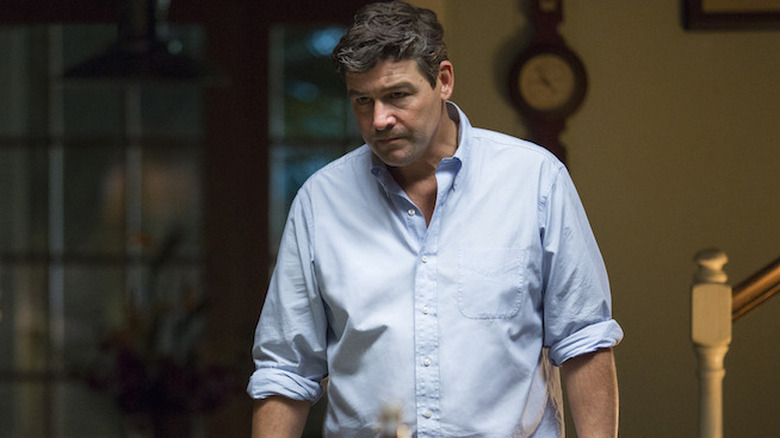 Netflix
Netflix's "Bloodline" still feels like a somewhat underappreciated program today. Arguably, it would've worked better as a tight miniseries instead of a stretched-out, 3-season-long show (it's best to forget that those extra 20 episodes exist). However, the debut season is a well-written, suspenseful crime drama nonetheless. It's centered around a family full of dark secrets, which gradually reveal themselves as the prodigal son returns home and heats up the tension and emotions between them.
The plot follows the Rayburn family, who owns a dreamlike seaside hotel in the Florida Keys. Robert (Sam Shepard) and Sally Rayburn (Sissy Spacek), who still run the business, are planning a big party to celebrate their 45th anniversary. All their kids are expected to show up except their son Danny (Ben Mendelsohn), the black sheep of the family who left home a long time ago. Now, he's back and wants to stay. However, his father and three siblings don't think it's a good idea. There's a past that better stay buried for all of their sakes, but Danny thinks otherwise, and his arrival brings nothing but ruin that eventually leads to the collapse of a family — and a murder nobody could predict.
Thanks to the terrific performances — especially from Kyle Chandler and Ben Mendelsohn — "Bloodline" is a bold and dark take on family and trauma in a place that most people consider paradise.  
The Act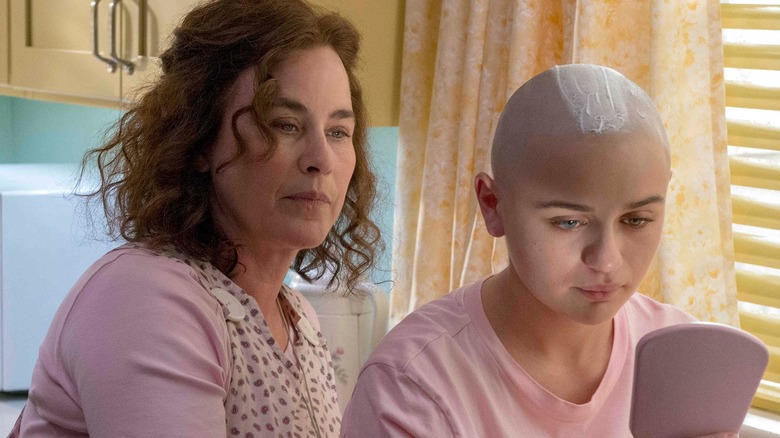 Hulu
Hulu's 8-part miniseries "The Act" is based on the unbelievable true story of Gypsy Rose Blanchard (Joey King) and her mother, Dee Dee (Patricia Arquette). It's a sickening, wild, and shocking case of Munchausen syndrome by proxy that no one would believe if it didn't actually happen. It's a gripping show that portrays abuse that is often challenging to watch.
The plot follows Gypsy and Dee Dee as they move to Springfield, Missouri, after a hurricane destroys their previous home. We quickly learn that Gypsy suffers from many serious illnesses that affect her physical and mental well-being. At first, it seems understandable why her mom is so controlling and overprotective, barely leaving her side all day. However, it doesn't take long to suspect that something more sinister is going on underneath the surface. As the secrets start to come out, we find ourselves faced with the type of horror that only humans can create — which inevitably leads to bloodshed.
"The Act" was a critical and commercial success. Arquette won a well-deserved Primetime Emmy as Outstanding Supporting Actress in a Limited Series, and King was also nominated for her role as Outstanding Lead Actress in a Limited Series in 2019.
Unbelievable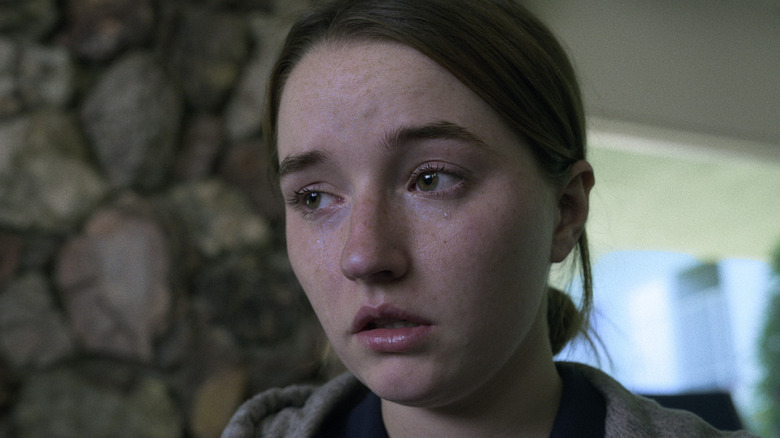 Netflix
Netflix's 2019 miniseries "Unbelievable" isn't about murder, but it's based on one of the most gripping true crime stories of the last ten years. Inspired by a 2015 Pulitzer Prize-winning news article by T. Christian Miller and Ken Armstrong, "An Unbelievable Story of Rape," the series painstakingly details the investigation of a serial rapist who assaulted women of different ages and races over several years. Marie Adler (Kaitlyn Dever) is one of the victims. After coming forward to the police, she changes her testimony and claims the rape never happened to escape the relentless questioning and public scrutiny that come with such an accusation. It's her story that ultimately provides a crucial clue to detectives Karen Duvall (Merritt Wever) and Grace Rasmussen (Toni Collette). They begin to chase after a perpetrator whose sexually charged attacks on women in different towns simply weren't connected by the police before.
"Unbelievable" is a smart show that handles a delicate and gruesome subject with sensitivity and care. Essentially, it walks a fine line between portraying a troubling crime and giving women a chance to be heard without backlash and judgment. No surprise, the show was praised by critics and collected four Primetime Emmy nominations, including Outstanding Limited Series and Writing.
If you or anyone you know has been a victim of sexual assault, help is available. Visit the Rape, Abuse & Incest National Network website or contact RAINN's National Helpline at 1-800-656-HOPE (4673).
The Killing (US)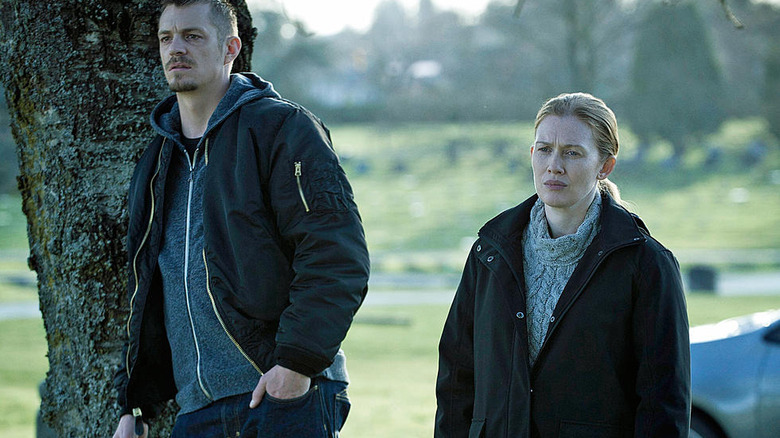 AMC
Veena Sud's "The Killing" — based on the Danish TV series "Forbrydelsen" — is one of the most addictive crime shows out there. Besides implementing essential neo-noir elements, the series' greatest appeal is its character-driven plot that always emphasizes victims and their personal drama. The first two seasons deal with the brutal murder of a young girl, Rosie Larsen (Katie Findlay), in the rainy and cold town of Seattle, Washington. The two main characters are homicide detectives Sarah Linden (Mireille Enos) and Stephen Holder (Joel Kinnaman), whom we follow as they investigate the leads that point to high places and powerful people. Seasons 3 and 4 explore two other murders — unrelated to Larsen — and the plot becomes more focused on Linden and Holder's relationship and personal lives as they both struggle with the consequences of their actions.
Although we've seen many exceptional crime shows about murder mysteries since 2011, there are only a few that managed to deliver the same emotional depth that "The Killing" did over 10 years ago. Season 1 received 6 Primetime Emmy nominations, and the pilot was AMC's second most-watched premiere at the time. (It drew in an estimated 2.7 million viewers). If you enjoyed "The Staircase" and its empathetic portrayal, chances are high that you'll love this series even more.
The Jinx: The Life and Deaths of Robert Durst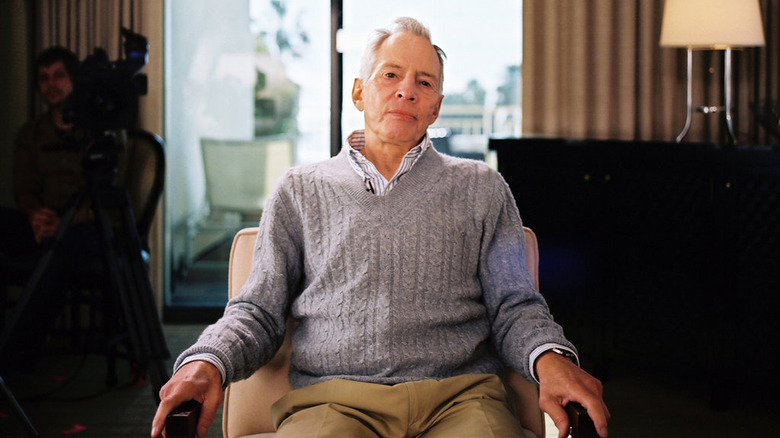 HBO
"The Jinx" is somewhat of an exception on this list. It's an actual true crime documentary by Andrew Jarecki that investigates the unsolved 1982 disappearance of Kathleen McCormack and the death of Susan Berman and Morris Black in 2000 and 2001 — cases that were all linked to real estate heir and millionaire Robert Durst. The most riveting aspect of it, though, is that Durst himself agreed to participate and appear in the series (previously, he tried to avoid talking to the press as much as possible). Jarecki and his team present the three cases to us in thorough and cinematic detail, with an addition of 20 hours of footage of Durst himself talking about his past and relationships with these women.
Durst's life story can easily be called stranger than fiction because everything he did and what happened to him seems so unreal, so unimaginable, that you could barely believe it in any other form of storytelling. Interestingly, Jarecki made a feature film inspired by Durst's life in 2010 ("All Good Things") with Ryan Gosling in the leading role, which the millionaire praised highly after its premiere. That movie doesn't compare to "The Jinx," which tells a gripping story that will impress, fascinate, and deeply disturb any fans of the crime genre. Simply put, there's no other documentary like it.
American Crime Story: The People v. O.J. Simpson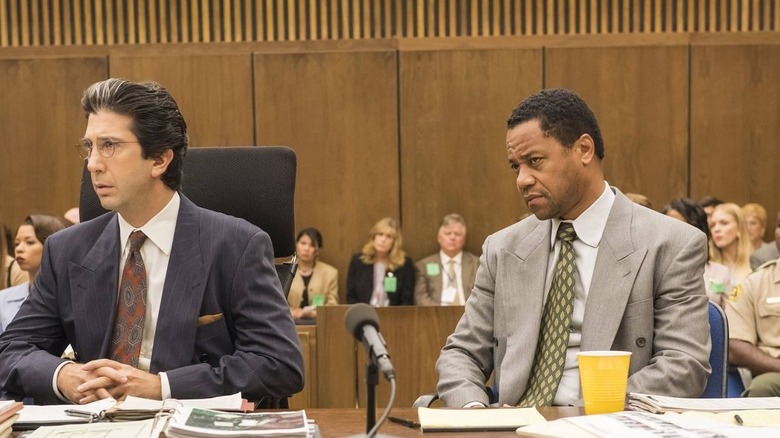 FX
It's undeniable that O.J. Simpson's criminal trial in the mid-90s was one of the biggest media circuses in American history. Naturally, adapting it to the big or small screen is a massive, grueling, and overwhelming task for any filmmaker. So many details, so many aspects, so many... everything. However, Scott Alexander, Larry Karaszewski, Sarah Burgess, and Ryan Murphy did the impossible in a 10-part TV show that thoroughly captured the case and the people involved.
Although the outcome of the trial won't surprise anybody at this point, "The People v. O.J. Simpson: American Crime Story" works hard to portray the human beings behind the public figures on both sides of the case. The adaptation is as factual as it can be but also leaves space for commentary about race, gender, and fame. Cuba Gooding Jr. is phenomenal as Simpson, full of swag and pretense. The rest of the cast of extremely talented actors is arguably even better. Sterling K. Brown basically built his career on the role of prosecutor Christopher Darden, and Sarah Paulson's Marcia Clark is a perfect match. Besides the outstanding performances, what really makes this series a must-watch is the writing, which successfully covers the most significant aspects of the long trial and goes further to show us the true emotions and drama that surrounded it all. "The People v. O.J. Simpson" is a mandatory watch for every true-crime fan, whether they saw the real trial all those years ago or not.