Who Did Tyler Sanders Play In 9-1-1: Lone Star?
On the "9-1-1: Lone Star" Season 3 episode "Impulse Control," enraged dad Al (Larry Joe Campbell) tries to attack a fast food cashier through the drive-through window and gets stuck. He then enacts a similar attack later in the episode, and in the process, he becomes a viral sensation and inadvertently humiliates his wife and his son Brian.
Young actor Tyler Sanders played teenager Brian on the Fox show in 2022, but he'd already racked up 19 credits on IMDb by the time he was 18 years old. His first screen appearance was in "JLW Academy" in 2015, and he appeared in a series of short films until guest starring in "Fear The Walking Dead" in 2017. Sanders later appeared on shows like "The Rookie" and in movies like "The Price We Pay."
At only 17, Sanders was even nominated for a Daytime Emmy Award for the Amazon series "Just Add Magic: Mystery City." However, tragedy struck the young performer just as his career was starting to take off.
Sanders died of an overdose aged 18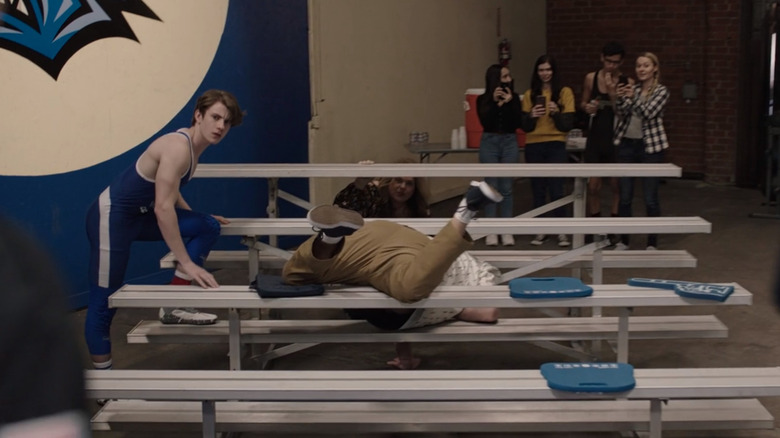 Fox
Tragically, just as Tyler Sanders was starting to gain a foothold in Hollywood, the teenage actor died in 2022 of an accidental fentanyl overdose. His agent Pedro Tapia called Sanders "a talented actor with a bright future."
His family similarly released statements to the press mourning him and shared that they hoped his death would shine a light on common struggles with depression and mental illness. His father David Sanders said, "Tyler fell into drug use, not as a way to have fun socially, but rather as an attempt to overcome his profound mental health struggle."
Similarly, Sanders' mother wrote in a statement, "Tyler had a strong support system and still could not overcome his persistent depression. Perhaps because of his depression, Tyler sought out deep connections and to bring those around him joy." Hopefully, the world won't lose as many amazing talents in the future, and mental health problems and addiction will be treated effectively. 
If you or anyone you know needs help with addiction issues, help is available. Visit the Substance Abuse and Mental Health Services Administration website or contact SAMHSA's National Helpline at 1-800-662-HELP (4357).