The Schmigadoon! Cast's Dream Guest Stars For A Possible Season 3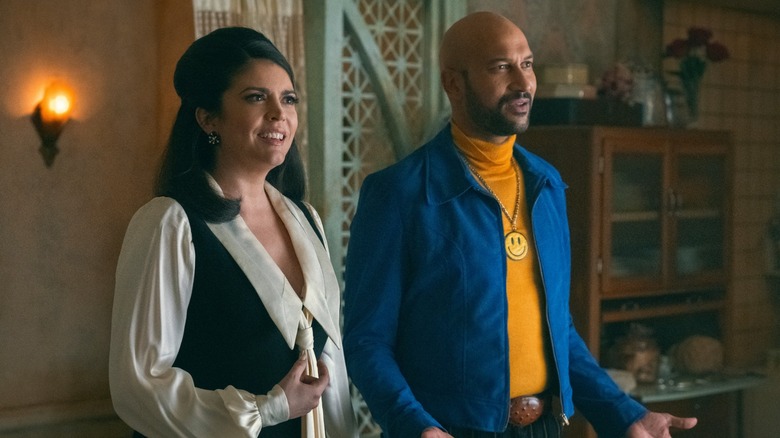 Apple Tv+
While a Season 3 of the Apple TV+ musical "Schmigadoon" hasn't been announced yet, the popularity of the show seems to suggest it's most likely going to come. Four of the show's cast members, Cecily Strong, Dove Cameron, Aaron Tveit, and Keegan Michael-Key, let Variety know who they'd like to see in the next season, should it come to pass. Most of the talent they named have so much Broadway star-power it may even be too much for one season to handle.
"Schmigadoon" is about two MDs from New York, Melissa (Strong) and Josh (Michael-Key), who go on a backpacking trip to rekindle the flame in their stagnant relationship. Still unhappy, they stumble upon a magical town called Schmigadoon. 
The town functions like a Golden Age-style musical, and the couple find out they can't leave until they unlock the true love between them. While Season 1 was inspired by the sunnier musicals of the '30s, '40s, and '50s, Season 2 takes its inspiration from the grittier and sexier musicals from the '60s and '70s.
One actor who would fit it according to Cameron is Annaleigh Ashford. Ashford is known for her roles in such Broadway shows as "Wicked" and "Legally Blonde." She went on to win a Tony Award for starring in "You Can't Take It With You" during its 2014-2015 run. 
"One of the most brilliant things I have ever seen is Annaleigh Ashford in 'Sweeney Todd,'" Cameron said. Cameron's co-star Aaron Tveit wholeheartedly agrees, saying, "Annaleigh would be amazing. She's so funny."
Guest star dream casting from the current cast includes many Tony Award winning divas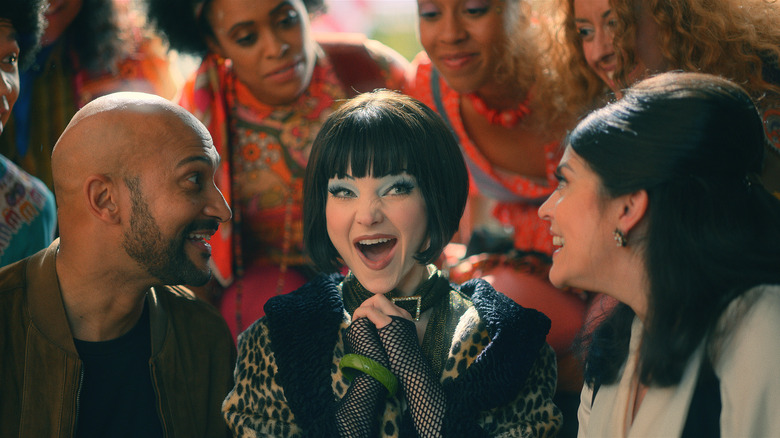 Apple TV+
Keegan Michael-Key added his picks of Audra MacDonald and Laura Benanti to the list for Season 3 of "Schmigadoon." MacDonald is a six time Tony Award winner  and is in the American Theater Hall of Fame. Meanwhile, Benanti won a Tony Award for her role of Louise in a 2008 revival of "Gypsy." 
"If they could be part of our world," Michael-Key said, "I think that would be amazing."
Cecily Strong added that she'd like to see a trio of classic Broadway actors and one star tearing up the musical scene at present. Her list includes Billy Porter, Faith Prince, Bernadette Peters, and Alex Newell. 
Porter was nominated for a Tony Award in 2013 for playing the role of Lola in "Kinky Boots", and Prince won a Tony Award for playing Miss Adelaide in a revival of "Guys and Dolls" from 1992. Peters also won a Tony Award for "On The Town," "Song and Dance," and "Annie Get Your Gun."
Meanwhile, Newell burst onto the scene in "Glee" in 2012, and they are best known for their role in the hit NBC show "Zoey's Extraordinary Playlist." They are currently on Broadway starring as Lulu in "Shucked." Cecily Strong didn't want to limit her picks to just those stars, saying anyone is welcome to the show.