Schmigadoon! - What We Know So Far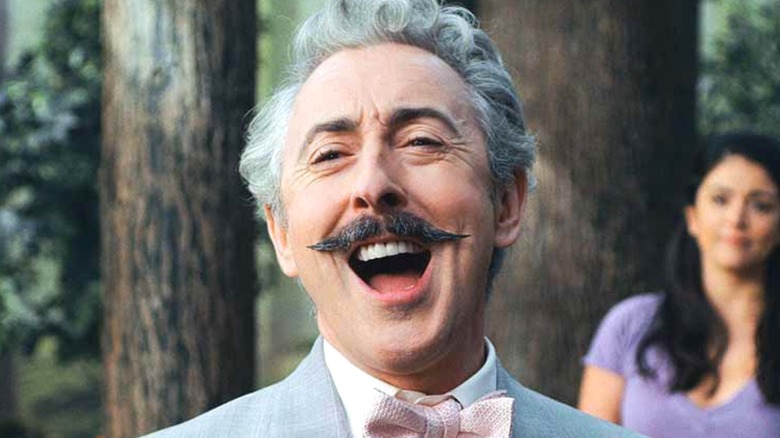 Apple TV+
There are dozens of new sitcoms available to watch at any given time, but musical sitcoms are a much rarer bird. Whenever a new one comes out, it's big news for musical fans. So, if you're still mourning the cancellation of shows like "Crazy Ex Girlfriend," or "Galavant," or even "Glee," here's your new favorite title: "Schmigadoon!", the upcoming series on Apple TV+.
According to The Hollywood Reporter, "Schmigadoon!" is described as "'Groundhog Day' meets 'Enchanted.'" It follows a modern couple on a backpacking trip who find themselves trapped in a magical town that's straight from a 1940's studio musical like, well, "Brigadoon."
While "Schmigadoon!" is definitely a parody of musicals, the series should also make fans of musicals happy, it has a cast full of Broadway performers, and its creators, Cinco Paul and Ken Daurio, have plenty of musical-writing experience. Here's everything we know so far about your next musical obsession.
What's the release date for Schmigadoon! season 1?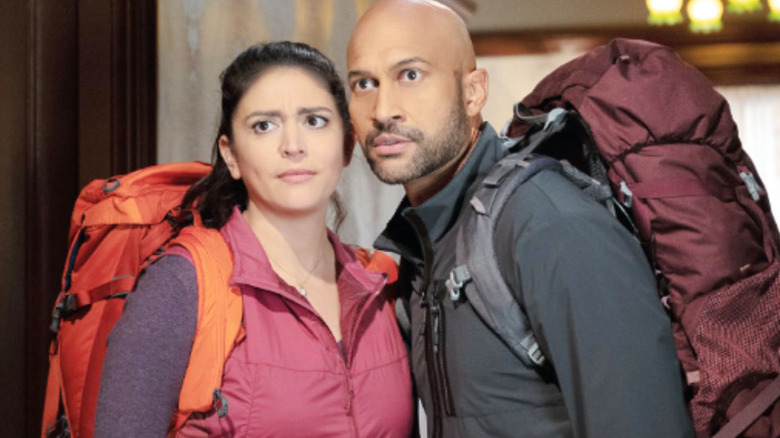 Apple TV+
As reported by Deadline, the six-episode first season of "Schmigadoon!'" will premiere on Friday, July 16, 2021. Apple is making the first two episodes available on that day. The remaining four episodes will be available on Fridays.
You'll need an Apple TV+ subscription to watch the show, but there are many different ways you can get one. A standard subscription comes with a seven-day free trial and costs $4.99 per month. But if you've recently purchased an Apple device, you might be eligible for one free year of Apple TV+. This is a limited time offer that's available to customers within three months of purchasing an iPhone, iPad, iPod touch, Apple TV, or Mac. Finally, Apple TV+ is part of Apple One, a subscription bundle to six different Apple apps. Even better, the first month of Apple One free when you sign up.
You'll also need a compatible device. If you don't have an Apple TV or another Apple device like an iPad or an iPhone, Apple TV+ is compatible with many different Smart TVs (Sony, Vizio, Samsung, LG), game consoles (PlayStation, Xbox), and streaming devices (Roku, Amazon Fire).
Who's in the cast of Schmigadoon! Season 1?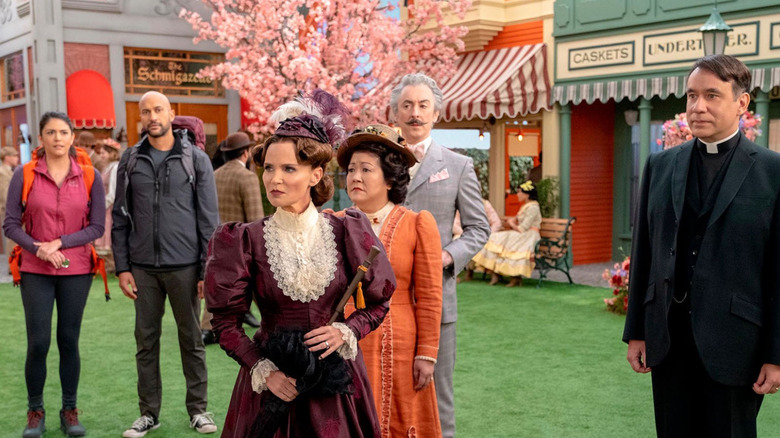 Apple TV+
As both a sitcom and a musical, the cast of "Schmigadoon!'" is packed with both comedians and Broadway veterans. Per Deadline, "Saturday Night Live" cast member Cecily Strong and "Key and Peele" alum Keegan-Michael Key star as the two main characters, Melissa and Josh, a couple who are trying to reignite the passion in their relationship. Melissa is the more romantic of the two, while Josh is practical.
Both characters have rivals for their partners' affections. Aaron Tveit plays the town's bad boy Danny Bailey, who instantly falls for Melissa, while Dove Cameron's Betsy is the farmer's daughter who gets a crush on Josh. 
Rounding out the cast are Alan Cumming, who plays Mayor Menlove, the leader of the town "with a secret (and a song) in his heart." Meanwhile, "Avenue Q" alum Ann Harada plays his loving but oblivious wife, Florence. "SNL" alum Fred Armisen plays the "mild-mannered" Reverend Layton, while Broadway and Hollywood legend Kristen Chenoweth is his "morally superior" wife, Mildred. Jaime Camil is cast as Doc Lopez, the handsome town physician with an "icy heart." There's also "30 Rock" star Jane Krakowski, who plays The Countess, a kooky aristocrat who wants to marry the doctor. Finally, there's Ariana DeBose as Emma Tate, a woman whose 21st century attitude doesn't fit in with her neighbors.
What's the plot of Schmigadoon! season 1?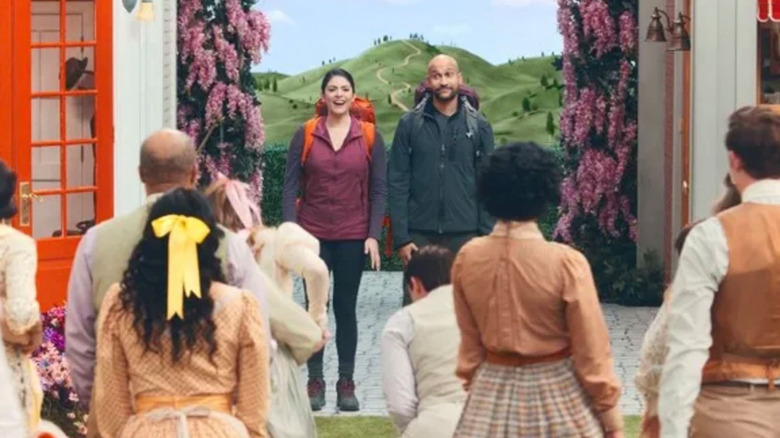 Apple TV+
Melissa and Josh are a couple who decide to take a backpacking trip to Europe to fix their struggling relationship. On the trip they stumble on Schmigadoon, an entire town that's straight out of a 1940's studio musical. Melissa and Josh soon discover that they're physically unable to leave the town until they find "true love." 
As a musical sitcom, there will obviously be music. All of it is written by Cinco Paul, the co-creator and showrunner. Paul and his co-creator Ken Daurio have written many musicals before, including a musical adaptation of their 2001 comedy "The Bubble Boy." The Hollywood Reporter also indicated that aspects of the show may be animated, although that's unconfirmed.
That's a pretty general description that leaves plenty of room for surprises. Will Melissa and Josh fall back in love with each other, or will they find more suitable partners among the people of Schmigadoon? There's also plenty of potential drama among Schmigadoon's residents themselves. Clearly a lot is going to be packed into those six episodes.