Stars Who Got Famous On SNL Despite Never Being Cast Members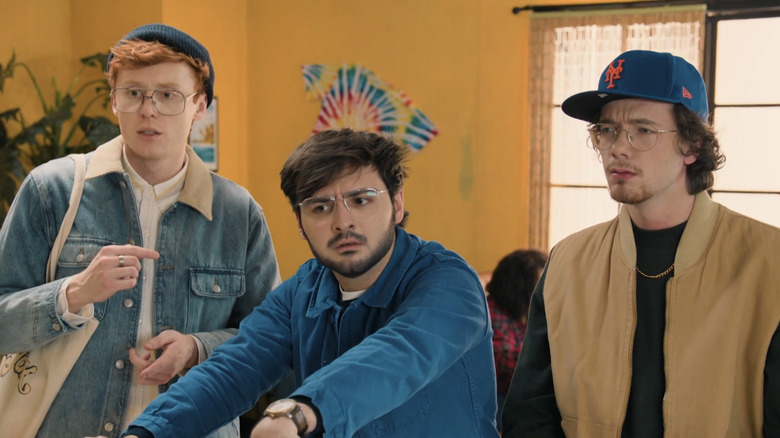 NBC
From the very beginning, being a cast member on "Saturday Night Live" has been a ticket to fame. Many (if not most) of the brightest comedy stars of the last half century first made their mark on "SNL," from Chevy Chase (who famously left the show for Hollywood after the first season), Bill Murray, and Eddie Murphy to Tina Fey, Amy Poehler, and Kate McKinnon. The show's spotlight shines so bright that it can turn a nobody into a household name in the space of just a few minutes, whether it's Chris Farley auditioning to be a Chippendales dancer or James Austin Johnson's loopy, digressive take on Donald Trump.
But that influence doesn't stop at cast members. "SNL" has always been an old-fashioned variety show, full of musical acts, stand-up comedy, short films, and even an occasional muppet. The main cast is just one part of what makes the show so special. Plenty of performers have found breakout success on "SNL" without officially being a Not Ready for Prime Time Player. Some are writers who made the leap to on-camera roles, some are comedians whose legacies are tied up with the show's early years, while others are oddities who just happened to capture the public's attention at a certain moment and rode that wave to pop culture immortality. Let's take a look at some of the most well-known "SNL" non-cast members.
Don Pardo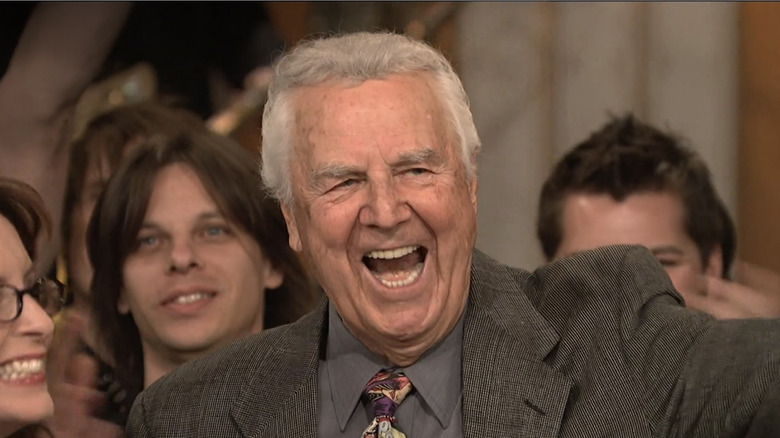 NBC
Despite the young, hip vibe of its earliest seasons, "SNL" has always been steeped in the language and tropes of the golden age of television. Beyond its constant stream of game show and commercial parodies, one of the program's strongest connections to that previous generation was hiring longtime radio and television announcer Don Pardo as the voice of the show. Pardo's warm but authoritative baritone was a constant presence on television through the 1950s and '60s, announcing and narrating specials, sports events, and especially game shows like "The Price is Right" and "Jeopardy!" On "SNL," he brought that same gravitas to every episode, even when introducing such ridiculous sketches as "Theodoric of York, Medieval Barber" or another message from Tonto, Tarzan, and Frankenstein.
But as the years went on and "SNL" went from an upstart to an institution, so too did Pardo. In 2002, then-newcomer Amy Poehler announced herself as a star by having Pardo do it for her. She finished her verse in a comedy rap battle sketch by shouting, "Say my name, Don Pardo!" He rarely took any on-camera roles on the show, but his iconic voice was one of the few consistent elements on "SNL" for decades. Pardo stuck with the job well into his nineties and recorded his final seasons (the show's 39th) remotely from his home in Arizona. He died in August 2014, just a few months after his final episode. Former cast member Darrell Hammond took over the announcer role in Season 40 and has remained in the booth ever since.
Andy Kaufman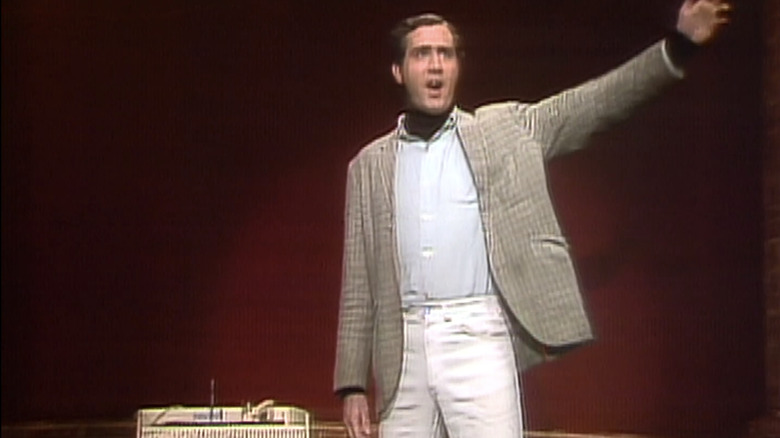 NBC
About 15 minutes into the very first episode of "SNL," Don Pardo announces, "And now, Andy Kaufman." The comedian stands on stage in front of a red curtain with a small record player next to him, nervous and sweaty with a deer-in-the-headlights expression. Silently, he starts the record player; it's the "Mighty Mouse" theme song. Kaufman stands still as the music plays until Mighty Mouse exclaims, "Here I am to save the daaaaay!" Then Kaufman breaks out into a full-body lip sync performance before returning to his nervous stillness until the refrain comes around again. It's an iconic moment for both "SNL" and Kaufman, which the 1999 Kaufman biopic "Man on the Moon" recreates almost verbatim.
Kaufman was a fixture on "SNL" in the early years. Just a few episodes after its premiere, he returned with host Candice Bergen and debuted the "Foreign Man" character that would launch him to sitcom stardom on "Taxi." Even in these more whimsical bits, Kaufman worked to provoke his audience, using silence and a kind of rehearsed incompetence to make them uncomfortable. This practice grew more aggressive over time, as in his later appearance when he transformed into an anti-feminist pro wrestling heel challenging women to matches in the name of misogyny. The wrestling matches provoked a strong reaction. Executive producer Dick Ebersol wanted Kaufman banned from the show, and audiences agreed, voting him off in an apparently real call-in campaign held during a 1983 episode. Per The Hollywood Reporter, Kaufman died of lung cancer just a year and a half later in 1984, though conspiracy theories that he faked his death have circulated ever since.
Albert Brooks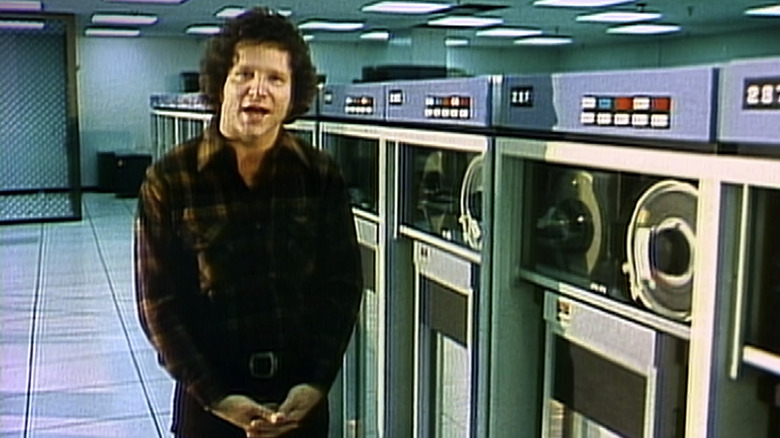 NBC
Despite being a famously live production, "Saturday Night Live" has always made room for pre-taped sketches. But the show's initial foray into short films was something a little different. For the first several episodes of Season 1, 10 minutes or so were set aside in the back half of the broadcast for a comic short written by, directed by, and usually starring comedian Albert Brooks.
Brooks produced six shorts in total. Like Jim Henson's "Dregs and Vestiges" Muppet sketches from that first year, they aren't quite on the wavelength of the rest of the show, even at such an early stage when "SNL" was still figuring out what it wanted to be. The Not Ready for Prime Time Players are noticeably absent from the films, for one thing — an error that later short film experiments (like the unexpectedly poignant "Schiller's Reel" series) would correct. But while the shorts don't feel much like "SNL," they do feel very much like Albert Brooks.
Already a well-established comedian at the time thanks to appearances on "The Merv Griffin Show" and "The Tonight Show," this was Brooks' first major foray into directing. The shorts provide a glimpse into the style and themes he would later finesse in his classic films "Modern Romance," "Lost in America," and "Defending Your Life," as well as the development of Brooks' cinematic persona — neurotic and smarmy, simultaneously polite and aggressive, and condescending yet desperate for approval.
Mr. Bill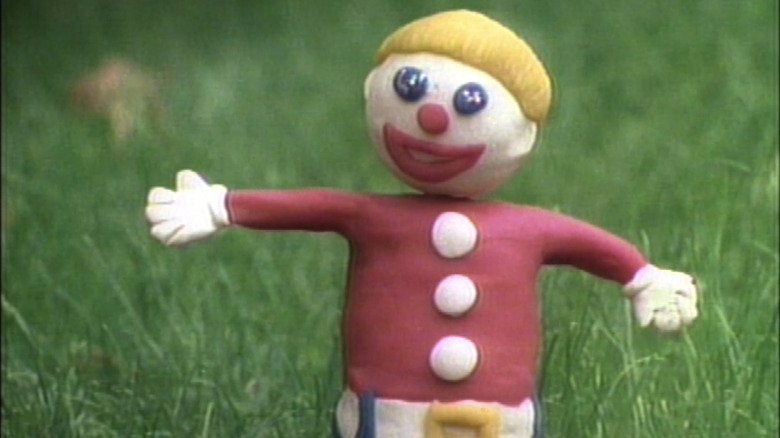 NBC
For former boomer kids who wanted to see Gumby and Pokey smashed flat and torn apart, there was Mr. Bill. In the back half of "Saturday Night Live" Season 1, the show hosted a home movie contest where viewers could submit their own shorts for possible broadcast. One of those movies was a crude Super-8 vignette from amateur filmmaker Walter Williams, featuring a clown-colored little man made of clay whose life was a nonstop parade of disaster and dismemberment. Mr. Bill, as the character was known, became an immediate hit, and Williams was invited to join the show as a writer. Mr. Bill made over two dozen appearances on "SNL" in its first five years, and while production values may have improved over that time, Bill's lot in life remained sadly the same: crushed (often literally) by the cruel hands of his creator with little more than a high-pitched "Oh nooooo!" in protest.
Mr. Bill was arguably the show's first breakout star, give or take Chevy Chase. And when Williams left the writers' room in 1980 (as part of the mass exodus brought on by Lorne Michaels' temporary departure), he took his most famous creation with him. In 1986, the clay figure briefly became a real man in the form of Peter Scolari for the Showtime original film "Mr. Bill's Real Life Adventure," but in the 1990s he returned to clay form for the short "Mr. Bill Goes to Washington." Beyond his admittedly limited cinematic potential, Mr. Bill has been a merchandising boon for decades. Even today, the long-suffering puppet is a favorite toy of dogs and cats the world over.
Al Franken and Tom Davis
Many de facto comedy teams have formed on "SNL" over the years, from the high-octane antics of John Belushi and Dan Aykroyd to the big guy/little guy shenanigans of Chris Farley and David Spade. But every so often, the show will recruit an already existing team to ply their trade on screen, as we will see with The Lonely Island and Please Don't Destroy later on this list. Before either of those groups, though, there was the team of Al Franken and Tom Davis, who'd been performing together since they met as teenagers in Minnesota. Franken and Davis were part of the show's original writing staff and can often be found in the background of sketches from the early years, occasionally earning a "Featuring" credit if they had dialogue in a scene.
Franken and Davis rarely performed as a duo during their time at "SNL," but they thrived in the 1980s on the talk show circuit. They were particular favorites of David Letterman and even wrote a film together, the 1986 comedy "One More Saturday Night." In 1985, the duo returned to "SNL" as writers and occasional performers for ten years. During this time, Franken scored a hit character as the twerpy self-help guru Stuart Smalley. After leaving "SNL" for a second time in 1995, Franken turned his attention to writing and his nascent political career. He was elected to Congress in 2008 but resigned in early 2018 amid allegations of sexual misconduct. Davis was diagnosed with throat cancer in 2009 and died in 2012.
Steve Martin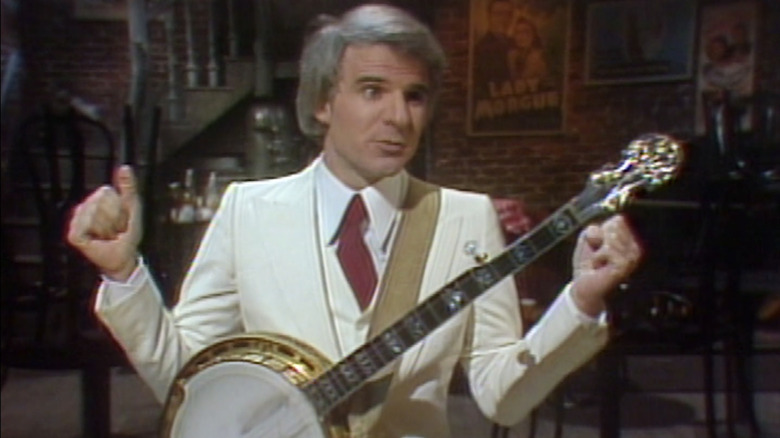 NBC
It's hard to imagine that "SNL" ever existed without Steve Martin, but it did — for a whole season, even. Martin first hosted in 1976, early in Season 2, and hosted again just four months later. In Season 3, he hosted three different times. If Albert Brooks' Hollywood phony energy was never quite right for the show, Martin's version of the same fit like a glove. He played well with the rest of the cast, especially Gilda Radner and Dan Aykroyd as the other half of the wild and crazy Festrunk brothers, but he could also hold the stage on his own with no problem. As of the time of this writing, he's hosted 16 times and made several other cameo appearances over the years, including in the 1990 sketch introducing the famed "SNL" Five-Timers Club.
Martin wasn't exactly an unknown when he first hosted "SNL." He'd written for the Smothers Brothers and Sonny and Cher, and he'd been a longtime performer at Knott's Berry Farm outside Los Angeles. But those years when he was a frequent host coincided with his reign as one of the biggest comedians of all time. His live performances were selling out stadiums, and his albums were doing rock star numbers, with his novelty song "King Tut" even reaching #17 on the Billboard Hot 100 in 1978. He hosted "SNL" so much in those years because he was a superstar, and he was a superstar at least in part because he hosted "SNL" so many times. 
Martin eventually chased other muses, focusing on film, theatre, art history, bluegrass music, and most recently, solving murders with Martin Short and Selena Gomez. But he'll always be as synonymous with "SNL" as any official cast member, past or present.
Jack Handey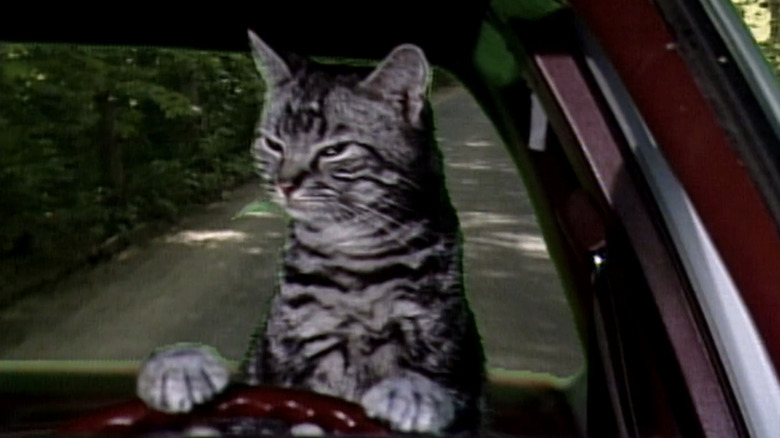 NBC
Twinkly, relaxing synth music plays over pastoral nature scenes. "And now," narrates Phil Hartman in his dulcet tones, "Deep Thoughts by Jack Handey." What comes next is possibly the most ridiculous thing you've ever seen or heard a person say: Nonsense 30-second parables about the nature of mankind (or rather, "mank" and "ind"), a cowboy who makes a wife out of dust, or a sad, incontinent clown. Because of the nondescript voice reading these deep thoughts on the air and a name that frankly sounds made up, plenty of people over the years have assumed that Jack Handey is not a real person — but both he and his name are very real.
Handey perfected the "Deep Thoughts" formula over the course of several years, both on the page in comedy magazines and on camera in the short-lived 1985 sketch series "Television Parts." Before joining the "SNL" writers' room that same year, he'd worked with returning producer Lorne Michaels on another short-lived comedy series, "The New Show." It took a while for producers to warm up to "Deep Thoughts," despite the success of other Handey-penned sketches like "Toonces the Driving Cat" and "Unfrozen Caveman Lawyer." But once it premiered in 1991, it became one of the best-known recurring sketches in the show's history, running regularly until 1998. 
A sort-of sequel series, "Fuzzy Memories," ran in the mid-1990s, and Handey has published several books of material from both sketches. Over the years, he's become a novelist, a frequent contributor to the New Yorker, and a surprisingly rare thing: a comedy writer who actually became famous for his writing.
Robert Smigel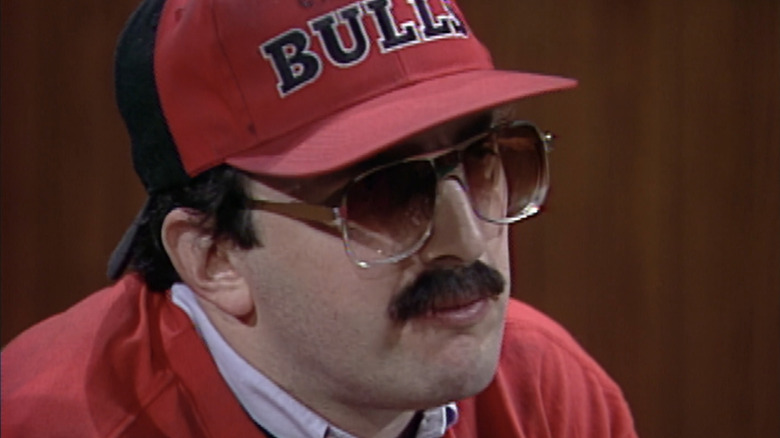 NBC
The 1985 season that marked Lorne Michaels' return to "SNL" after a five-year departure isn't remembered as one of the show's best. The cast was mostly comprised of film actors like Randy Quaid, Robert Downey, Jr., and Joan Cusack who, though beloved in other projects, failed to gel into a successful ensemble. Behind the scenes, however, the writers Michaels brought in fared much better and helped usher the show into its second golden age in the late '80s and early '90s — writers like Jack Handey, a returning Franken and Davis, and a 25-year-old newcomer named Robert Smigel. Like many writers before, Smigel often popped up in background parts. Larger roles, like one of the four Chicago sports-and-food-loving Superfans, earned him an occasional but inconsistent "Featuring" credit, though he was never actually an ensemble member.
In 1993, Smigel went to work on former "SNL" writer Conan O'Brien's new late-night show, where he performed for years as Bill Clinton's mouth and the inimitable Triumph the Insult Comic Dog, among many others. Three years later, he started producing "TV Funhouse" on "SNL," a series of animated shorts done in the style of 1960s Hanna-Barbara cartoons and parodying everything from the Adam West "Batman" series to the insidious reach of the military-industrial complex. 
As an actor, Smigel has been a frequent collaborator with "SNL" alum Adam Sandler, notching small cameos in everything from "Billy Madison" and "Happy Gilmore" to the "Hotel Transylvania" series and the 2008 Israeli commando sex comedy "You Don't Mess with the Zohan," which he also co-wrote.
JB Smoove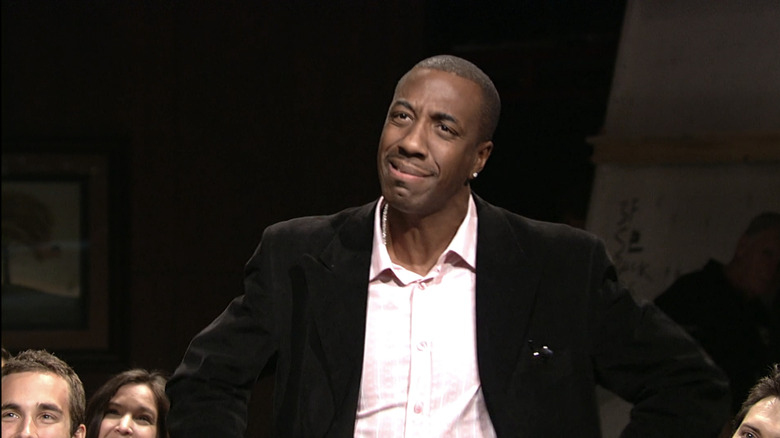 NBC
Monologues where the host takes questions from the audience are a time-honored tradition on "SNL," often serving as a spot where new cast members and writers can get some prominent screen time. It's very rare for any of these "audience members" to become recurring characters, but that's exactly what happened in Season 29 when a man in the crowd played by writer J.B. Smoove harangued his long-suffering wife (Paula Pell) for not being as in shape after giving birth as host Kelly Ripa. Terrell, Smoove's obnoxious heckler, appeared nearly half a dozen times over the next three years — sometimes with his spouse, sometimes not, but always taking celebrities to task, whether that was calling Topher Grace a racist or berating Lance Armstrong for not taking any of the money raised by his Livestrong bracelet campaign.
By the time Smoove was hired in 2003, he'd been in comedy for more than a decade, logging sets on "Showtime at the Apollo" and "Def Comedy Jam." Shortly after his stint in the writers' room ended, Smoove joined forces with another former "SNL" writer, Larry David, and joined the cast of "Curb Your Enthusiasm," then in its sixth season. As Larry's permanent house guest and partner in crime Leon Black, Smoove made himself an integral part of the ensemble and has been on the show ever since. For mainstream audiences, he might be most recognizable as one of the teachers at Peter Parker's high school in the recent "Spider-Man" movies, or as the commercial spokesman for everything from vegan eggs to online sports betting.
Paula Pell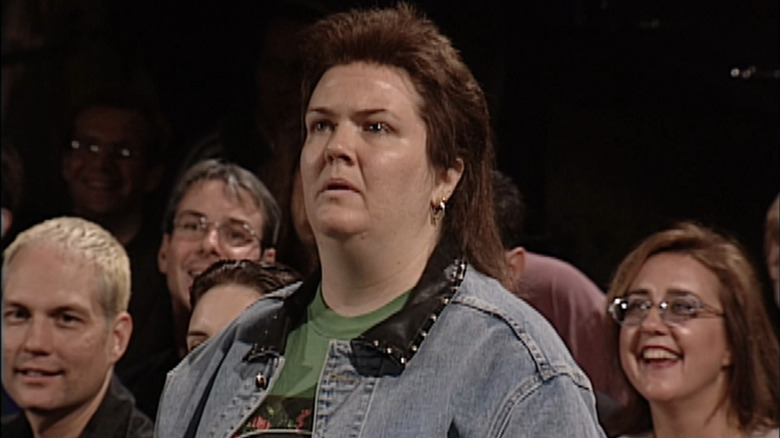 NBC
Standing by Smoove's side in his audience sketches, ever mortified at her husband Terrell's attitude, was of course writer Paula Pell. The Joliet, Illinois-born Pell was a performer at Disney World for years before being hired as a writer for the show's 1995-96 season — a rebuilding year that included new cast members like Will Ferrell and Ana Gasteyer and new writers like future "Anchorman" and "The Big Short" director Adam McKay. Pell spent more than a decade on "SNL," creating such classics as the Spartan Cheerleaders and Debbie Downer. On-screen, she was most notable for playing audience members during the monologues, as when she attempted to flirt with "Xena: Warrior Princess" star Lucy Lawless in a 1998 episode.
Pell has long been a favorite collaborator of her "SNL" peers, including McKay, Tina Fey, and Amy Poehler, making small but killer cameos in everything from "Anchorman 2" to "30 Rock" and "Parks and Recreation." She also co-wrote the Fey-Poehler 2015 comedy "Sisters." But it wasn't until 2019 that the Paula Pell-aissance kicked into high gear, thanks to her scene-stealing turn in the Poehler-directed Netflix film "Wine Trip." 
The following year, she starred in the Emmy-winning "Mapleworth Murders," a bite-sized "Murder, She Wrote" parody originally developed for the short-lived Quibi platform. More recently, she's appeared as John Mulaney's perpetually horrified mother on the Netflix gross-out cartoon "Big Mouth" and on Peacock's music industry comedy "Girls5Eva," where she gets to flex those old Disney muscles as the once and future member of an early 2000s pop music act.
Akiva Schaffer and Jorma Taccone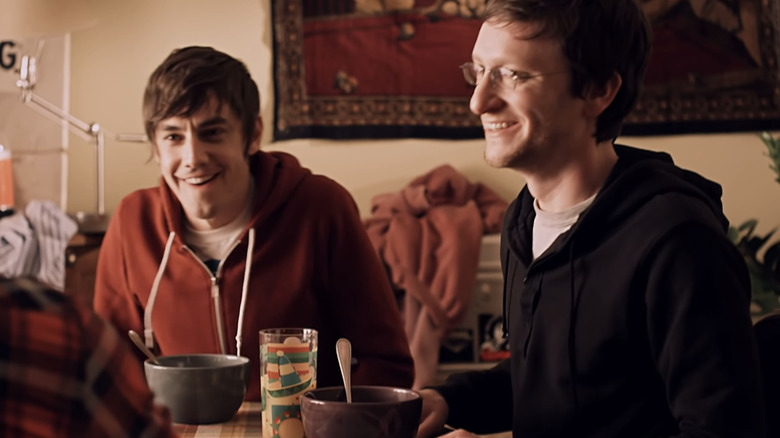 NBC
Friends since junior high, the comedy trio of Andy Samberg, Akiva Schaffer, and Jorma Taccone — AKA The Lonely Island — were arguably the first digital natives of "Saturday Night Live," getting their start by uploading short videos online in the pre-YouTube days of the early 2000s. After a couple of failed television pilots, including "The O.C." parody "The 'Bu," the group was recommended to "SNL" producer Lorne Michaels by former cast member Jimmy Fallon. Samberg joined the cast in the 2005-06 season, with Taccone and Schaffer as writers. After a couple of coolly received digital shorts, the group hit it big with the Samberg and Chris Parnell-starring "Lazy Sunday," and "SNL" got its first viral hit.
The show had played with hip-hop comedy in the past, going as far back as Jim Belushi and Alex Karras' "White Guy Rap" in 1985 and Parnell's surprisingly solid bars on Weekend Update in the years leading up to "Lazy Sunday." But The Lonely Island were the first on the show to craft legitimately good bangers that were also hilarious, and their popularity led to high-profile collaborations with the likes of T-Pain, Justin Timberlake, Akon, Lady Gaga, Rihanna, and Michael Bolton. 
Apart from "SNL," the trio have made a pair of much-loved cult classic films: 2007's "Hot Rod" and 2016's "Popstar: Never Stop Never Stopping." Schaffer and Taccone have branched out into writing and directing on their own. Schaffer helmed several episodes of "SNL" alum Tim Robinson's sketch series "I Think You Should Leave" and directed 2022's "Chip 'n Dale: Rescue Rangers" for Disney+, while Taccone adapted his and Will Forte's "MacGruber" sketches into a 2010 film and a 2021 Peacock series.
Ben Marshall, John Higgins, and Martin Herlihy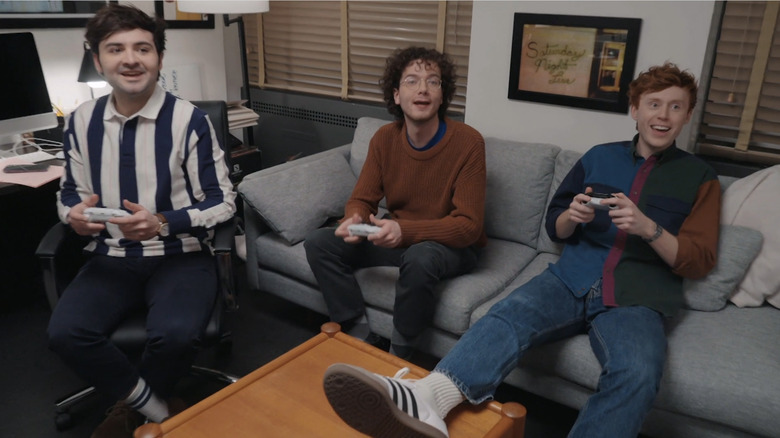 NBC
The pride of nepo babies everywhere, Please Don't Destroy — the trio of Ben Marshall, John Higgins, and Martin Herlihy — began posting videos online in 2017. In 2021, they were hired to do their fast-paced, absurdist take on millennial dudes living and working together on "Saturday Night Live," where Higgins and Herlihy's fathers were longtime writers (Tim Herlihy is a frequent Adam Sandler collaborator going all the way back to "Billy Madison," while Steve Higgins currently serves as Jimmy Fallon's announcer and sidekick on "The Tonight Show"). A typical Please Don't Destroy video finds the trio in the "SNL" office they share and dealing with some issue concerning that week's host, whether it's Woody Harrelson auditioning to replace Marshall in the group or Molly Shannon discovering that she is the face of a long-running video game series.
Like The Lonely Island with YouTube, Please Don't Destroy has benefitted from the explosion of TikTok. But unlike their digital short forebears, the boys had another element unexpectedly working in their favor: a global shutdown of live events in 2020 due to the Covid-19 pandemic. With people all over the world stuck at home and glued to their phones, the trio's brand of unmarried domestic comedy (mostly about the horror of living with roommates) struck a chord. Other than providing material for Miley Cyrus' 2021 New Year's Eve special, the main focus of Please Don't Destroy right now is making more Please Don't Destroy, but we can certainly expect to see much more of Marshall, Higgins, and Herlihy in the years to come.