VPR: Fans See Right Through Sandoval And Schwartz's On-Air Manipulations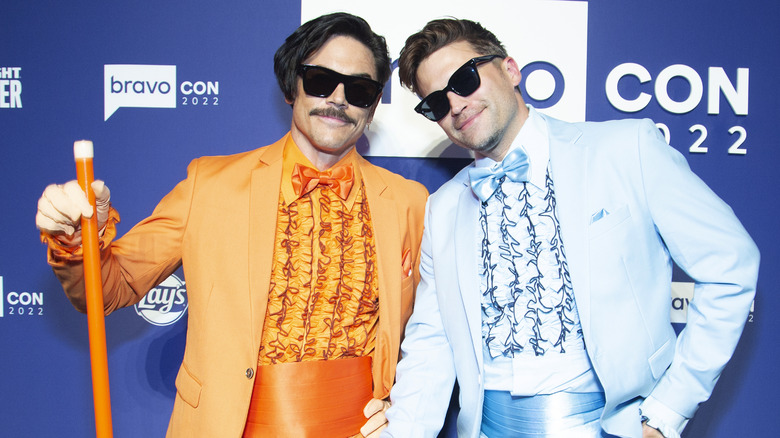 Santiago Felipe/Getty Images
If you're unaware, "Vanderpump Rules" has two guys on it named Tom — Sandoval and Schwartz, respectively — and they're both kind of terrible. Schwartz has always been sort of a dud on the series, and thanks to the mess now known as Scandoval, Sandoval has been in the hottest of water lately after it came out that he's been unfaithful to his now-ex girlfriend of nine years, Ariana Madix, for several months by having an affair with Rachel "Raquel" Leviss. This news broke after the current season, the show's tenth, finished officially filming, but that fact has put even more of a spotlight on literally anything that the two Toms do — especially when you realize that, at this point in the season, Sandoval and Leviss are already involved.
Fans are focusing on an early scene in the April 26 episode, "Beach Don't Kill My Vibe," where Sandoval and Schwartz grab bagels and talk girls, Madix and Leviss in particular. This talk definitely seemed stage, and fans on Reddit caught on quickly.
as u/HotShower1395 wrote on a thread about the two, "Scandoval is obviously extremely manipulative, but last weeks episode rubbed me the wrong way... The fact that he was implanting the idea that he wakes up Ariana with her favorite latte and she's so grateful, and Schwartz is like 'well is it reciprocated?' And he goes flatlined... 'no.' They both just keep Ali-ooping each other so they other can score the narrative they are going for. It's sickening."
Fans think Sandoval and Schwartz were trying to create a specific narrative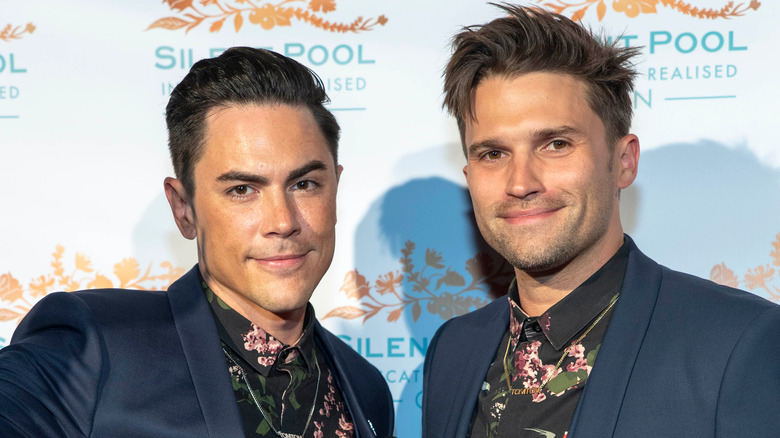 Eugene Powers/Shutterstock
u/Leather-Platypus-11 totally agreed, saying, "I'm shocked. Shocked shocked. The worse acting ever they could barely keep a straight face!!" u/serbiatch735 was on the same wavelength: "Between their smugness and their smirks it reads all over their faces. I hope neither one of them play poker."
Another user, u/Defvac2, referenced a confessional in the episode where the producers ask Sandoval point blank if anything physical ever happened between him and Leviss, only for him to stutter out a half-baked denial with a giant smirk on his face all the while. "I almost feel like I'm watching a bad made for TV movie with how bad the acting is," they wrote. "It's as if it's a gag they're playing on their friends and the audience except it's very real ... When Scummo [Sandoval] had that sh** eating grin on his face in the concessional when asked if he hooked up With Rachel I wanted to slap the taste out of his mouth."
Fans aren't buying this act from Schwartz and Sandoval, especially because it feels crystal clear that they're just trying to chart a narrative where Madix is a bad girlfriend so that Leviss can swoop in and "save" Sandoval. As u/AimzBaby put it, "Sandoval playing the victim role is actually pure gold because now we get to see how he really planned for this Rachel and Sandoval relationship reveal."
Sandoval and Schwartz can't fool Vanderpump Rules fans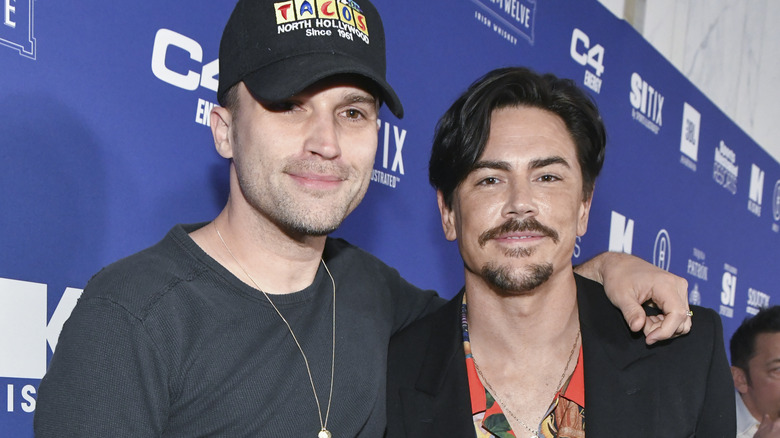 Rodin Eckenroth/Getty Images
Put simply, fans were not having this fantasy these two bozos wanted to create, wherein Sandoval and Madix were on the rocks anyway when he got together with Leviss. (It's seemed clear, throughout Season 10, that Madix did not have any reason to believe the two were having any sort of problems; they were even working on freezing Madix's eggs together.) As u/crystalrrrrmehearty put it, "1000%! That whole conversation, are you kidding me? The bit where he says she [Madix] snaps at him [Sandoval] in the car for no reason, I mean come on man. Nobody's buying your douchery lies this time mate."
Regarding the moment where Sandoval brags that he makes a latte for Madix every morning, clearing the lowest possible bar for a nine year relationship, fans were also incensed that he saw this as some sort of incredible gesture — and was apparently ignoring Madix's gratitude. u/AdRevolutionary6650 wrote, "I feel like the fact that she's so grateful and "thanks so much Tom" shows that she's still engaged and appreciative of him." u/Gingeralligator pointed out that it's probably not even quite as romantic as he thinks: "Why do I picture Tom leaving a huge ass mess after making the latte with everything on the counter and cabinet doors open... all for Ariana to clean up."
How long has Schwartz known about Scandoval?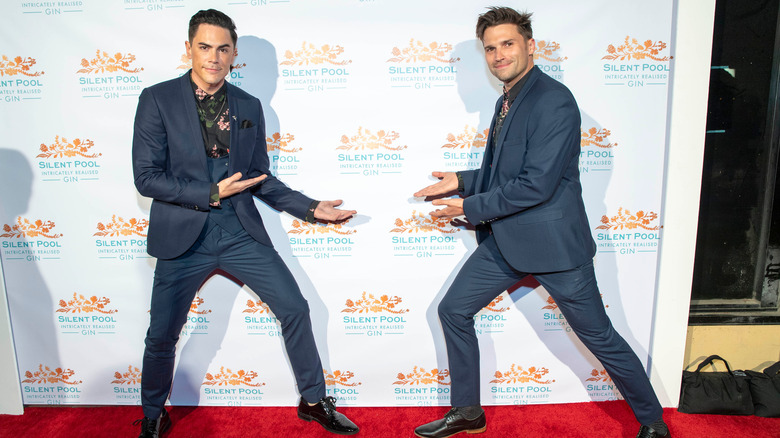 Eugene Powers/Shutterstock
There are a lot of questions still surrounding Scandoval, but one of the biggest is this: how long has Schwartz known, and has he been an accomplice and scapegoat to his bestie this whole time? Before Scandoval even broke, the big problem on Season 10 of "Vanderpump Rules" had nothing to do with him and everything to do with Schwartz, the latter of whom was lusting after Leviss on-screen in the wake of his separation from Katie Maloney. After their split, Maloney asked Schwartz to simply not date within the friend group, so naturally, he and Leviss made out at their mutual friend Scheana Shay's destination wedding in Mexico.
Now that we all know Leviss and Sandoval were the illicit couple all along, fans are left to wonder if Schwartz has been an integral part of this whole mess the entire time, covering up for the two by taking the blame and attention away from them. Clearly, it didn't work, largely because Sandoval thought keeping explicit videos of Leviss on his phone (that Madix ultimately discovered) was a good idea, but it certainly seems like that was the original intention. This conversation, where Schwartz says there's no spark between him and Leviss and he thinks she has a crush on someone else, is pretty telling — and fans obviously caught on.
"Vanderpump Rules" airs new episodes every Wednesday night at 9 P.M. EST on Bravo.