Bert Kreischer's The Machine - Everything You Need To Know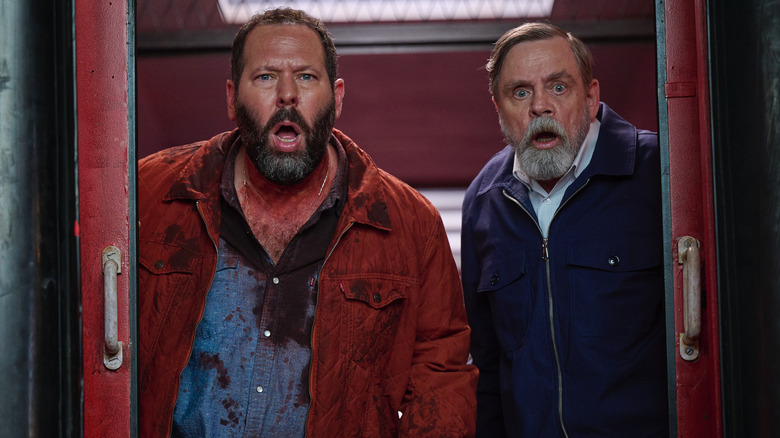 Screen Gems
In a modern Hollywood filled with adaptations, sequels, remakes, reboots, and requels, what splash can yet another adaptation make? Well, in the case of "The Machine," the answer is potentially a big one. Instead of being adapted from a novel, video game, or Twitter thread, "The Machine" is loosely adapted from a stand-up routine. That's something you don't see in Hollywood every day.
Inspired by a stranger-than-fiction stand-up routine that stand-up comic Bert Kreischer has popularized throughout his career, "The Machine" is set to premiere this spring with top talent attached. Of course, the premiere date is already old news for followers of Kreischer, a comedian who has flouted convention and delighted fans throughout his life. This is, after all, the man whose antics inspired "National Lampoon's Van Wilder," so he's been on a lot of people's radars for a while. In that vein, "The Machine" may just be the cinematic treatment that his chaotic antics have been begging for. 
When will The Machine be released?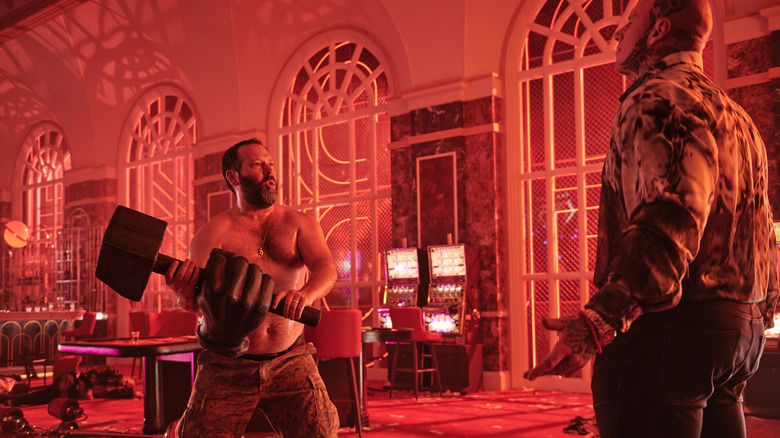 Screen Gems
Fans of Bert Kreischer have had plenty of time to buy their advanced tickets for "The Machine." In January, Sony Pictures announced that the movie would be coming to theaters on May 26. And while "The Machine" may not be your typical summer blockbuster, it will nevertheless be going up against Disney's remake of "The Little Mermaid." Of course, "Machine" fans and Disney remake fans likely don't have too much crossover, so that shouldn't affect the box office results of "The Machine" too much.
Furthermore, to the delight of Kreischer fans, the comedian himself will personally introduce one Los Angeles showing of "The Machine" on May 25. At this pre-show special, Kreischer will introduce the movie and will likely share some new stand-up material with audiences. This live special, along with the first-ever screening of the film, will be streamed to over 1,000 theaters around the United States.
What is the plot of The Machine?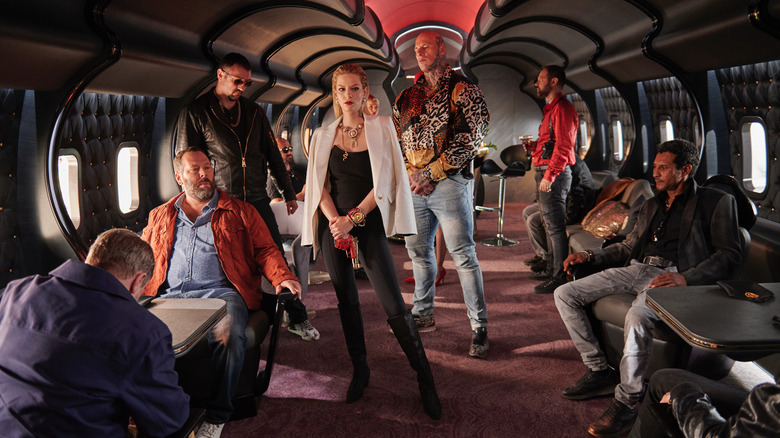 Screen Gems
"The Machine" is inspired by one of Bert Kreischer's most well-known stand-up routines. In the routine, as in Kreischer's real life, the comedian accidentally signs up for a Russian language class in college, only to realize his mistake too late. After his language professor practically forces him to stay in the class, Kreischer sullenly acquiesces and eventually plans a study abroad in Russia. (Kreischer attended college in the '90s when times were different.)
As fans of Kreischer's routine already know, the innocent semester abroad leads to a few parties with Russian mobsters, which in turn leads to Kreischer helping them rob an entire train. Through it all, Kreischer communicates with the mobsters using the only Russian sentence he knows how to say: "I am the Machine." To this day, Kreischer retains the nickname, so it only makes sense that the movie would employ it as well.
However, the "Machine" movie actually picks up 23 years after Kreischer's booze-fueled train robbery. During a modern-day visit from his estranged father, Kreischer (who plays himself) meets a Russian mobster who demands that he must atone for his crimes. Hijinks, thrills, and father-son bonding ensue.
Who is starring in The Machine?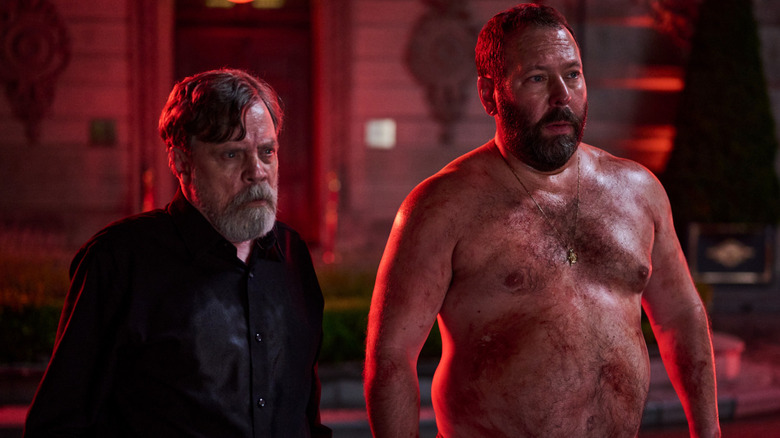 Screen Gems
In addition to starring Bert Kreischer, who plays himself, "The Machine" will star none other than Mark Hamill as Kreischer's father, Albert Sr. Meanwhile, "American Vandal" star Jimmy Tatro will embody the film's younger version of Bert, whereas Croatian actress Iva Babić will play the terrifying mobster out for blood. To round out the cast, the movie will feature Robert Maaser, Jessica Gabor, Nikola Duričko, Oleg Taktarov, Stephanie Kurtzuba, Rita Bernard Shaw, Mercedes de la Cruz, and Amelie Villers.
Hamill, in particular, is a bright spot in the cast, as he is clearly and gleefully spreading his wings post-"Star Wars." Though the actor, of course, has gained legions of fans through his "Star Wars" work, as well as through his voice acting work on the "Batman" series, he has no doubt rejoiced over the chance to flex his acting muscles in an action-thriller-comedy like "The Machine."
Who is directing The Machine?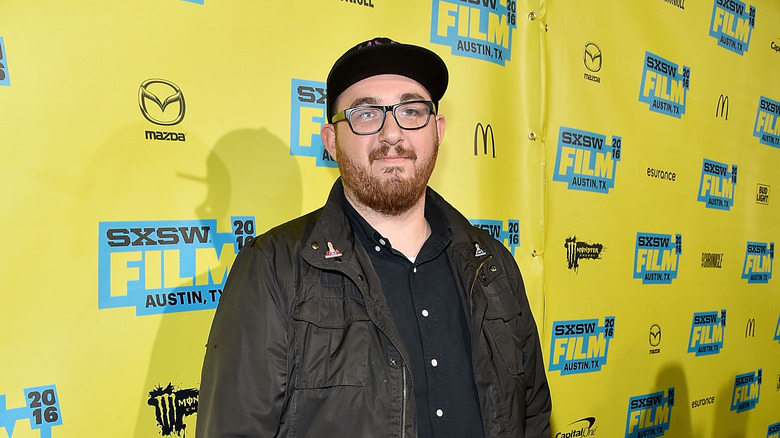 Mike Windle/Getty Images
Fortunately, the director of "The Machine" is no stranger to action-comedy films. Peter Atencio, who helmed the movie, is responsible for not only the Keegan-Michael Key and Jordan Peele-starring "Keanu," but also 2017's Amazon series "Jean-Claude Van Johnson." In other words, the man can craft a hilarious movie while still delivering thrills to spare. That's exactly the sort of resume that "The Machine" calls for.
However, Atencio has more depth than you might think. Thanks to his long-standing relationship with Peele, he previously had the honor of directing an episode of the latter's 2020 "Twilight Zone" remake. In "The Who of You," a downtrodden actor (Ethan Embry) attempts to save his flailing career by employing a newfound body-swapping power. In the end, the episode is disturbing, uncomfortable, scary, and most importantly entertaining, thus proving that Atencio has both range and ingenuity as a director. No doubt, Bert Kreischer has placed his movie in good hands. 
Moreover, Atencio is also named as a producer on the film alongside Kreischer, his wife LeeAnn, Cale Boyter, and Judi Marmel. Philip Waley and Jay Ashenfelter are executive producers, while Kevin Biegel and Scotty Landes penned the script.
Is there a trailer for The Machine?
Though the teaser for "The Machine" dropped in Fall 2022, the full red band trailer didn't appear until February 23. Needless to say, it's pretty wild. In addition to teasing a re-enactment of Bert Kreischer's college-era mafia antics, it also promises modern-day set pieces involving Kreischer kicking butt. Well, sort of. In any case, he hilariously takes his shirt off at one point, in a nod to his shirtless stand-up shows in real life.
Nevertheless, the most surprising aspect of the trailer may be Mark Hamill's unhinged performance as Kreischer's father. In addition to doing speed and uttering lines like, "He's the motherf***in machine," he appears to be having the time of his life. Add to that Iva Babić's campy Russian accent, Jimmy Tatro's zany energy, and plenty of darkly comic gunfights, and you can suddenly understand why this movie has been described as a combination of "Midnight Run" and "The Hangover."
What will The Machine be rated?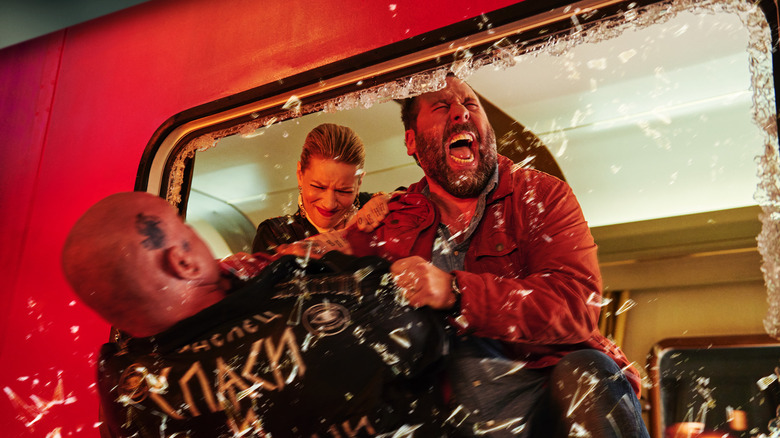 Screen Gems
Though its set pieces may be comic, they're also quite violent. Thus, it shouldn't be a surprise that "The Machine" is rated "R." The film does have a red band trailer, after all. It's also about the Russian mafia, which doesn't suggest a gentle family-friendly film filled with blissful joy. 
There's also, as we mentioned, the language. Case in point: Mark Hamill's F-bomb is prominently placed in the trailer, which suggests that there's more where that came from. Oh, and there's the drugs. And the boozing. Suffice it to say that this movie is not for children (or the faint of heart).
Of course, that won't prevent Bert Kreischer and action-comedy fans from coming to see the movie. The summer 2023 movie slate is already offering a healthy dose of mainstream comedies, but May is looking a little light on them. Plus, moviegoers will no doubt need something edgy and novel to counteract the secondhand magic of "The Little Mermaid."