No Hard Feelings - Everything You Need To Know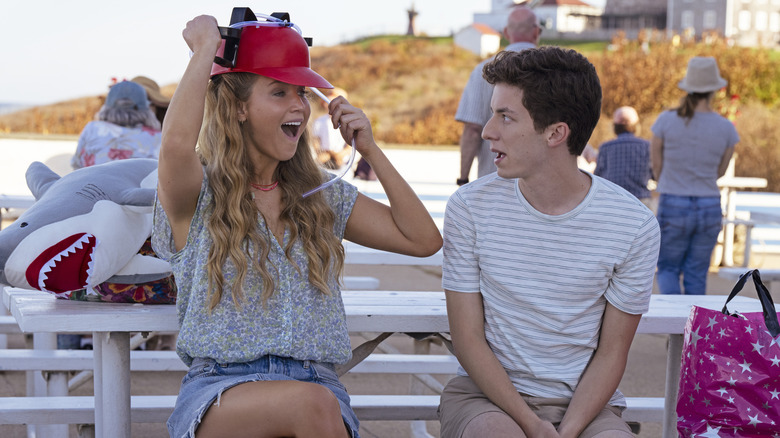 Macall Polay/Sony Pictures Entertainment
Jennifer Lawrence is headed back to big screens everywhere, and this time it's via a colorful comedy that features her doing whatever it takes to snag a used Buick. "No Hard Feelings" will see Lawrence as Maddie, who is struggling financially when she finds an odd job listing — dating a young man before he heads to college in exchange for a car. The film's trailer suggests a Farrelly Brother-style combination of raunch and heart, with a unique coming-of-age story. It also marks Lawrence's first time in a full-out comedy appearance since she reoccurred on "The Bill Engval Show" as a child actress, and provides quite a departure from multiple seriocomic roles she's taken before, such as Joy in "Joy," Kate in "Don't Look Up," Rosalyn in "American Hustle," and Tiffany in "Silver Linings Playbook."
This goofy, straightforward comedy is quite a throwback to the raunchy blockbusters that dominated the mid-2000s, like "Superbad" and "The 40-Year-Old Virgin." But naturally, there's much more to be said about this clever romp. Here's everything you need to know so far about "No Hard Feelings."
When will No Hard Feelings be released?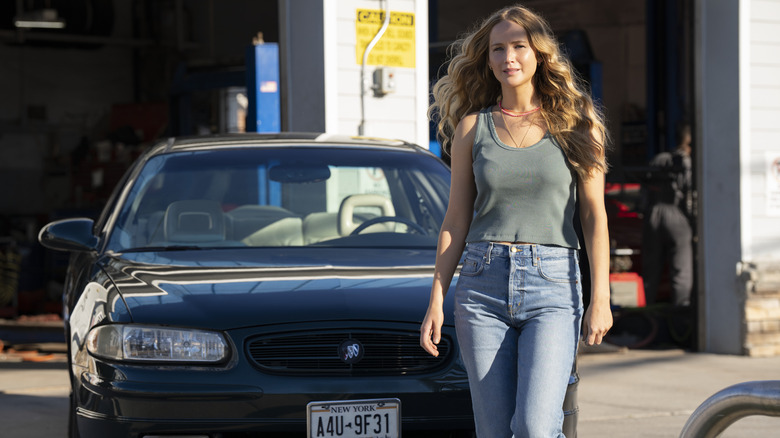 Macall Polay/Sony Pictures Entertainment
"No Hard Feelings" will be released on June 23, 2023. The film was initially to be sent to theatres on June 16, in direct completion with the Warner Bros. superhero epic "The Flash," but was shifted forward a week in December 2022. According to A 2 Z Filming Locations, the film was genuinely shot in and around Long Island, New York — specifically Montauk, a Long Island suburb where a lot of the film's action takes place. 
Scenes were also filmed in Hempstead, Point Lookout, Lawrence, and Uniondale, New York. The moment in the trailer where Maddie (Jennifer Lawrence) flirts with Percy (Andrew Barth Feldman) at the animal shelter where he volunteers were filmed at the North Shore Animal League of America in Port Washington. People Magazine snapped Lawrence on the set filming with Feldman in October of 2022.
What is No Hard Feelings About?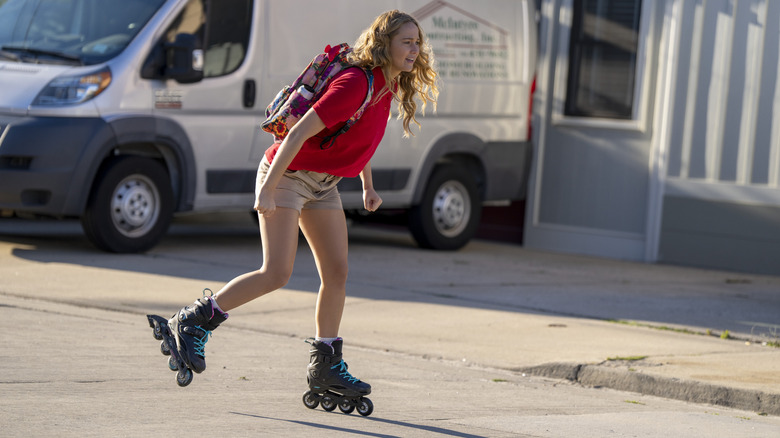 Macall Polay/Sony Pictures Entertainment
"No Hard Feelings" follows Maddie, a party-hearty girl who is in dire straits when her car is repossessed. She works for Uber and relies on her car for income, and this repossession has put her family home in jeopardy. Maddie swore to her late mother that she'd keep the house no matter what. While flipping through the want ads for a job, she spies an odd job that promises a used Buick as payment. She interviews with Allison (Laura Benanti) and Laird (Matthew Broderick), whose son, Percy, is set to go to college at Princeton soon. The couple explains that they've been unable to bring Percy out of his shell, and the trailer shows that he reacts to the notion of being seduced by an attractive woman or drinking a Long Island Iced Tea the way a 12-year-old might. Allison and Laird's proposal: Maddie must socialize Percy and help him attain a level of maturity before he reaches college. Or in Laird's words, "date him, hard." 
All of this sounds fine to Maddie: after all, she herself can't keep a job or relationship together, but she does have some level of romantic experience that she can pass on. But she soon discovers that Percy is not an easy nut to crack. And even more unexpectedly, his introverted ways begin to rub off on her, making her a more mature person in the process. 
Who will star in No Hard Feelings?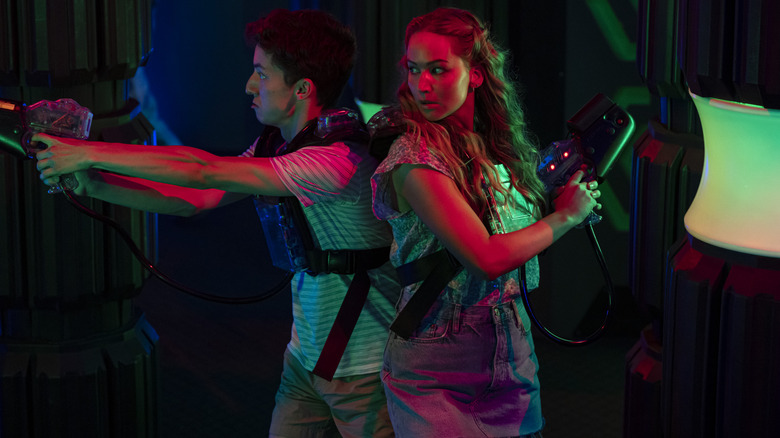 Macall Polay/Sony Pictures Entertainment
Aside from Jennifer Lawrence and Andrew Barth Feldman as Maddie and Percy, respectively, "No Hard Feelings" includes a number of familiar faces in its roster. Movie and theatrical legend Matthew Broderick plays Laird, Percy's father; you might know Broderick best from films such as "Ferris Bueller's Day Off," "Ladyhawke" and both the Broadway and filmed musical versions of "The Producers." Laura Benanti plays Allison, Percy's mother. Benanti, too, has had a number of well-known theatrical roles, in productions such as "Gypsy" and "She Loves Me." TV and fans may best recognize her best from "Life & Beth" and the rebooted version of "Gossip Girl." 
Ebon Moss-Bachrach of "The Bear" will play a thus-far unnamed role, but he appears in the trailer as a romantic partner of Maddie's whose fed up with her behavior. "The Righteous Gemstones" star Scott MacArthur plays Jim, and "Parks and Recreations" vet Natalie Morales plays Sara. "Saturday Night Live" alumnus Kyle Mooney will play Jody. Stand-up comic Hasan Minhaj plays Doug and Quincy Dunn-Baker of "Only Murders in the Building" plays Travis. Not much is known about these roles at this time, but the impressive cast will surely deliver on hilarity.
Who will produce and direct No Hard Feelings?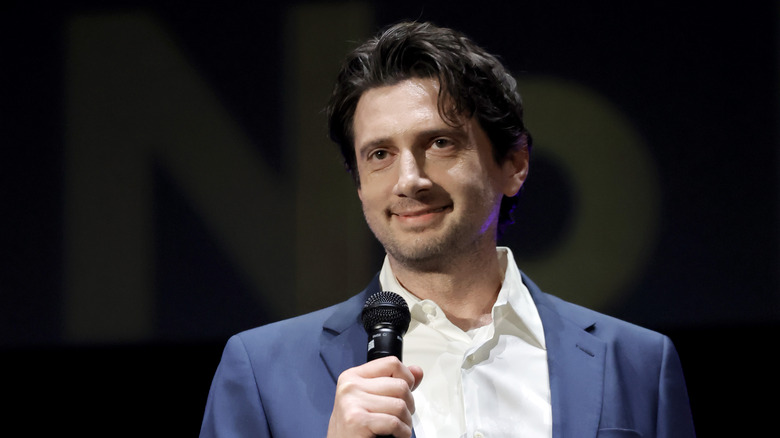 Kevin Winter/Getty Images
Jennifer Lawrence is among several people who produced "No Hard Feelings." This marks her second time acting as a producer on one of her projects, after 2022's "Causeway"; she has several other projects upcoming which she will also be producing, such as the documentary "Bread and Roses" and the mob-member-turned-police-informant tale "Mob Girl."  For "No Hard Feelings," Alex Saks, Marc Provissiero, Naomi Odenkirk, and Justine Ciarrochi also acted as co-producers, with Kerry Orent and John Phillips serving as executive producers. 
Phillips wrote the script for "No Hard Feelings" with director Gene Stupnitsky. Stupnitsky is best known for writing and producing Cameron Diaz's "Bad Teacher" and its television adaption, and the prehistoric film "Year One," as well as directing and writing that story of sixth graders gone amok, "Good Boys." Sony will distribute the movie after successfully winning a bidding rights war.
Is there a trailer for No Hard Feelings?
A red band trailer was released for "No Hard Feelings" on March 9. Set to the strains of Nicki Minaj's "Super Freaky Girl," the film's trailer shows us the plot's bones, as well as an ever-increasing series of socially humiliating events which are heaped upon the shoulders of Maddie and Percy. Among the many chaotic scenes which unspool during the trailer: Maddie and Percy at a post-prom house party, at which Percy gets violently ill from alcohol. When someone insults Maddie, he tries to protect her reputation, only to accidentally strike her in the throat, sending her crumpling through a shelf. There is also a playful hostage situation gone wrong, an awkward attempt at skinny dipping, and several disastrous dates. Maddie's multiple seduction attempts are played as farcical, and yet there's a genuine growing warmth and sweetness between the two characters.
When the spring turns to the summer, moviegoers everywhere will find out if "No Hard Feelings" marks the grand return of the blockbuster comedy.