Jennifer Lawrence's No Hard Feelings Is The Throat Punch Of Red Band Trailers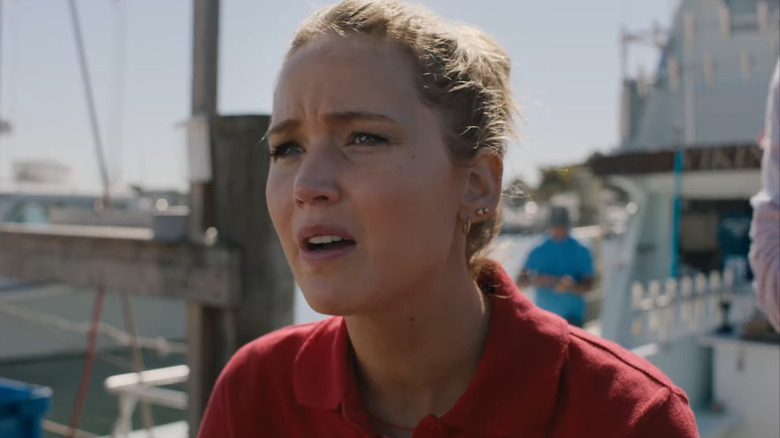 Sony Pictures Releasing
Jennifer Lawrence has had quite the career. She got her first main role in the sitcom, "The Bill Engvall Show;" however, she wasn't long for the world of television for long. She broke out in a big way with an Oscar-nominated performance in "Winter's Bone." After proving she had some serious acting chops, she entered the world of franchises. This kicked off with the role of Mystique in the rebooted "X-Men" series, and she played Katniss Everdeen in "The Hunger Games" franchise. That's not even getting into her actually winning an Academy Award for "Silver Linings Playbook."
With a perfect blend of critically-acclaimed and financially-successful films, Lawrence has the ability to do anything she wants at this point. And it would seem she's dead-set on going back to her comedic roots with a role in the upcoming film, "No Hard Feelings." The red band trailer was just released, and with profanity and sexual innuendo up the wazoo, it certainly appears like it's going to be a good time.
Fans love seeing Jennifer Lawrence act silly
Comedies have had a hard time in the Hollywood marketplace over the last few years. But with the appeal of Jennifer Lawrence in the lead role, it's easy to see why this particular film is going for a theatrical release rather than straight to streaming. The coming-of-age comedy sees Lawrence play a down-on-her-luck woman who needs money and answers a Craigslist ad from well-to-do parents who want her to date their son before he goes off to college.
Needless to say, shenanigans ensue, and plenty of people are already hyped to see Lawrence be goofy. Under DiscussingFilm's Twitter post of the trailer, numerous comments rolled in of people stoked to see this kind of movie in a theater. @josiahhughes wrote, "an f-bomb within the first 10 seconds... yeah i'm thinking this is gonna be my kind of movie." Meanwhile, @thebeepthemeep made the hyperbolic but not entirely untrue statement, "CINEMA IS BACK ON THE MENU!"
Many are just relieved to see a good, old-fashioned sex comedy back in theaters in a world where everything is seemingly based on a pre-existing IP. @ZoeRoseBryant summed it up well, "Jennifer Lawrence being hot and funny is all I need from a film so my ticket is sold." No doubt plenty of other people feel the same way and will be there opening weekend, too. "No Hard Feelings" opens in theaters on June 23.