The Marvelous Mrs. Maisel S5: The Musical Numbers Are Not As Random As They Appear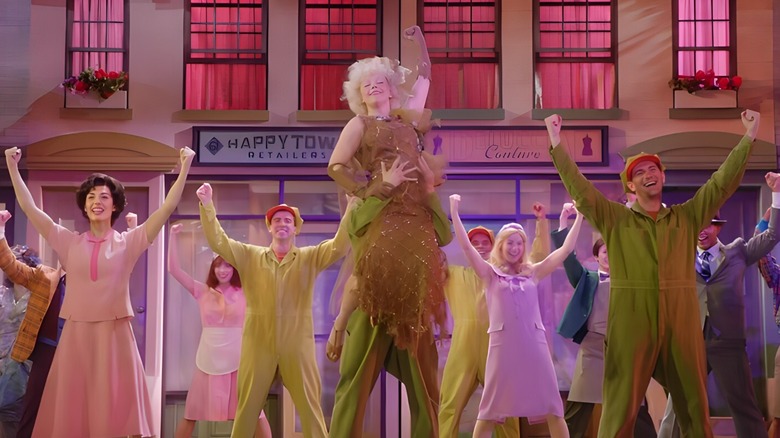 Amazon Studios
Contains Spoilers for "The Marvelous Mrs. Maisel" Season 5, Episode 4 – "Susan."
The road from small comedy clubs to hilarious stardom. That journey is at the core of "The Marvelous Mrs. Maisel," the hit Amazon Prime show that chronicles how Miriam "Midge" Maisel (Rachel Brosnahan) became a household name. For a show focused on comedy, there are plenty of musical moments, from Midge's tour with singer Shy Baldwin (LeRoy McClain) in Season 3 to the premiere of a Broadway musical attended by Midge and her family in Season 4, Episode 3, "Everything is Bellmore." Musical theater gets a bigger nod in Season 5, Episode 4, "Susan," which finds Midge joining the cast of a musical promoting the Private Demolition and Waste Management Association at the Building New York Expo. As it turns out, the decision to add musical numbers to the show is not as random as it may first appear.
While the show's creator, Amy Sherman-Palladino, is known for also creating the beloved TV series "Gilmore Girls," she also has a background in Broadway musicals. She produced the 2014 musical "Violet," which follows a woman's journey to Oklahoma as she hopes to reverse a facial injury from a past accident. The title character was played by Sutton Foster, who has lent her talents to other projects of Sherman-Palladino's, including "Gilmore Girls: A Year in the Life."
As Sherman-Palladino continues to bring musicality to "The Marvelous Mrs. Maisel," some of the show's stars are hoping for an even bigger musical element in the future.
The Marvelous Mrs. Maisel stars are hoping for an even bigger musical experience in the future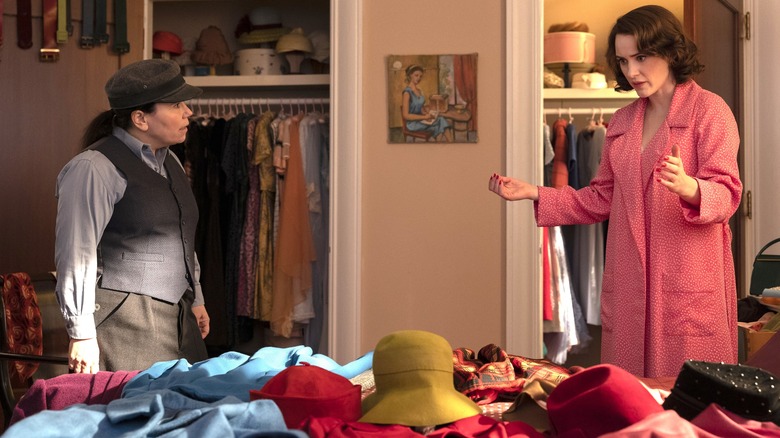 Amazon Studios
While Season 5 is the last for "The Marvelous Mrs. Maisel," some of its stars hope that it will head to Broadway. Alex Borstein ("Family Guy"), for one, went on record about her enthusiasm for the idea to Entertainment Weekly, stating, "I've told [executive producers] Amy [Sherman-Palladino] and Dan [Palladino], 'If you guys do a 'Maisel' musical, I'm there in a heartbeat.' ... Every time Midge gets up and does stand-up, it's almost like a musical number. It's like breaking away for a moment but instead of song, it's comedy. It really feels like it has the shape of that in its bones." 
Rachel Brosnahan echoed her enthusiasm but noted that Tony Award-winner Laura Benanti should play the title role. "I can sing a little bit, but not enough to sing 'Mrs. Maisel' the musical," she said. Brosnahan does have Broadway credits to her name, though, performing in revivals of the plays "The Big Knife" and "The Sign in Sidney Brustein's Window."
Sherman-Palladino continues to pull from the theater world by choosing Tom Mizer and Curtis Moore to compose and write the show's original songs. Moore has several Broadway credits, including his role as an associate composer in the 2013 revival of "Macbeth." He and Mizer told Broadway World that they give the Palladinos plenty of musical options and submit at least one verse and chorus for each song that they propose. 
"And that way, it's quicker for them to grab onto something, instead of just notes going back and forth," said Mizer.