The Marvelous Mrs. Maisel S5: The Gilmore Girls Ripoffs Keep On Coming
The fifth and final season of "The Marvelous Mrs. Maisel" is finally here, and Miriam "Midge" Maisel (Rachel Brosnahan) has come a long way since her first time doing stand-up at The Gaslight Café. With the help of her manager, Susie Myerson (Alex Borstein), Midge has laid the foundation for a promising career as a comedian. And it's no wonder that the character can talk a mile a minute and still manage to end with a great punchline; series creator Amy Sherman-Palladino is known for writing dialogue so quippy that it'll make your head spin, a technique that she perfected during her time as the showrunner of "Gilmore Girls."
Eagle-eyed fans have surely noticed that "The Marvelous Mrs. Maisel" features a number of overt nods to "Gilmore Girls." Several "Gilmore Girls" actors, including Milo Ventimiglia, Kelly Bishop, Chris Eigeman, and Scott Cohen, have appeared as minor characters on "Maisel," though that's not all these shows share. Right off the bat, it's hard to ignore that Midge Maisel and Lorelai Gilmore (Lauren Graham) share several characteristics. Both women are quick-witted and beautiful with a proclivity for pop culture references, though the settings of each show are different enough to let those little similarities slide. 
Lorelai and Midge both use humor as a deflection, but there are even more obvious parallels at play. "Maisel" has also introduced certain plot points that seem to be pretty conspicuous "Gilmore Girls" ripoffs, and the pattern has continued into Season 5. 
Death on your doorstep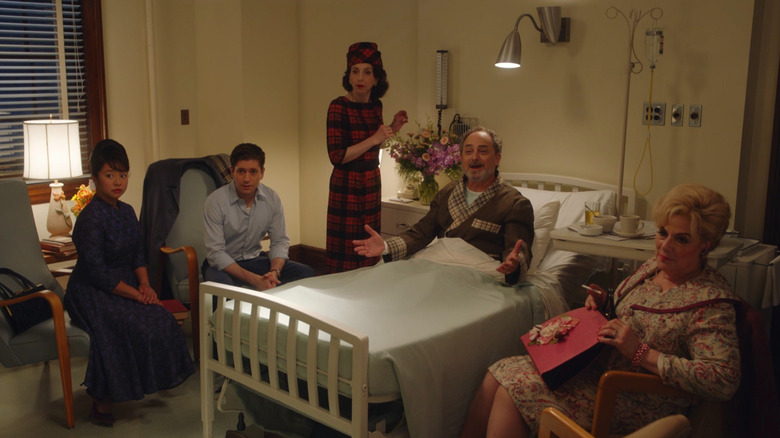 Amazon Studios
"Gilmore Girls" fans will recall an emotional Season 1 episode that sees the Gilmore family come together during a crisis. The installment, titled "Forgiveness and Stuff," sees Lorelai, Rory (Alexis Bledel), and Emily (Kelly Bishop) meet at the hospital after Richard Gilmore (Edward Herrmann) has a heart attack (and, coincidentally, the episode features a cameo appearance from Jane Lynch, who plays comedian Sophie Lennon on "Maisel"). After it's clear that he's going to recover, the ever-logical Richard starts talking to Emily about what to do in the event of his death, but his wife won't hear any of it. "No, I did not sign on to your dying, and it's not going to happen, not tonight, not for a very long time," Emily says. "In fact, I demand to go first."
"Yes, Emily," Richard replies. "You may go first." It's a line that's extra devastating considering the fact that Edward Hermann's death in 2014 meant that the character wasn't able to keep that promise in the revival.
In the Season 4 finale of "The Marvelous Mrs. Maisel," Moishe Maisel (Kevin Pollak) is unconscious in the hospital after having a heart attack. Abe Weissman (Tony Shalhoub) is tasked with writing Moishe's obituary in the event of his death, a morbid task that makes him realize how much he values his wife, Rose (Marin Hinkle). "Just remember," Abe tells Rose. "I'm going first."
"Whatever you want, Abe," she responds. It's a heart-warming moment, even if it employs recycled dialogue.
Divorce is the answer...or is it?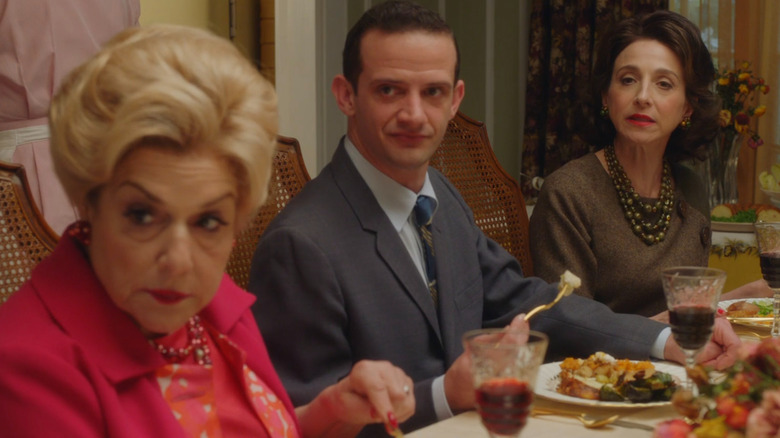 Amazon Studios
While "The Marvelous Mrs. Maisel" and "Gilmore Girls" are set in different places during different time periods, both shows focus on family relationships. A main through line on "Gilmore Girls" is that Lorelai struggles to connect with her wealthy parents. Emily and Richard Gilmore are appearance-obsessed, so Lorelai and Rory are understandably shocked when the couple decided to separate, a storyline that starts in Season 4 and continues in Season 5. 
Emily wants Richard to retire, but he decides to start his own insurance business instead. The decision causes a rift in their marriage, which they unsuccessfully try to hide from Lorelai, and Richard moves into the pool house. Thankfully, Emily and Richard are able to work out their differences and these longtime lovebirds ultimately get back together. 
Meanwhile, the Season 5 premiere of "Maisel" has introduced a similar storyline. During a chaotic Thanksgiving dinner, Moishe and Shirley (Caroline Aaron) announce that they've been separated for a while and intend to divorce. These two never stop bickering, but it's that endless verbal sparring that has always made them compatible. Now, Shirley wants Moishe to retire, though her husband is feeling energized after his brush with death in Season 4. However, if their separation is anything like Richard and Emily's, it's likely that Moishe and Shirley will be reunited by the final episode of the series. Viewers will just have to wait and see if history repeats itself before the narrative comes to a close.