Big George Foreman's Khris Davis Gained 50 Lbs In Five Weeks To Transform Into The Boxing Legend - Exclusive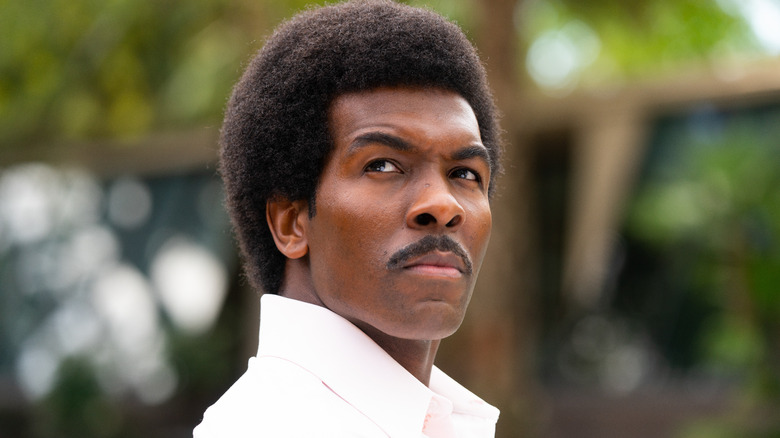 Sony Pictures Entertainment
To cast the title role in "Big George Foreman: The Miraculous Story of the Once and Future Heavyweight Champion of the World," director George Tillman Jr. and the film's producers first had to find an actor talented enough and physically large enough to pull off the colorful personality and imposing presence of the former world heavyweight champion. But they also had to find someone willing to go through some extraordinary transformations as well, including extreme shifts in weight and muscle tone.
In the film's production notes, producer David Zelon explains that finding the right actor was a considerable challenge: The movie spans Foreman's life from the ages of 17 to 45, while the champ's weight also fluctuates from 215 pounds to somewhere around 300. "It was important to do that with one actor, playing it all the way through," says Zelon. "It would be confusing to switch actors, but also, we also saw this as a tour de force role for an actor who could change so drastically physically."
In the end, the movie found its Foreman in Khris Davis, whose recent films include "Judas and the Black Messiah" and "Space Jam: A New Legacy," but who is perhaps best known for a recurring role on "Atlanta." Once he got the part, as Davis told Looper in our exclusive interview, his transformation began.
"[I] got into fight shape," said Davis about the initial phases of preparation. "We did some fight training. We did a fight camp, [and] we treated it like I was fighting for the heavyweight title belt. That got me in pretty good shape — really good shape, actually. But then I had to lose it all."
Khris Davis went through an extreme physical regimen to play Foreman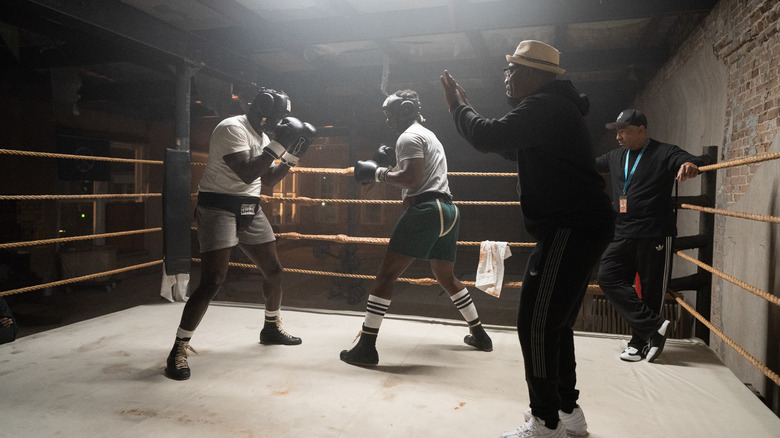 Sony Pictures Entertainment
While Khris Davis has the height and some of the same boyish features as Foreman, that's pretty much where the resemblance ends. Davis also didn't know how to box, despite playing a boxer in a play called "The Royale" at Lincoln Center. Fight coordinator Darrell Foster first taught him the sport and then schooled him in copying the specific moves and techniques of Foreman himself, with Davis studying every one of Foreman's fights.
For the film's first half, which charts Foreman's rise from a poverty-stricken childhood to mowing down Joe Frazier and capturing the world heavyweight title, Davis looks as sculpted and formidable as the intimidating Foreman of that era did. But after losing the crown to Muhammed Ali in 1974, then halting his career entirely after nearly dying in 1977, Foreman no longer trains and begins putting on weight — and so did Davis, who used an eight-week break in filming to transform himself again.
"For the second half of the film, I gained 50 pounds in five weeks," he recalled. "I went from 225 to 275 on a 7,000-calorie diet. The heaviest I got was 282." (The process was supervised by a dietitian.)
While Davis was dedicated to portraying Foreman's physical changes, documenting his personal and spiritual growth was equally important to the actor, and in the end, no one was more impressed than the real Foreman himself. "People ask me, 'Who is George Foreman?'" the boxing legend told Looper. "I tell them, 'Khris Davis.' He brought this character to life."
"Big George Foreman" opens in theaters on Friday, April 28.