Big George Foreman's Khris Davis On Playing A Boxing Legend And Meeting The Real Man - Exclusive Interview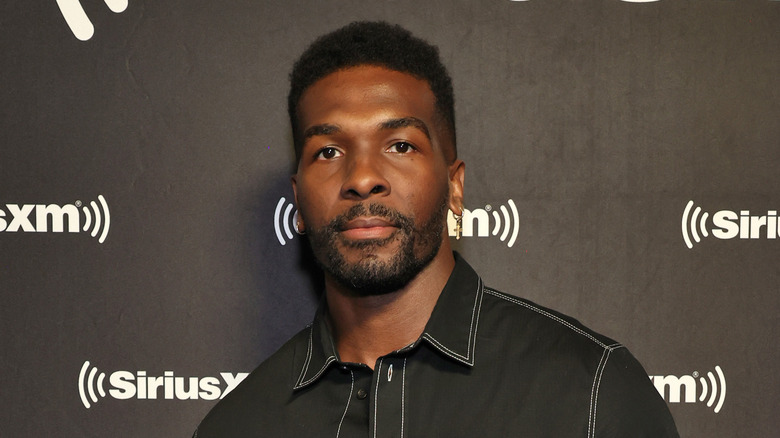 Cindy Ord/Getty Images
"Big George Foreman: The Miraculous Story of the Once and Future Heavyweight Champion of the World" is the tale of one of the greatest legends in the history of boxing and his startling personal journey, which took him from poverty to fame to the edge of death and back again, to a second life and an incredible comeback in the ring.
Foreman rose from a terribly impoverished background to box in the Olympics — only a year after he began training under the renowned trainer Doc Broadus — and quickly make his way to the very top of his sport, punishing Joe Frazier to win the world heavyweight crown in 1973 before abdicating it a year later in a devastating loss to Muhammad Ali known as the "Rumble in the Jungle."
After a near-death experience in 1977 while trying to make a comeback, Foreman embraced Christianity and began a second career as a minister, leading a church as well as a youth center in Houston, Texas. But financial problems forced him back into the ring after 10 years, where — initially out of shape and practice — he reclaimed the title at age 45 to become the oldest world heavyweight champion in history.
All this and more is chronicled in "Big George Foreman," and the actor taking on Foreman's personal, spiritual, and physical ups and downs is Khris Davis, a relative newcomer whose big-screen credits include "Detroit," "Judas and the Black Messiah," and "Space Jam: A New Legacy," along with a recurring role on seven episodes of "Atlanta." On portraying such a famous figure, Davis tells Looper, "There's such a huge responsibility to telling a story about such an icon like Mr. Foreman — where do you start?"
How Khris Davis approached playing a legend
Sony Pictures Entertainment
Someone tells you that you're up for the part of George Foreman. What goes through your head?
Oh my God, like, "How am I going to do this? Where do I start?" It's such a miraculous story to tell — ["miraculous story" is] in the title because it's true. There's such a huge responsibility to telling a story about such an icon like Mr. Foreman — where do you start? You got to start eating the elephant one bite at a time. I treated it essentially the way I would a script when I'm on stage when I'm doing theater. You break it down moment [by] moment; you find out where the arc is; you take your time. 
Luckily, I had the time to do it. We got pushed back several times because of COVID, and there was a hurricane that happened, so we faced a lot of adversity during this film. Every time that happened, I took it as an opportunity for me to dig deeper and deeper and deeper into the character. Thank God that we did have that time.
Is it challenging to play someone who's still here, and you know he's going to watch you, as opposed to playing someone from history who isn't around anymore?
I don't know. I was so much more concerned about authenticating the work than needing to be liked by Mr. Foreman in the moment. Sure, I wanted him to be proud. Sure, I wanted him to feel like his story was being taken care of. But the only way he could feel that his story was being taken care of [was] if I was locked in and treating it with care. I couldn't do that if I was distracted and unfocused. By being focused on the work, by making the work my primary objective, I think I was able to do that.
Meeting the real George Foreman – and then becoming him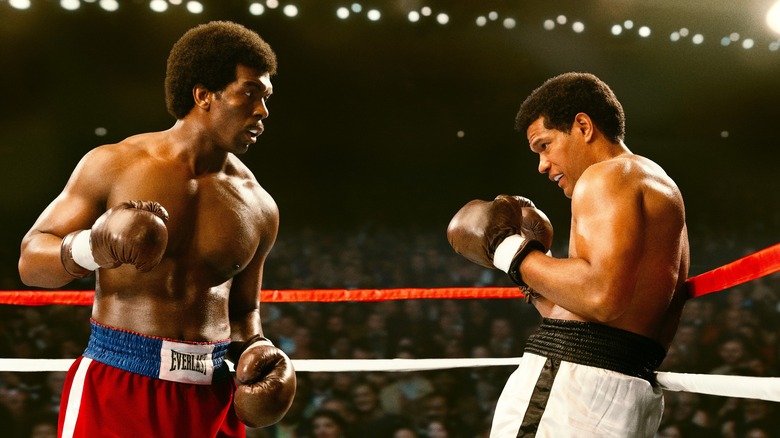 Sony Pictures Entertainment
Did you meet with George Foreman beforehand or during the shoot? If so, what wisdom or insight did he give you?
I did. I met him before we filmed for a few days in Houston, and we talked about his early fighting career. We talked about his second career. I asked a lot about what it was like to be a heavyweight champion in the '70s, and he talked about recklessness. I'm like, "recklessness?" He talked about how that's the way that he fought in the '70s, with recklessness. He said, "Buy something you like, something real nice, and then just break it." He said, "That's recklessness. Then you'll know what recklessness is." I took that with me when it came to filming.
Can you talk about the physicality of the role and the transformation you went through?
[I] got into fight shape. We did some fight training. We did a fight camp, [and] we treated it like I was fighting for the heavyweight title belt. That got me in pretty good shape — really good shape, actually. But then I had to lose it all. For the second half of the film, I gained 50 pounds in five weeks. I went from 225 to 275 on a 7,000-calorie diet. The heaviest I got was 282.
That is a wild swing. I hope you're feeling good now.
Yeah, no doubt. Thank you.
This interview has been edited for clarity.
"Big George Foreman: The Miraculous Story of the Once and Future Heavyweight Champion of the World" opens in theaters on April 28.