Every Suit Showcased In The Flash's Second Trailer Explained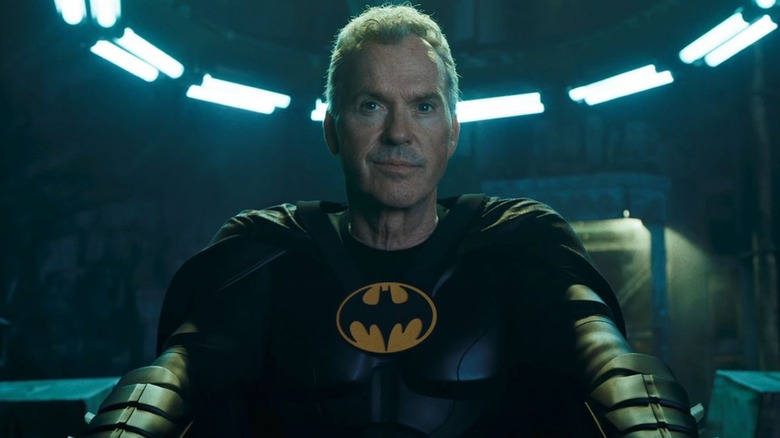 Warner Bros. Discovery/DC
The release of director Andy Muschietti's "The Flash" is right around the corner, and to give moviegoers more info about what the long-gestating DC flick will entail, a second trailer has reached the internet. There's plenty of action, drama, and notable lines to pick out from it, but one of the most widely talked-about parts of the teaser is the host of new superhero costumes that it showcases. First and foremost, it should come as no surprise that the film's title character, as well as his multiversal doppelganger, rock some intriguing suits.
When it comes to the main DC Extended Universe Barry Allen (Ezra Miller), he seems to have received quite the comic book-inspired upgrade for his solo film debut. Long gone are the wires and metal plates seen on his previous costume, which have been replaced with a sleek cherry red and gold jumpsuit topped with a helmet with retractable orange-tinted lenses. Where the Flash suits get really interesting is with that of the other Barry Allen (Miller) from an alternate timeline, who seems to be sporting the Batman suit seen in 1992's "Batman Returns." However, it has been repainted in Flash colors with the ears and cape trimmed off.
Of course, the two Flashes are just the tip of the new costume iceberg. There are plenty more fascinating new outfits from the latest "Flash" trailer to delve into.
Holy Batsuits, Batman!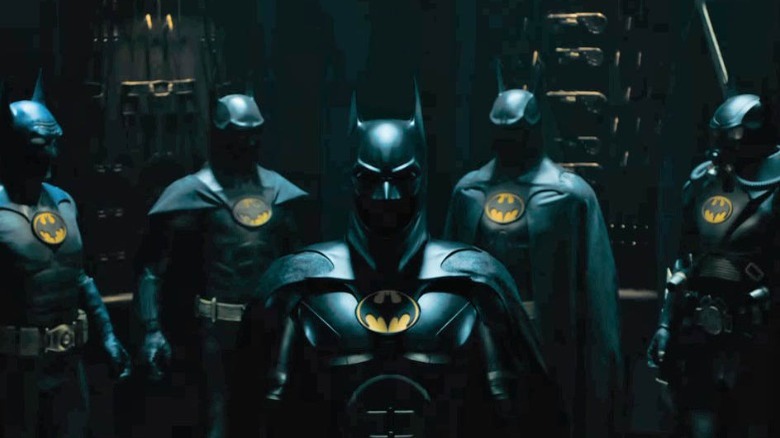 Warner Bros. Discovery/DC
Even though "The Flash" is about, well, the Flash, it features all kinds of Batman action and, therefore, Batsuits. As for Ben Affleck's Batman, who seems to get in a quick action sequence, he's not wearing his usual suit. Rather, he's wearing a Golden Age-inspired blue and gray outfit with all kinds of buckles and straps across the outside. Then there's the film's second Batman, as portrayed by Michael Keaton. For his grand return after over 30 years away from Batman's cape and cowl, he gets an updated suit that blends his "Batman" and "Batman Returns" looks into one slick fit. 
Additionally, "Flash" promotional material has shown off Keaton's Batman's collection of Batsuits, which contains some nifty ensembles. Aside from the one he wears into battle, viewers can also see what appears to be the suit from "Batman" — characterized by its rubbery muscles — the "Batman Returns" suit before alternate universe Barry gets ahold of it, and some other never-before-seen numbers. He too has a blue and gray suit (this one being an homage to the Silver Age comic suit), along with a black and gray suit with straps up and around the shoulders, a scuba diving suit, and a desert-faring suit.
No, it doesn't seem like he can turn his head in any of them.
Flash's Kryptonians are dressed to impress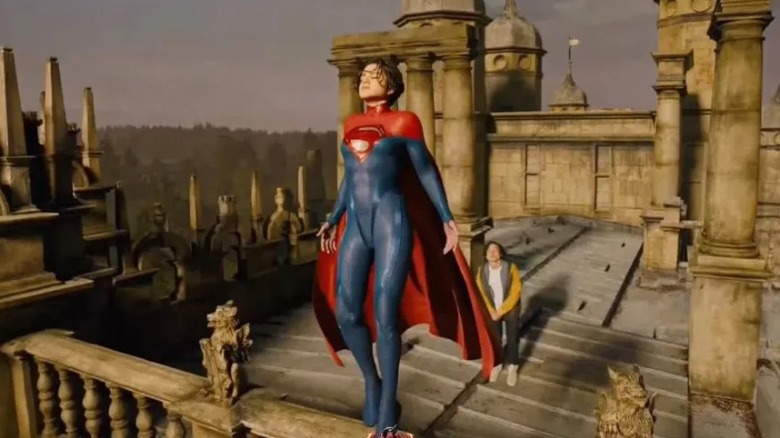 Warner Bros. Discovery/DC
Moving away from the inhabitants of Earth, "The Flash" also features some Kryptonians duking it out. One of the two should be quite familiar to longtime DC movie fans: General Zod, played by none other than Michael Shannon. The "Man of Steel" villain returns to the movies in "The Flash," and he pretty much looks the same as he did in the aforementioned feature. He commands the silver screen in his black and silver battle armor, complete with a tattered cape and a protective mask so he can safely breathe on Earth.
The child of Krypton who's far less familiar to moviegoers is Sasha Calle's version of Supergirl, who seems to take the place of Superman (Henry Cavill) in this new timeline as she makes her DCEU debut. This is supported by the fact that her costume is very much similar to that of Cavill's Superman, from the texturing to the red and blue color scheme. The emblem in the middle of her chest is even close to the one seen on Cavill's Superman suit, bearing only a few small tweaks. Naturally, the look is completed with a flowing red cape.
All in all, the "Flash" cast is dressed to impress. We'll have to see if the heroes and villains of the piece have any more looks they'd like to show off once the movie arrives on June 16, 2023.