The Flash's New Trailer Sees Barry Allen Racing To Fix The Timeline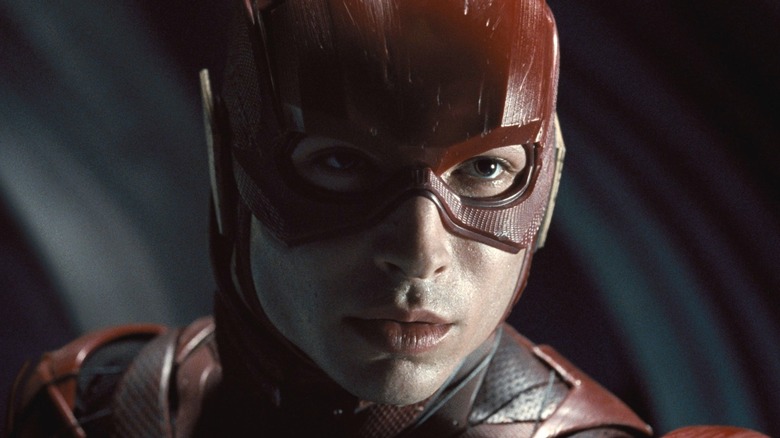 Warner Bros. Pictures
Multiple versions of Barry Allen (Ezra Miller). Michael Keaton's and Ben Affleck's Batman. Supergirl (Sasha Calle). A returning General Zod (Michael Shannon) and at least one major non-Batman Justice League cameo. Even without the various scandals and allegations surrounding Miller, "The Flash" is one massively news-worthy DCEU movie. The word-of-mouth surrounding the speedster-centric project has been highly positive, too. In fact, new DC Studios co-head James Gunn had nothing but monumental praise for "The Flash." 
From what the epic superhero film's trailers have showed so far, Gunn might very well turn out to be correct in his assessment. The Flash's time-traveling, multi-dimensional Speed Force shenanigans clearly make for a highly entertaining, packed blockbuster of a superhero film, and the movie's numerous cameos and returning characters are a great fit for the frenetic pace of its main character. Now, the latest trailer for "The Flash" is out, offering fans another glimpse into the complex movie before it hits the theaters on June 16, 2023. 
The Flash is speeding toward an epic adventure
Alternate realities have been all the rage in superhero storytelling in recent years, but as one of the premier veterans of timeline meddling, "The Flash's" titular hero is a great character for the DCEU's definitive take on the theme. This trailer for the movie is a showcase of both the trouble Barry Allen keeps ending up in and the way he's prepared to do whatever it takes to make things right.
"The Flash" may be marred by behind-the-scenes controversy, but what unfolds on the screen when the movie premieres just might be the DCEU's finest hour — which is just as well, really, seeing as this particular DC movie universe is fast approaching the finishing line as it gives way to Gunn and Peter Safran's DCU slate. Considering the sheer scale of action in this newest trailer, "The Flash" definitely intends to reach for the stars and look good while doing it.