Dominique Fishback Abandoned Her Typical Acting Prep For Lauded Swarm Performance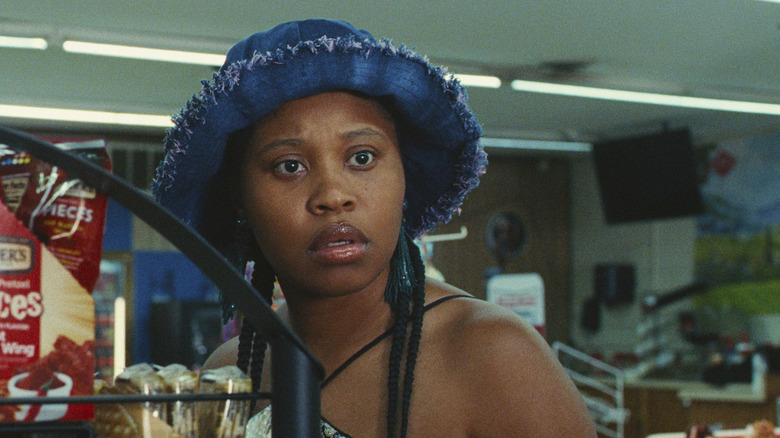 Amazon Studios
While there's plenty of television to look forward to for the remainder of 2023, it's going to be a tall task to find a performance quite as standout as Dominique Fishback's terrifying turn as Andrea "Dre" Greene in the Amazon Prime series "Swarm." The Donald Glover and Janine Nabers-created black comedy sees Fishback portray a fan whose obsession with the fictional pop star Ni'Jah takes a deadly turn. Taking on such an outlandish role required that Fishback utilize an equally out-of-the-box approach that challenged her typical style of acting. 
The "Project Power" and "Judas and the Black Messiah" star typically prepares for parts by journaling to better understand her characters as noted by The Hollywood Reporter. But her tackling of the unpredictable Dre saw Fishback work differently. "Psychologically on the page, I couldn't really track her, so I had to just decide to be present," Fishback told The Hollywood Reporter. Also acting as a producer on the miniseries, Fishback's techniques ultimately aimed to elevate both her character and the show as a whole. "In every project that I do, I advocate for my character and so it was about time I really advocated for myself," she continued. "I never just think about my character, I think about the whole entire world and arc of the whole show."
With such a rich viewpoint on her craft, it's hard to imagine anyone else accomplishing what Fishback did with Dre. But there was nearly a reality where this wasn't the case. 
Fishback almost didn't get the lead role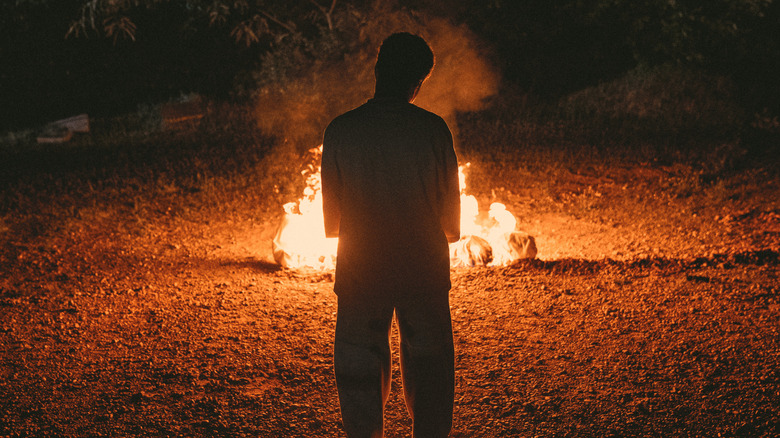 Amazon Studios
Dre is at the center of delivering the chilling blend of the insanely idiosyncratic and the terrifyingly tangible present in "Swarm." In doing so, Dominique Fishback crafts a hauntingly realistic symbol of the dangers of obsession and unchecked trauma that make it hard to see the world in quite the same way afterward. As clear as Fishback's dedication to the role is, it may come as a shock to learn that the actress was almost relegated to a supporting part.
Speaking with PopSugar, Fishback explained that Donald Glover initially envisioned her in the role of Dre's older sister, Marissa, a part that would later be played by Chloe Bailey. But when learning more about Dre, the performer urged Glover to reconsider her for the main role. "He said, 'Oh, we're so used to seeing you [as those lovable characters],' and this is why I wanted to do something different," she comments. "They're so used to seeing me be able to do that ... but he was excited by the idea." 
Her journey to discover Dre would go on to further inform who Marissa was as well, with Bailey telling Popsugar that Fishback was a "gift" to the character and to herself. Whether you know someone like Dre or even identify with her to an extent, there's no doubt that Fishback's efforts paid off in helping make "Swarm" the riveting experience of a show that it is.