The On-Set Prank John Larroquette Pulled On Night Court Co-Star Lacretta - Exclusive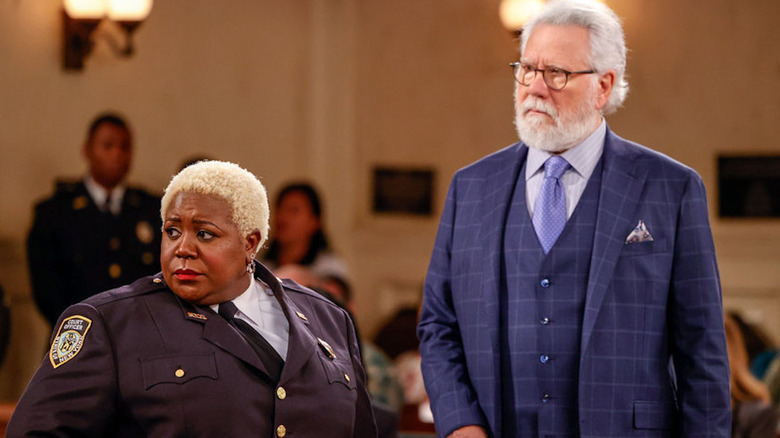 Jordin Althaus/NBC
In the mid-1980s to early 1990s, "Night Court" was a popular staple on American TV. The sitcom revolved around a young, unorthodox judge named Harry Stone (Harry Anderson) who presided over the night shift at the Manhattan Criminal Court surrounded by a literal cast of characters — one of the most memorable being lasciviously self-centered prosecutor Dan Fielding, played by John Larroquette.
Over the course of nine seasons, Larroquette won four Emmys for his work on the show, which ended in 1992. Some 30 years later, the actor has stepped back into Dan's shoes on the wildly successful "Night Court" revival that airs Tuesday nights on NBC.
This time around, though, Dan is a little more grounded and a lot less lecherous as he pivots to public defender under the tutelage of Harry Stone's daughter, Abby Stone (Melissa Rauch). But that doesn't mean he's lost his edge. In fact, during an exclusive interview with Looper, revival co-star Lacretta — who plays bailiff Donna "Gurgs" Gurganous — revealed that Larroquette still has quite the sense of humor behind the scenes too, pulling an on-set prank that left Lacretta wondering exactly how he pulled it off.
Larroquette's simple jump scare blindsided Lacretta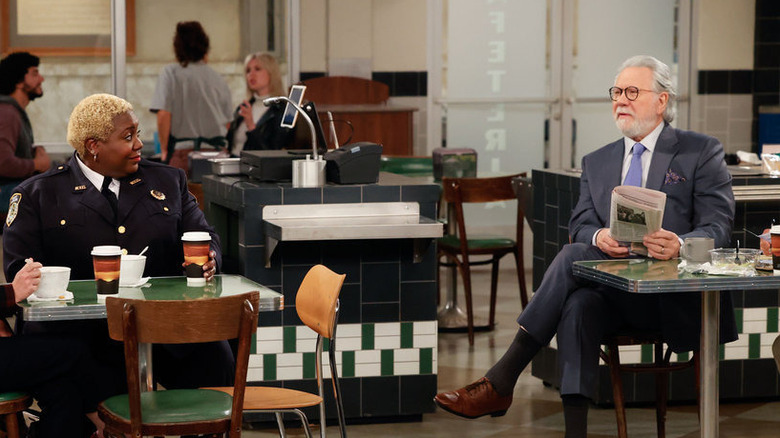 Jordin Althaus/NBC/Warner Bros. Television
A relative newcomer to television, Lacretta has paid her dues both on and off Broadway, having starred in the musical comedy "Avenue Q" and the first national tour of "The Book of Mormon," among other productions. So going toe-to-toe with an on-screen veteran like John Larroquette is a combination of effortless and eye-opening for the rising Hollywood star, who admitted she has learned to relax and pace herself from the original "Night Court" alum.
Lacretta has also realized that she has to keep a literal eye on Larroquette in between takes.
"One day, we were standing in the hallway set between the courtroom and Abby's chambers, and I look over and see John, like, 'Yeah, he's there,'" said Lacretta. "All of a sudden, out of the blue, he scares me. I was like, 'How did you do that? I knew you were there. You didn't jump around the corner. You were there, I saw you, you had your hands in your pocket, and then all of a sudden there was a jump scare.' ... We don't prank each other on a regular basis, so I think that's why it scared me so bad."
Lacretta admitted that Larroquette's imposing 6'4" frame may have had something to do with her unexpected reaction.
"I'm only 5'4", so he stands a foot taller than me," she said. "I'm slightly taller than Melissa, who comes up to his elbow, so we're all little elves and fairies running around this giant all day."
As for Larroquette's reaction to the rudimentary prank he pulled, he seemed pretty proud of himself, according to Lacretta.
"He has what I call 'sunshine eyes,'" she said. "When he smiles, his eyes are these arcs and his cheeks puff up, and he looks like a six-year-old. He looked like a giant six-year-old that was so proud of what he had done, that he scared me so bad."
The "Night Court" revival airs Tuesdays at 8:00 p.m. ET/PT on NBC and streams the next day on Peacock.