Does Kiki Get Her Powers Back At The End Of Kiki's Delivery Service?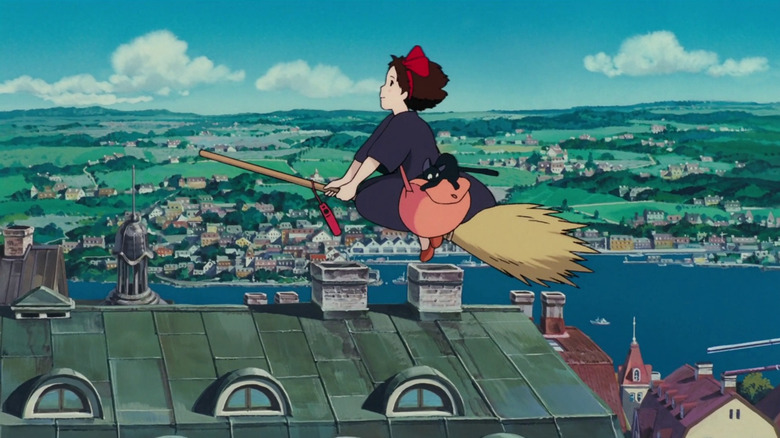 Studio Ghibli
The trailblazing Studio Ghibli has been adapting timeless children's stories for decades. From "Howl's Moving Castle" to "Arrietty," the beloved animation house has made its own versions of many memorable family tales. However, one of the earliest films that put the studio on the map and helped them to make the jump overseas was "Kiki's Delivery Service."
The story of a young witch named Kiki (Minami Takayama/Kirsten Dunst) who goes to live on her own for a year as a right of passage, the film is beloved for its gorgeous animation and its wistful story of trading the carefree nature of youth for the responsibilities of adulthood.
However, being that Kiki loses her powers early on in "Kiki's Delivery Service," much of the film's suspense comes from whether she will be able to get them back. Being that she is clearly able to fly her broom again at the end of the film, though, meaning she obviously got her powers back, viewers might be confused as to why she can no longer talk to her cat, Jiji (Rei Sakuma/Phil Hartman).
Throughout "Kiki's Delivery Service," Jiji is Kiki's closest friend and confidante. A cat companion that only she can talk to, Jiji is probably what many kids might fantasize about when they imagine their perfect best friend. However, by the end of the film, she has even lost the ability to speak with Jiji, and she never regains it, despite getting back her other powers.
The ending is slightly unclear but Kiki does get her powers back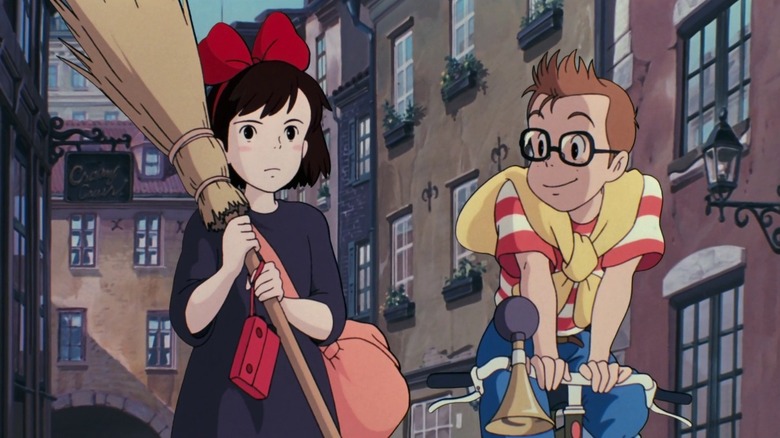 Studio Ghibli
At the end of "Kiki's Delivery Service," the titular witch is able to reignite her powers in order to save her new friend Tombo (Kappei Yamaguchi/Matthew Lawrence) from falling to his death by catching him on her broom. However, when Jiji tries to speak to her after her powers have returned, Kiki can no longer hear him. While the loss of this bond isn't framed as tragic, viewers will undoubtedly notice it all the same.
However, while this might be confusing for fans, it's explained in the "Kiki's Delivery Service" book by Eiko Kadono, which the film is based on, that the severance of this connection is a natural aspect of a witch coming of age. Symbolically, it shows that Kiki can now assert herself and communicate her feelings as an adult and no longer needs a secret confidante anymore.
Meanwhile, far from being dejected, Jiji is proud of Kiki, and being that he becomes a father to a litter of kittens at the end of "Kiki's Delivery Service," he has more than enough on his plate. Still, Kiki and Jiji will remain friends and likely will even continue to live together, even if they will never be as close as they once were.