Sony's Kraven The Hunter Confirmed To Feature Villain The Rhino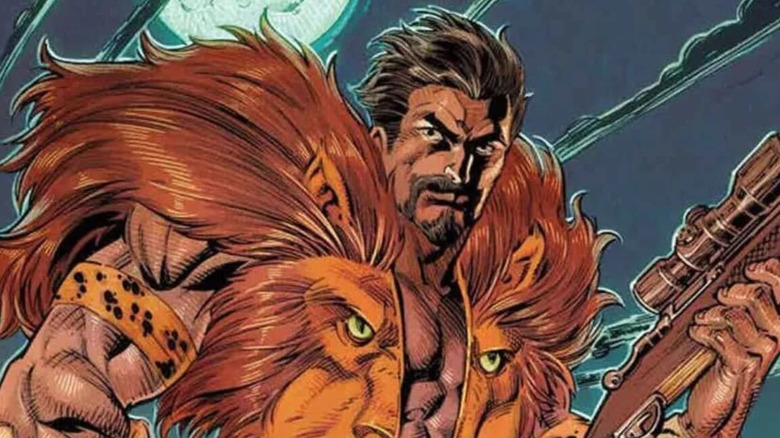 Marvel Comics
Marvel fans rejoice! Major news about the "Kraven the Hunter" film has been released, and comic book aficionados might be interested to learn who the movie's big bad might be. Possibly going toe-to-toe with Sergei Kravinoff, aka Kraven (Aaron Taylor-Johnson), will be none other than the brutish Rhino.
Per Ben Pearson of /Film, who was in attendance at the 2023 CinemaCon, the "Kraven the Hunter" trailer revealed Rhino as a major player for the Sony project. Fans may remember Rhino from 2014's "The Amazing Spider-Man 2," portrayed by Paul Giamatti. The character was one of the film's several secondary villains. In that film, Giamatti mainly portrayed the character as a rather ordinary Russian mobster, Aleksei Sytsevich, before donning a massive mechanical rhinoceros suit at the end of the film.
"Kraven the Hunter" seems to be taking the character in a completely different direction. The film's trailer displays the character transforming, with his arm turning rough and grey, with viewers hearing the man asking, presumably Kraven, why they call him Rhino.
The Rhino was first introduced in 1966
Marvel Comics
The Rhino is one of Spider-Man's most classic villains. Making his debut in "The Amazing Spider-Man" issue #41 in 1966, the character is introduced as a powerful, menacing, albeit somewhat cretinous, foe that constantly pushes the Webhead to his physical limits. In most of their battles, Spidey is forced to rely on his brains rather than his brawns to defeat Rhino.
A constant villain in Spider-Man stories, Rhino has also battled the likes of Hulk and Punisher. Still, it's an interesting choice to include him in a significant role for Kraven's live-action debut, especially since he's already been used before, making his own silver-screen debut back in 2014 in a movie that received subpar fanfare. According to Ben Pearson, the "Kraven the Hunter" trailer didn't promise many Spidey references, so it will be interesting to see what type of connection Rhino has to the film's overall plot.
"Kraven the Hunter" will be the first time Sony has made an R-rated Marvel film, and if the trailer is anything to go by, it will be bloody and action-packed. The movie is slated for an October 6 release. Marvel fans will certainly be wondering whether Sony can come out with a bang and breathe new life into their Spider-Man IP, especially after what happened with "Morbius."
Static Media owns and operates Looper and /Film.