TWD: Dead City Recast Maggie's Son Hershel With A Ghostbusters: Afterlife Star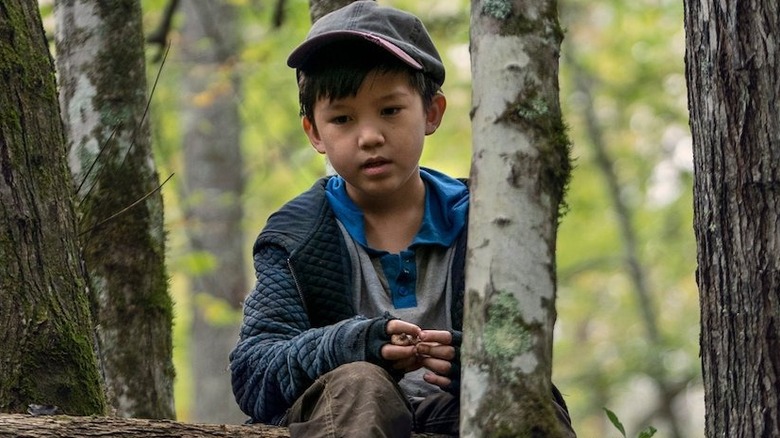 AMC
By now it is well-known that AMC's six-part miniseries "The Walking Dead: Dead City" is going to feature two of the most recognized characters from the original flagship show in the universe of "The Walking Dead," those being the tenacious and loyal Maggie Rhee (Lauren Cohan), and the formerly bat-wielding baddie Negan (Jeffrey Dean Morgan). Because the show will take place in New York City — a setting we have yet to really experience in the zombie apocalypse — it will mostly feature new characters and, of course, new actors bringing this new story to life.
There's one individual who will be a familiar character played by a new face: Hershel Rhee, Maggie's son by her late husband Glenn (Steven Yeun). Previously played by Kien Michael Spiller, he has been recast with Logan Kim, most recognized for his role in 2021's "Ghostbusters: Afterlife."
Hershel isn't seen that much during the original run of "The Walking Dead," but when he's last seen in the series finale, he's about 10 years old. But "Dead City" will take place a few years after the events of the finale of "TWD." Cohan confirmed as much at the "Dead City" panel at WonderCon in March. Whether this was the reason that he was recast isn't quite clear, but Logan is notably older than the young Spiller.
Logan Kim played Podcast in 'Ghostbusters: Afterlife'
At the time of writing, Logan Kim is still a very young actor, and as such, his IMDb is pretty sparse. Along with "The Walking Dead: Dead City," his only other credits are Quibi's fan-made miniseries "Home Movies: The Princess Bride" and "Ghostbusters: Afterlife." He played a significant role in the latter as Podcast, the tween-aged, occult-obsessed resident of Summerville, Oklahoma, who befriends the young Phoebe (Mckenna Grace) and Trevor (Finn Wolfhard), descendants of the original movies' Egon Spengler (the late Harold Ramis). 
The role of Hershel Rhee seems to represent a big step forward for Kim. It's Hershel's abduction and kidnapping by an unknown group that lures Maggie and Negan to New York City in the first place. It's understandable that she would go to what are pretty much the ends of the zombie-infested earth to keep him safe. Along with being named after Maggie's late and dearly loved father Hershel Greene (Scott Wilson), and the son of her gruesomely killed husband Glenn, it would seem that young Hershel is just about the only family Maggie has left. Most of the rest of her family was killed when the Greene family farm was overrun in Season 2. Half-sister Beth (Emily Kinney), the last surviving member of Maggie's biological family, was killed in Season 5.