Dark Loki Wields Mjolnir In Brand-New What If...? Comic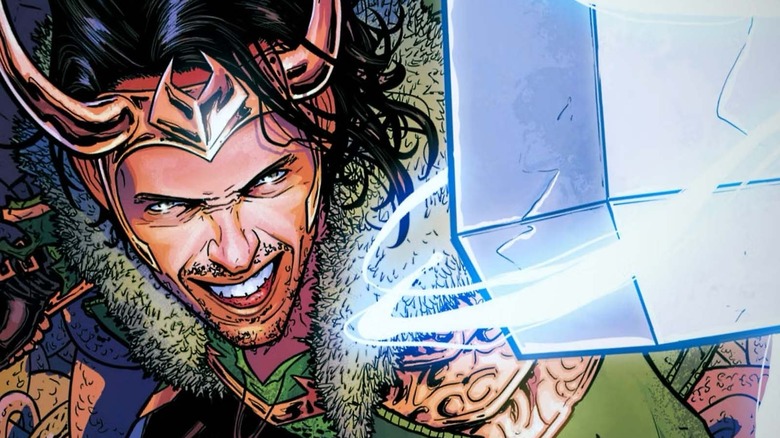 Marvel Comics
Contains spoilers for "What If...? Dark: Loki" #1 by Marvel Comics
For those wondering what would happen if Loki gained control of Mjolnir and became the new ruler of Asgard, a new "What If...?" tale will explore the dark rule of the trickster god.
Marvel Comics revealed a new one-shot, "What If...? Dark Loki," starring the fan-favorite villain from legendary writer Walter Simonson and penciler Scott Eaton. While details surrounding the upcoming project have been kept relatively quiet, the return of Simonson, who has penned some of the greatest "Thor" stories of all time, is incredibly welcome news. Simonson, whose iconic stories featured Thor being turned into a frog and saw the introduction of the beloved, worthy hero Beta Ray Bill, is taking on a new kind of story in the upcoming "What If...?" realm. Simonson will return to the world of Thor he once spearheaded, but with a new twist. 
Instead of the God of Thunder ruling over Asgard, the realm will be led by Loki. And it's likely his rule will descend the realm into chaos, as cover art from Simonson features a Mjolnir-wielding Loki standing in front of the demonic Surtur, who has broken free and attacked Asgard. Simsonson's creation, the Midgard Serpent, also appears on the cover art. Given his untrustworthy history, Loki may be leading the villains just as much as he's leading the attack against them.
Marvel's What If...? Stories are an important part of its history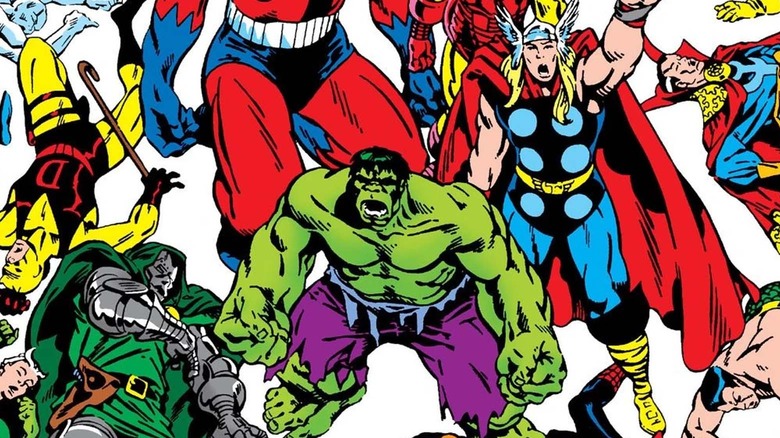 Marvel Comics
Marvel's "What If...?" comics are a fantastic storytelling avenue allowing writers and artists to explore important in-continuity events in new and exciting ways. Some of the most important questions in the iconic stories from the original "What If...?" line include "What if Spider-Man Had Joined the Fantastic Four?" "What if the Avengers had Never Been?" and "What if the Avengers Had Been Formed During the 1950s?" Since the first volume of "What If...? stories, " hundreds of issues have featured different and exciting questions.
While the "What If...?" stories were meant to be non-canon, some comics predicted events in the Marvel Universe. For example, "What If Jane Foster Had Found the Hammer of Thor?" was the first time Foster wielded the hammer Mjolnir, as she would later become The Mighty Thor. "What If Dr. Doom Had Become a Hero" would showcase a different Victor Von Doom, as multiple storylines, including "Invincible Iron Man," would later spotlight the usual Fantastic Four bad guy on a more heroic path. "What If Elektra Lived?" would come out before the hero was resurrected in the comics — as the assassin has played a huge part in Daredevil comics following her initial demise. 
The "What If...?" concept is so good even the Marvel Cinematic Universe has created its own line of alternate stories in the animated "What If...?" television series. The "What If...? anthology show has explored MCU-related questions, such as "What If... Killmonger Rescued Tony Stark," "What If... Zombies?" and "What If... Ultron Won?"
Loki's new What If...? tale is among several new dark stories in the Marvel Universe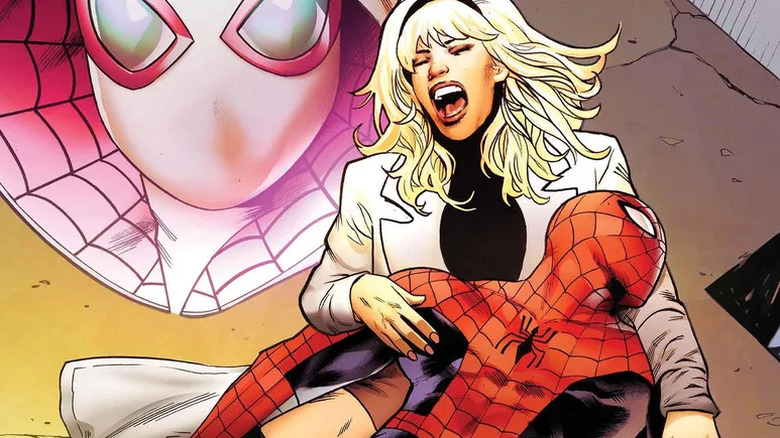 Marvel Comics
"What If...? Dark Loki" #1 isn't the only dark "What If...?" tale coming to the pages of Marvel Comics.
Marvel is revisiting the death of Gwen Stacy in a new story that will flip one of the most tragic moments in comic history. In "What If...? Dark: Spider-Gwen" #1 by Gerry Conway, Jody Houser, and Ramon Bachs, the classic storyline involving Stacy's death will instead be changed to feature Spider-Man's demise. With Conway, the original scribe for the "Death of Gwen Stacy" on board, the dark "What If...?" one-shots allow creators to revisit some of their most iconic work and put a new spin on it. While details haven't been revealed, Marvel solicitations show a "What If...? Dark Venom" one-shot is also in the works. It will be interesting to see if fan-favorite "Venom" writers and artists such as David Michelinie, Todd McFarlane, or other creatives who shaped the symbiote's stories in his earliest days return for the book.
Seeing Loki rule Asgard with Mjolnir represents different circumstances than readers are used to seeing the usual villain in. But, with Walter Simonson writing the story under the "What If...?" imprint, there's little doubt the comic will be worth checking out. Will Loki be a hero, or is he destined to be a villain, even with Thor's greatest power and his home realm under his control? Those questions will be answered when "What If...? Dark: Loki" #1 by Simonson and Scott Eaton from Marvel Comics arrives in comic book stores and online retailers on July 5, 2023.