Marvel To Reveal What Would Have Happened If Spider-Man Died Instead Of Gwen Stacy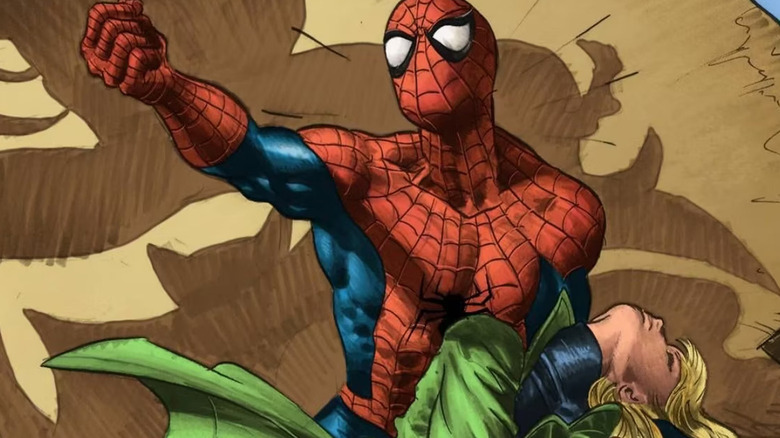 Marvel Comics
Spoilers ahead for What If...? Dark: Spider-Gwen #1 from Marvel Comics
One of the most heartbreaking moments in comic book history is getting a dark twist, as a new "What If...?" story from Marvel Comics will reveal what would have happened if Spider-Man died instead of Gwen Stacy.
"The Night Gwen Stacy Died" storyline in "The Amazing Spider-Man" #121-122 by Gerry Conway, Gil Kane, John Romita Jr, and Tony Mortellaro is a significant and tragic Marvel arc. The iconic story, published nearly 50 years ago, featured Gwen Stacy being kidnapped by the Green Goblin, forcing Spider-Man to confront the villain on the Brooklyn Bridge. Unfortunately, instead of saving his girlfriend, Spider-Man is too late, as his attempts to stop her from hitting the ground after being thrown off the bridge end in her death. Marvel recreated the scene in live-action in "The Amazing Spider-Man 2", where Andrew Garfield's Spider-Man was unable to save Emma Stone's Gwen. The moment is oft-remembered as one of the saddest death in all "Spider-Man" movies. Though, that universe's Spider-Man found redemption after saving MCU MJ in "No Way Home" from a similar fate.
The death of Gwen Stacy would have a lasting impact on Peter Parker and the rest of the Marvel Universe, as the main version of the character has primarily stayed dead in Earth-616 continuity. However, Marvel is soon reimagining the tragic moment in "What If...? Dark: Spider-Gwen" #1, which will swap Gwen and Peter's places in the original storyline.
A new What If...? story flips Gwen and Spider-Man's fate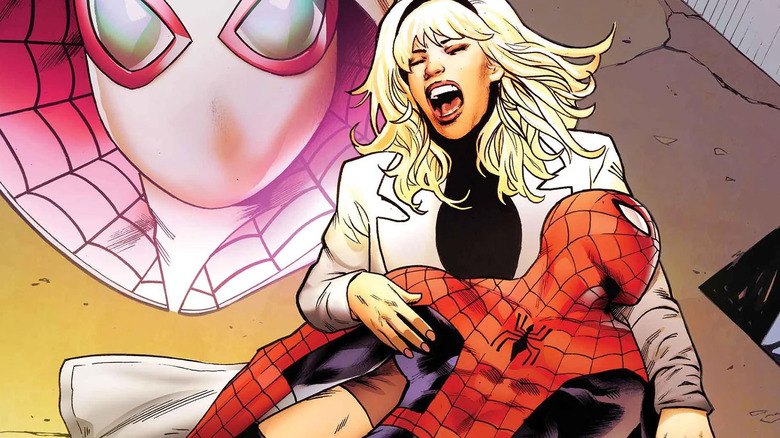 Marvel Comics
ComicBook.com revealed a new "What If...?" story that would reimagine the death of Gwen Stacy. "What If...? Dark: Spider-Gwen" #1 will see Gwen Stacy unable to save Spider-Man from the Green Goblin's deadly throes. Gerry Conway (who penned the original " The Night Gwen Stacy Died" comic) alongside writer Jody Houser ("Mother Panic") and artist Ramon Bachs ("Planet Hulk: Worldbreaker") will tackle the upcoming project that reimagines Spider-Man dying in the incident that initially killed Gwen.
"What If...? Dark: Spider-Gwen" #1" will be part of a new series of "Dark" one-shots from Marvel Comics, which will reinvent classic stories with a twist. Given the considerable history of dark moments in the pages of Marvel Comics, plenty of storylines could get a new treatment under the imprint. For example, Marvel could pen a story switching Daredevil and Elektra's places after the latter's death by Bullseye in "Daredevil" #181. Ultimately, it's a new way to revisit classic arcs and bring back the "What If...?" banner at the same time.
The death of Spider-Man will seemingly create a new origin for Spider-Gwen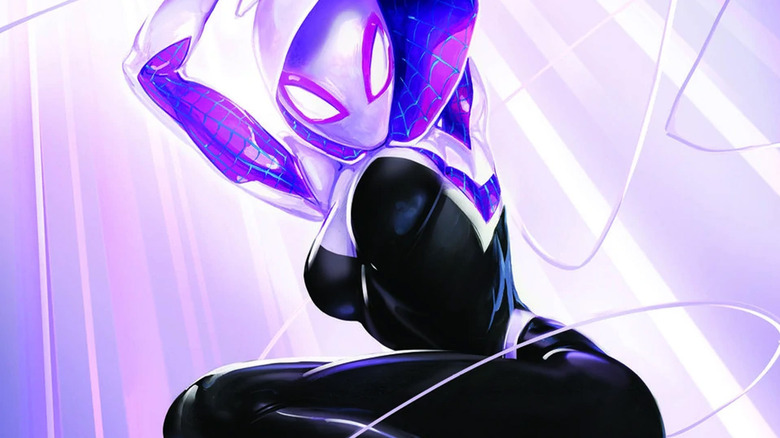 Marvel Comics
The cover art for "What If...? Dark: Spider-Gwen" #1 by Greg Land, like the title, features Spider-Gwen, hinting that after watching Spider-Man die, Stacy will be inspired to become a hero of her own — creating a new "What if...?" origin for the hero. It would somewhat echo the actual Spider-Gwen's own backstory, as she had to watch her Peter Parker (who was his universe's Lizard) tragically die. It appears no matter what universe they're in, Peter Parker and Gwen Stacy's romance will always end in extreme tragedy.
As to what the comic's content will actually entail beyond a "The Night Gwen Stacy Died" retelling, no one knows for sure. But with a moniker of "What If...? Dark," one can assume readers will be in store for a variety of tragedies.
Readers can see Gwen Stacy and Spider-Man swap dark fates when the new series of one-shots begins with "What If...? Dark: Spider-Gwen," from Marvel Comics, which arrives in comic book stores in July.