Modern Family's Rico Rodriguez Says He And Manny Have Become One And The Same
"Modern Family" actor Rico Rodriguez is down for a spinoff about Manny Delgado, the character he plays in all 11 seasons of the popular family sitcom, he once shared in an interview. As it turns out, Rodriguez feels a personal connection to his "Modern Family" role, hence why he might still be interested in bringing the character back to TV. For instance, Rodriguez wanted more time with Manny's football storyline in Season 5 specifically because it reflected his real-life football fandom.
As he detailed in a CBS News interview, Rodriguez didn't just bring aspects of himself to his portrayal of Manny, but even incorporated some of Manny's characteristics into his own life. "As I've grown into the character I feel like now I have kind of followed his way of life," he said. "Meaning how I present myself in public and trying to dress right and write poetry — it's just all coming together. Manny is kind of becoming a little like me, and I've become a little like him, which is awesome. So we're kind of like the same person."
That said, Rodriguez also revealed that he didn't always think this way. Rather, when he started filming "Modern Family," he felt that he and Manny were just about polar opposites.
Rico Rodriguez used to distance himself from Manny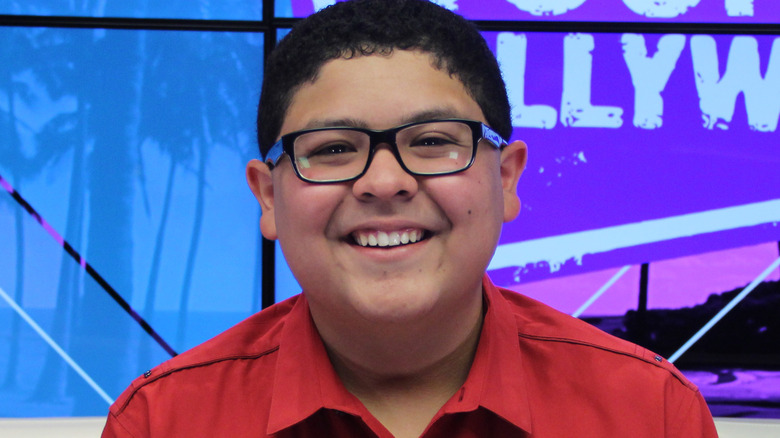 Young Hollywood/Getty Images
When he was still 12 years old and only just a season or two into working on "Modern Family," Rico Rodriguez spoke to casting platform Backstage about his then-new sitcom role. Partway through this profile of Rodriguez, author Jenelle Riley praised his skills as an actor, given how different she felt he was in-person from his "Modern Family" character. Rodriguez, at the time, agreed with this characterization.
"I'm nothing like Manny," he said. "Sometimes Manny says things, and I'm like, 'I would never say that!' But that's what's cool about the part — to play something so different from me."
Even then, however, Rodriguez conceded that he and Manny both had nieces and would listen to classical music, but he insisted that the similarities stopped there. When, six years later, he described himself and Manny as one in the same, then, he was at the end of a personal journey of sorts that saw him embracing aspects of a character he once rejected wholeheartedly. Rodriguez, in fact, hasn't appeared on-screen since the conclusion of "Modern Family" in 2020, suggesting that the former sitcom star may be inseparable from his most well-known on-screen persona to viewers as well.