Why Roman Really Didn't Want That Picture Message From Connor In Succession S4 Episode 5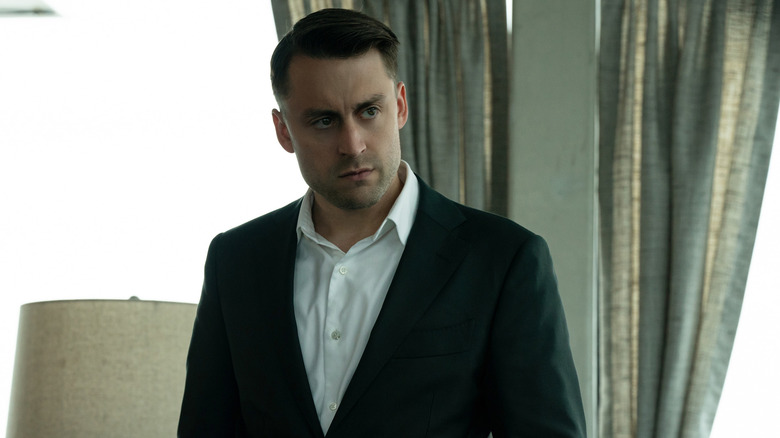 Macall B. Polay/HBO
Warning: This article contains spoilers for Succession Season 4, Episode 5 — "Kill List."
It appears "Succession" has no intention of slowing down the drama two episodes after the sudden death of Logan Roy (Brian Cox). In Episode 5, aptly titled "Kill List," the core Waystar Royco employees nervously sweat as Lukas Matsson (Alexander Skarsgård) continues solidifying his plans to purchase the company. The Roy kids interrupt their grieving and take an impromptu venture to Norway to meet with the offbeat moneybag, where Roman (Kieran Culkin) receives an upsetting picture message from his brother Connor (Alan Ruck).
Roman has a distinctive reaction to his father's death as he consistently yells at his siblings and insists that he isn't dead yet. In Episode 3, "Connor's Wedding," he's stunned by the news and unable to fathom the reality of the situation. Additionally, he can't handle the last conversation he may have had with his father, where he rightfully cursed him out in a voicemail. As the towering patriarch was apt to do, he intentionally pushed Roman's buttons by instructing him to fire Gerri (J. Smith-Cameron). Given Roman's complicated and inappropriate relationship with her, Logan knew he was upsetting both parties and relished the turmoil he created.
When Logan's body is taken off the plane, each of his children has a unique reaction to seeing their father's body bag. Shiv (Sarah Snook) walks away tearfully, Kendall (Jeremy Strong) stays behind to plot his next move, while Roman goes over to see the body. However, based on his reaction to Connor's photo, it's possible he never actually saw his dad, making this the haunting confirmation of exactly what he feared.
Roman is forced to confront the truth about his father's death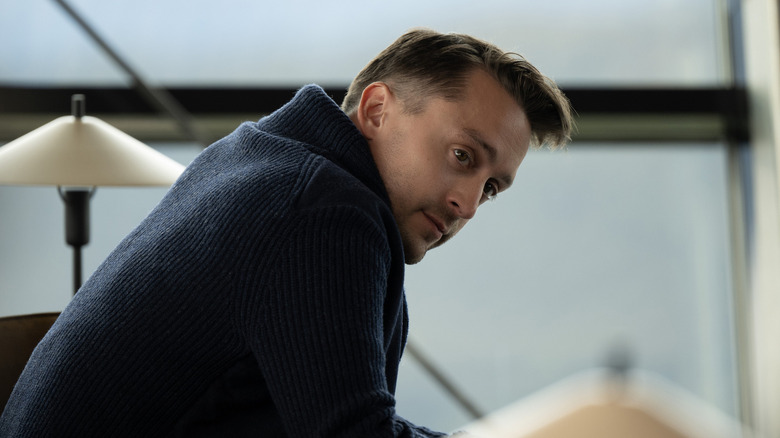 Graeme Hunter/HBO
While the younger kids are handling business matters in Norway, Connor is dealing with funeral arrangements in New York, specifically, the disastrous kilt Logan's corpse is dressed in. As they bat away Connor's plea for help, he asks if they want a picture, to which Roman angrily replies no. This reinforces his denial about Logan's death which is shattered when Connor later sends an unexpected photo against Roman's wishes.
Later, on the scenic high-wire gondola, Roman receives the image at the worst possible time. He and Kendall are tense while on their way to making their final negotiations with the increasingly impatient Matsson. This surprising moment enrages Roman over its nonconsensual nature, which is extremely ironic considering the lewd photo he sent Gerri last season. It also provides irrefutable proof to Roman that his menacing father truly is dead, perfectly tiering up his explosive outburst toward Matsson.
Roman finally comes to terms with his father's death and begrudgingly accepts the tragedy. "It's Dad, but it's not Dad," he utters to Kendall, who refuses to look at the ghastly reminder. This leaves Roman shouldering the weight of the burden by himself before he unleashes his emotional buildup on Mattson. He lays into him for his lack of sympathy and for forcing them to travel to him rather than the other way around. Roman maliciously threatens to stall the sale forever, but his sister's secret and clever actions help seal the deal with an inordinate offer of $192 million from Matsson. This cliffhanger leaves the Roy boys, and viewers bewildered about what's to come in the remaining episodes of "Succession" Season 4.