Amazon Canceled A League Of Their Own, But It'll Forever Be The Show That Rescued My Love For Baseball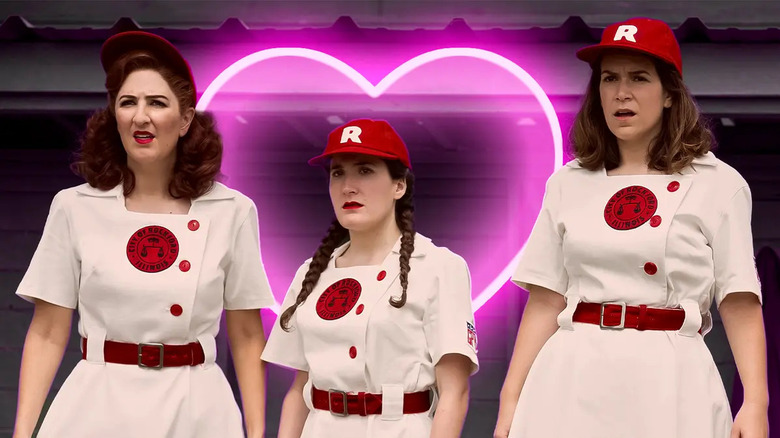 Static Media / Getty
When I was a little girl, I fell in love with baseball. 
It's the kind of love story that many people will go through in their lifetimes. A hobby enters your life, sparkles like an apple on a high tree limb. Sometimes you climb toward it but can't reach it. Sometimes you just sit on the ground and admire it from afar. And sometimes, that apple falls right on your head, and it knocks you out.
I was 12 years old when the movie version "A League of Their Own" came out, and it changed my life. "A League of Their Own" made me want to watch baseball, and even play it. I was probably the only person who watched the sitcom spin-off they made for it, and I'll tell you, I wore out that old VHS tape. 
Unfortunately, I didn't get to follow this newfound passion — a lack of opportunity, rigid gender norms, and small-town nonsense prevented me from doing so. Other hobbies replaced baseball. My interests changed and shifted as I aged. And then arrived a new version of "A League of their Own." This time, it came in the form of a television series that reflected a queer world filled with people who were, in their own way, utterly familiar to me. I became a fan instantly, and in the process, it brought back my childhood love of the sport. 
Not everyone was thrilled about the new show. I had friends who predicted it would be nothing more than a tired retelling of the movie. Me? I loved it, and that's what matters. And while Amazon Prime may have canceled "A League of Their Own," the series will live on ... if not at another network, then in my heart.
Doris helped me find my potential
Columbia Pictures
When I was 12, I wanted to be Doris Murphy (Rosie O'Donnell). Okay, I was really more like poor Marla Hooch (Megan Cavanagh) — awkward, strong of mind, but a romantic at heart. I was much more introspective and quieter than Doris, and preferred to spend most of my time alone with a book. However, I looked like Doris, and I wanted to be just like her — with her wisecracks, her talent, and her ability to shoot from the hip.
Most importantly, that summer I first saw "A League of Their Own," I instantly fell in love with baseball. I started following the Red Sox, and I attended a minor league game. And yet, in real life, I had nowhere to go with my interests, because the people around me weren't hospitable to the idea of me pursuing this interest. Sure, my parents had always been willing to toss a ball around with me, but the tiny Catholic junior high I attended had an athletic program that consisted of playing on the blacktop or shooting a ball (not even a basketball) into one of two hoops; we didn't even have a jungle gym for the younger kids to play on when I was going there. The junior league teams operating near me either wouldn't take girls, or they wouldn't take people who didn't go to a certain junior high school. 
And so, I was forced to leave baseball behind. I satisfied myself with other interests, other hobbies, as I grew. Baseball became background noise. But the iconoclastic Doris always stayed in my mind.
In spite of some harsh words, I was sucked into the new A League of Their Own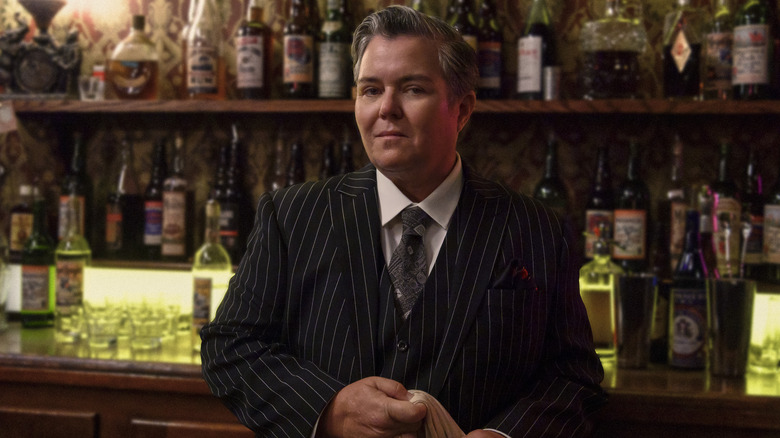 Anne Marie Fox/Prime Video
"It looks like a shot-for-shot remake."
A lifelong friend of mine, who I'd known for over 20 years, said this when the trailer for Amazon Prime's take on "A League of Their Own" dropped. She's the kind of person who has a tendency to make snap judgements that get her in social trouble more often than not; she has a strong opinion and no filter. I love her, but she was so wrong about that trailer, and that time, I had to tell her so.
That's the power of a good TV show. "A League of their Own" took what I loved about the movie and made it richer, grander, smarter, and braver. There were more girls who looked and acted like me. And there again was "Doris" — Rosie O'Donnell, this time playing Vi, a bartender in an underground club for queer people, which gets raided — driving home how dangerous things are for Carson (Abbi Jacobson), Greta (D'Arcy Carden) and all of their friends as they explore love and romance in the pre-Stonewall 1930s. How could I help but fall in love with the show?
A lot of people fell in love with the new "A League of their Own," too. The community it built is strong and still thriving. And I spent so much emotional time on the baseball diamond that I ended up watching real baseball again. This series brought me back to my old, teenage self, and I was happy to be reunited with her.
A League of Their Own's cancelation is saddening, but its message lives on in me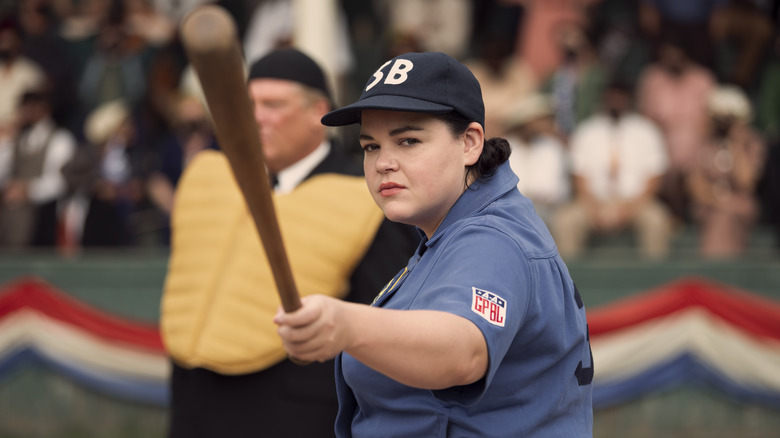 Anne Marie Fox/Prime Video
Good things don't last forever, sadly.  And so it was with the controversial canceling of "A League of their Own." While we will at least be getting a second season, it'll only be four episodes. It's a sad ending to a show that, by all rights, ought to have the six seasons and a movie that "Community" was eventually rewarded with. 
Yet, the show's already changed hundreds of lives, including mine. And this time, it doesn't have to end with the show's closing credits. Today, there aren't the same rules and regulations standing in our way. Now that Amazon Prime has canceled the show, I'm going to take my love for baseball to the world around me, as I go out and support both women's minor league teams and professional teams. Maybe someday, I'll find a league, too, where I can step out there on my own two feet, bat and glove at the ready. Good TV shows, and good movies, can rescue a person like that. Sometimes, the right story is all you really need to find some part of your personality that means the world to you.
I'll see you at centerfield.