The Character Choice Rosie O'Donnell Made While Filming A League Of Their Own Despite Being Told Not To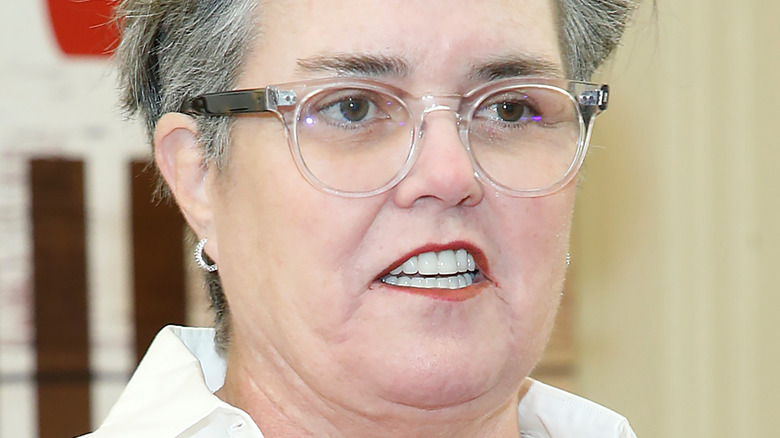 John Lamparski/Getty Images
The film "A League of Their Own" came out in 1992 and followed two sisters who join the first female professional baseball league and find themselves struggling to help it succeed amid their personal rivalry. Now, a new generation is being introduced to the classic, this time in the form of a Prime Video series co-created by — and starring — Abbi Jacobson. We see the lens widen to tell the story of a whole generation of women that dreamed of playing the sport, both in and out of the All-American Girls Professional Baseball League.
A fun tie-in is that Rosie O'Donnell, who starred as Doris Murphy in the original film, actually guest stars on the show. In an interview with Vanity Fair, O'Donnell discussed being on set for the newer series. "Well, first of all, to walk in at 60 years old and see my life 30 years ago, all the women in our outfits and all the mitts — it was just such a flashback," she said. "But I have to say that I loved doing it. I loved watching these women at the beginning of their careers."
Looking back on her role in the original "A League of Their Own," O'Donnell admitted in that same interview that there was a certain choice she made for her character that she was not supposed to.
Rosie O'Donnell thinks Doris is queer
Speaking to Vanity Fair, Rosie O'Donnell discussed the pivotal scene in 1992's "A League of Their Own" where she seemingly made the decision to define her Doris Murphy character as queer. She pointed to the scene on the bus where Doris says, "I never felt like a real girl or even a girl, but now I see there's a lot of us, we're all okay."
"To me, that was her saying she found her tribe, right? There were gay women or athletic women or women like her, and my character, I thought, was in love with Mae and didn't maybe know how to express it," O'Donnell explained, adding how times were different back in the 1940s. The actress went on to reveal that director Penny Marshall told her not to make things "so gay" when delivering the line. 
O'Donnell defended herself by explaining that she was just saying the words that were written, but the instructions remained the same. However, that didn't change the actress' take on the scene. "I did it the same way each time, because that was the way it was real to me," she expressed, later concluding her thoughts on the topic by praising Abbi Jacobson for introducing modern audiences to "A League of Their Own." "There were lots of cultural events for the gay community that we hadn't yet lived, and so it just touches me to see what Abbi has done and how she incorporated the reality of the Black women in the league and the gay women in the league and kind of opened it up to a 2022 worldview," she said.