Spider-Man, Moon Knight, Thor Among Heroes Getting High-Fashion Looks For X-Men Hellfire Gala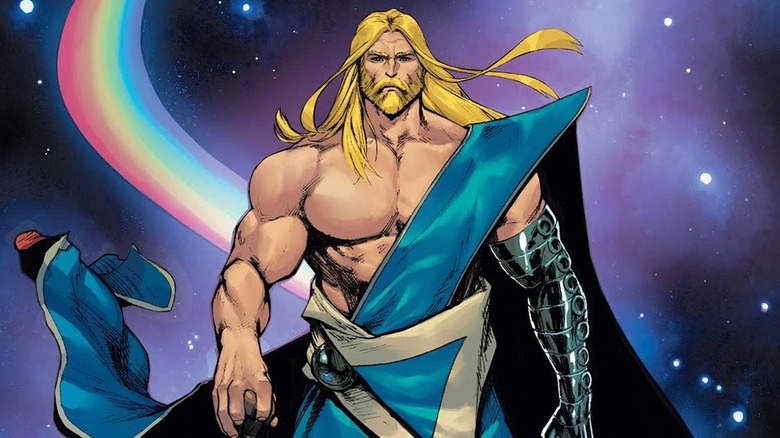 Marvel Comics
Contains potential spoilers for "X-Men: Hellfire Gala" 2023 #1 from Marvel Comics
The X-Men's Hellfire Gala is coming to the pages of Marvel Comics soon, as the night of high-fashion returns in 2023.
In 2021, Marvel's mutants opened the doors to their paradise of Krakoa for an extravagant party celebrating mutant culture and their achievements. The star-studded event has seen A-List heroes from Captain America, Spider-Man, and Iron Man, along with real-life celebrities, including Enimem, Conan O'Brien, and Kevin Feige himself, all travel to the well-guarded island that's been the home of the X-Men since the "Dawn of X" launch. The X-Men and company trade in their usual looks for more chic costumes at the gala.
The X-Men's Hellfire Gala has also set up key future storylines for the X-Men. The first event featured the death of the Scarlet Witch and the subsequent "Trial of Magneto." The gala also has been the place where the newest iterations of the main X-Men team have been unveiled. But the most fun aspect of the Hellfire Gala is the costume designs given to the heroes and villains arriving at Krakoa, as some of Marvel's top artists have provided elaborate new costumes and looks. Marvel Comics just revealed a handful of variant covers featuring the new unique ensembles that will debut in the 2023 event, and they are spectacular.
Moon Knight, Venom, and Spider-Man look striking in new outfits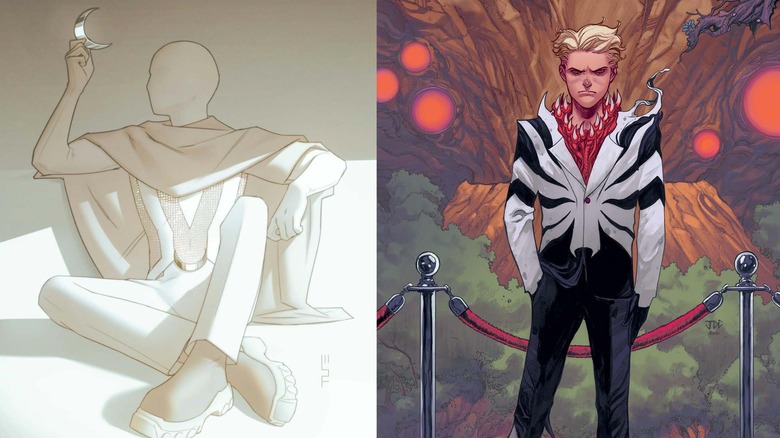 Marvel Comics
The first rollouts of new Hellfire Gala costumes feature fan-favorite characters getting notable redesigns.
In a design by artist W. Scott Forbes, Moon Knight gets an incredible all-white outfit, as he opts for more of a statement piece when it comes to his look. From his long overhanging cape, pure white mask, and stylish boots, Forbes really understood the assignment and brought something striking to the table for Marc Spector. The variant cover will appear on "Moon Knight" #25, which arrives in comic book stores on July 12.
Bernard Chang's new Spider-Man costume for Miles Morales gives the hero a dapper new ensemble that feels true to the hero. From the unique, spider-themed suit with a tailcoat, chunky boots, sunglasses, and mask covering below his forehead, Spider-Man gets a bold costume that will turn heads at the Hellfire Gala. Morales' new look from Chang will appear as a variant cover of "Miles Morales: Spider-Man" #8, which also releases on July 12.
In Joshua Cassara and Frank Martin's cover for "Venom" #22, Dylan Brock gets an appropriately symbiotic new look. The son of Eddie Brock gets a white and black blazer, with teeth making up the neckline of his shirt underneath. The outfit seemingly pulls inspiration from not just Venom, but the black and white color scheme is reminiscent of Anti-Venom, while the sharp teeth surrounding his neck look like they could belong to Carnage. Brock's new costume will be on a variant cover by Cassara, and Martin is set to be released in the first batch of Hellfire variants on July 5, 2022.
Captain Marvel, Iceman, and the X-Men get showstopping looks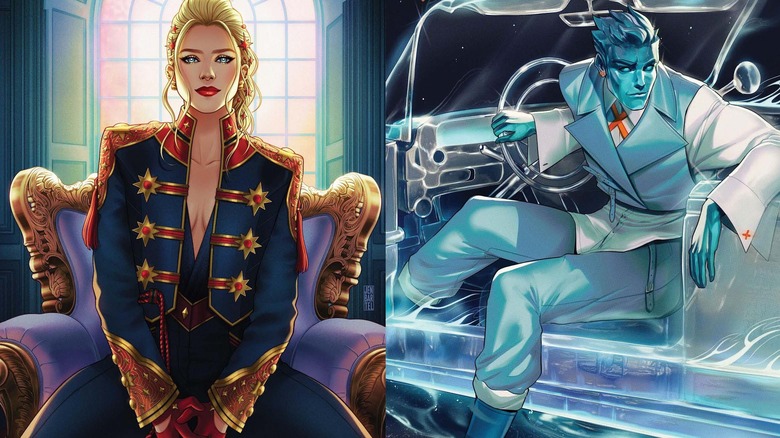 Marvel Comics
One of the most stunning new covers showcasing the upcoming looks of Marvel characters in the Hellfire Gala comes from artist Jen Bartel. The superstar artist gives Captain Marvel a beautiful outfit that takes cues from her iconic costume while giving her a sleek and sexy redesign. The star details throughout, the gorgeous jacket, and the V-neck pantsuit land the hero on the best-dressed list. Readers can see more of Bartel's design for Carol Danvers as she released an image highlighting the spectacular details among her shimmering ensemble. The image will appear on "Captain Marvel: Dark Tempest" #1 on July 5. 
In Luciano Vecchio's cover for "Immortal X-Men" #13, the heroes responsible for running the X-Men's resurrection protocols step out in the spotlight with marvelous new costumes for the Hellfire Gala. Proteus gets a suit made of concentrated energy bubbles, Egg gets an outfit that lives up to his Goldballs moniker, Hope Summers gets a hippy-punk ensemble with a Phoenix twist, Tempus gets a retro costume with a melting clock as a scarf, and Exlixir dazzles in all gold. The variant cover will be released on July 12.
Iceman will arrive in style at the X-Men's Hellfire Gala, as the hero sports an oversized suit with straps and undone buttons. The variant cover features Iceman driving an iced-out vehicle as the longtime mutant hero keeps things cool. The Oscar Vega-designed cover will appear on "Fantastic Four" #9 on July 5.
Nova, Ghost Rider, and Scarlet Witch get brilliant high-fashion designs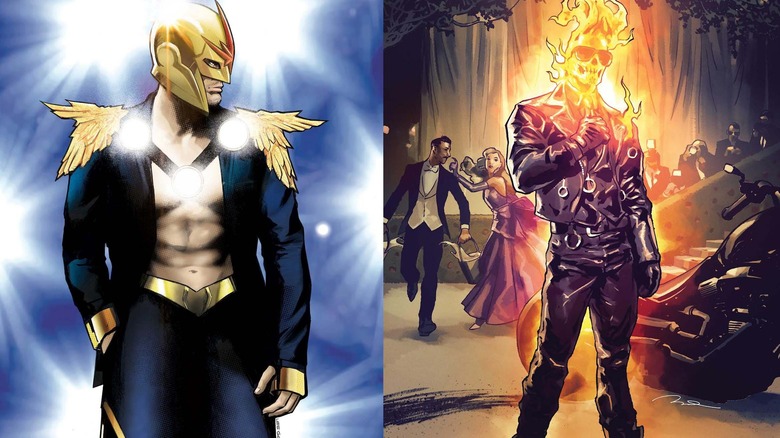 Marvel Comics
The X-Men's Hellfire Gala will also feature a new look for Nova. The hero sports his iconic helmet, but instead of his usual costume, he goes for something much more daring, as he wears a dark blue blazer with his chest exposed. The gold details throughout bring the ensemble together, as Nova also keeps his three circles strapped to his upper body, which glows bright, making a great contrast. The Lee Garbett-designed outfit will appear in "Guardians of the Galaxy," #4, which comes to comic shops on July 19.
Artist Gerald Parel gives Johnny Blaze a new outfit that deviates just enough from his usual costume, making him a sight to behold at the Hellfire Gala. In the Parel cover art, Blaze continues to sport all leather, although with a bit more of a loose-fitting feeling than readers are used to. Topping off the look is a pair of shades, which, even when worn inside, make Ghost Rider look cool despite being a fashion faux pas. The variant cover from Parel will appear on "Ghost Rider" #16, also released on July 19.
In one of the more beautiful images from artist Dustin Nguyen, the Scarlet Witch gets a great new look that dresses up one of her classic looks. From the long-flowing sleeves, dress, and hair, Nguyen's use of watercolors makes Wanda Maximoff's outfit for the Hellfire Gala gorgeous. Given her past drama at the Hellfire Gala, hopefully, the 2023 event will be relatively uneventful for the magical hero. Readers can pick up the variant cover featuring Scarlet Witch on "Doctor Strange" #5, which will be released on July 5.
Wolverine and Fantomex bring the style in new looks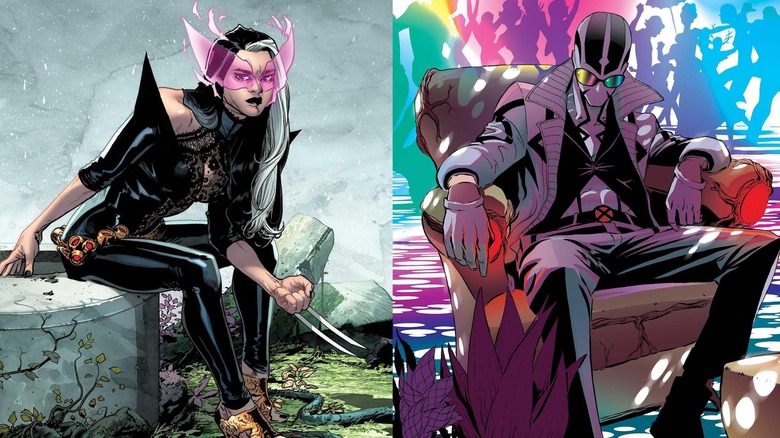 Marvel Comics
Once again, Wolverine gets a breathtaking new costume for the Hellfire Gala event. Artists Mahmud Asrar and Marte Gracia give Laura Kinney a leather ensemble with pointed shoulder blades, a lace top, and a new headpiece that honors her father's classic look. In addition, the version of Laura is older than usual, as her time displacement in the Vault has given her a white streak of hair. The variant cover from Asrar and Gracia will appear on "Wolverine" #35 and be released on July 19.
Fantomex makes a surprise return in a new variant cover from Nick Dragotta. In the image, the X-Force hero and former Weapon X experiment sits down in a chair as he sports a jacket and ensemble that isn't dissimilar to his usual black and white costume. However, with a pair of shades and a half-buttoned vest, Fantomex is one of the characters who isn't pulling off all the stops to seem high-fashion. But regardless, he is ready to make a grand return to the X-Men universe while potentially crashing the Hellfire Gala. The Dragotta cover will appear on "Deadpool" #9 and come to comic shops on July 26.
The great looks keep coming from the Marvel Universe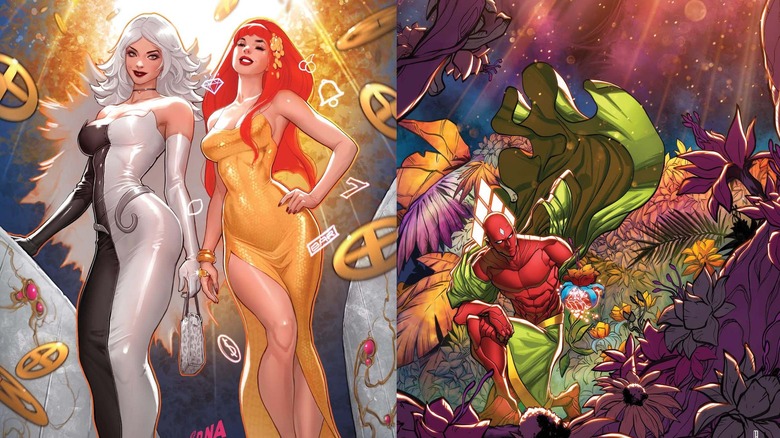 Marvel Comics
Many other Hellfire Gala costumes will appear on covers throughout the month. Black Cat and Mary Jane Watson get stunning, skin-tight dresses in a cover from David Nakayama that will appear on "Amazing Spider-Man' #26. The issue releases on July 12. Meanwhile, Vision, who will join the new Avengers roster, gets a somewhat simple and long-flowing new look from David Baldeon for the cover of July 26's "Avengers" #3, as the android wears a massive gold cape that wraps around his arms. Even Thor gets a high-fashion costume, as he can be seen in a layered new outfit in cover art by David Marquez for "Thor Annual" #1, which features the shoeless hero walking across the rainbow bridge. The issue will come out on July 5.
The high-fashion variant covers for the X-Men's Hellfire Gala will release across the month of July, leading up to "X-Men: Hellfire Gala #2023" #1 arriving in comic book stores on July 26. Here's the full text preview from Marvel Comics. 
The Hellfire Gala is always the biggest event of the season...but this year's will change everything for Krakoa. What is meant to be mutantkind's biggest night becomes their biggest nightmare as the Fall of X begins! All your favorite X-Men are going to be left reeling after this one – shocking revelations, stunning betrayals, horrifying tragedy, impossible deaths...and of course the most glamorous looks of the year, all in one CANNOT-MISS package!
Marvel.com has more information on what readers can expect during the event and the variant covers coming soon to the X-Men's Hellfire Gala.