Terminator 6 Set Photos Show Off Linda Hamilton, Mackenzie Davis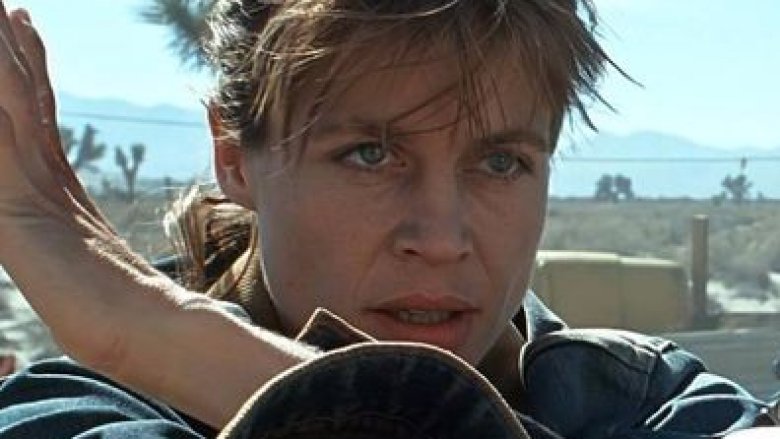 Arnold Schwarzenegger's Terminator promised us he'd be back, Linda Hamilton's Sarah Connor has returned as well, and now Mackenzie Davis has joined the party.
New photos from the set of Terminator 6 show off the first full look at Hamilton back in character as the wanted fugitive-turned-headstrong mother and nearly unstoppable fighter Sarah Connor, as well as glimpses of newcomer Mackenzie Davis in her yet-to-be-named role. 
Courtesy of The Terminator Fans, the snaps feature Sarah wearing a bullet-proof vest with military binoculars tucked in the pocket, a pair of green cargo pants, and aviator-framed sunglasses reminiscent of her signature shades she wore in previous Terminator films. She also sports shorter, almost all-gray hair — indicating that quite a lot of time has passed since fans last saw Sarah kicking butt and taking names. 
In another corner of the sprawling interweb, extra Terminator 6 set photos feature Davis in costume as a solider-assassin. Davis' character, much like Hamilton's Sarah, keeps things simple when it comes to attire. A dirty white tank top and dark jeans are sufficient for her preferred mode of combat: getting up-close and personal with her enemies.
What's interesting about the photos of Davis on set is that the actress has white lines running up her arms and across her chest. These markings might simply be scars left over from wounds Davis' character has suffered, but given the precise pattern they fall in, we suspect something more complex (and perhaps Terminator-related) is at play. 
Despite what many may already think about Terminator 6 and might further assume based on these new set photos, the film doesn't actually revolve around Hamilton's Sarah and Schwarzenegger's aged-up version of the T-800 Terminator. Rather, the sixth franchise entry puts a new face face front and center: Natalia Reyes as Dani Ramos, a young woman being hunted by an advanced Terminator, played by Agents of S.H.I.E.L.D. actor Gabriel Luna. 
According to Schwarzenegger himself, producer James Cameron (who directed the first two Terminator movies) and director Tim Miller (who helmed Deadpool) created a "whole new movie" with Terminator 6. "What they are doing now with this one is basically to just take a few very basic characters, like Linda Hamilton's character and my character, and dismiss everything else," the actor previously explained. He added that the upcoming film will "move away" from the other characters introduced in the series' sequels, most notably 2015's Terminator Genisys, which starred Game of Thrones' Emilia Clarke as Sarah Connor. 
Cameron once admitted that Terminator 3: Rise of the Machines, Terminator Salvation, and Terminator Genisys "didn't work" for a number of reasons, and that's why Terminator 6 is introducing new characters to "toss the baton." 
While it remains to be seen how the new and old characters link up, it's safe to bet that Sarah and the T-800 are on Dani's side and Davis' mystery character will rally behind Luna's powerful new Terminator. 
We'll know more as Terminator 6 moves closer to its July 26, 2019 debut.
I will be watching this film for the plot & no other reason whatsoever. None. *whispers* look at her arms pic.twitter.com/Wcqt7FV9Qp

— Jetgirl Says Stuff (@jetgirl78) June 19, 2018