Arnold Schwarzenegger Confirms He's In Terminator 6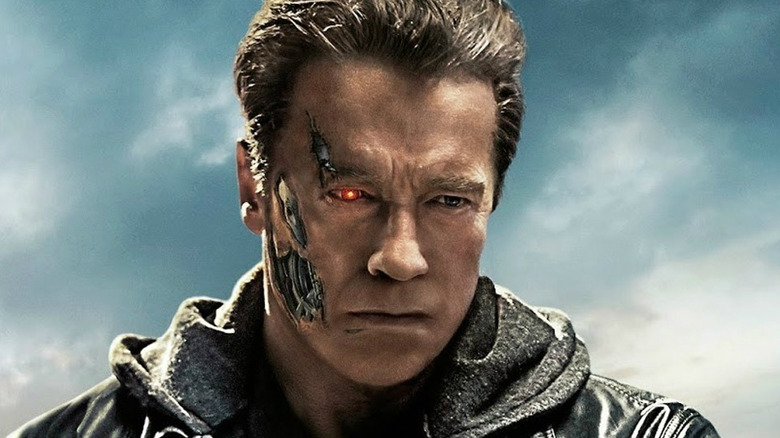 Paramount
Producers of the next Terminator movie hope to wipe the slate clean after the critical and commercial failure of Terminator: Genisys, but there's one essential element that will most certainly be back. 
In an interview with the Austrian newspaper Kleine Zetung (as reported by The Playlist), Arnold Schwarzenegger confirmed he will return for the untitled sixth Terminator movie, to be produced by The Terminator and T2 director James Cameron in collaboration with Deadpool director Tim Miller. Schwarzenegger said he'll begin shooting for the film in March of next year. 
It was rumored that Schwarzenegger was finished with the franchise after the negative reception to Terminator: Genisys, but development forged ahead after the consolidation of the new production team. Cameron has already stated that he is looking for ways to spin the new movie into its own self-contained trilogy, and it's currently unknown if all three of those proposed movies would involve the 70-year-old Schwarzenegger in a killer robot role. "Right now, we are leaning toward doing a three-film arc and reinventing it," Cameron said, elaborating that he would like to see the series "introduce new characters to 'pass the baton.'" The comment suggests that this return to the Terminator franchise may be Schwarzenegger's last ride in the series. 
Skydance, which will be producing the movie with Paramount Pictures, is optimistic about the movie's creative prospects, with CEO David Ellison expressing to Collider his belief that they have "resolved the future" of the franchise.
"I think where it's going will be the continuation of what the fans really wanted since T2," Ellison said.
Fans shouldn't be blamed for being skeptical, having been promised a return to T2 since 2003's Terminator 3. But with the optimism and bona fides of the creative team this time around, not to mention the reunion of Cameron and Schwarzenegger, anything is possible. 
While we wait for more developments, check out our list of other franchise reboots that really worked.