Are Hallmark Movie Stars Lacey Chabert And Alison Sweeney Friends In Real Life?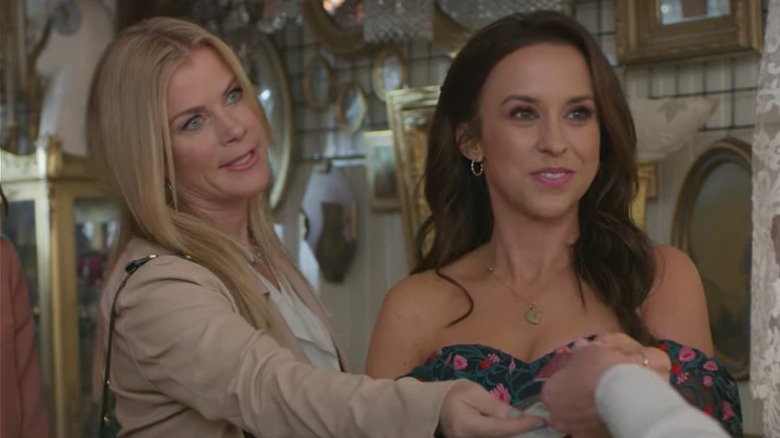 Hallmark
Just like most jobs, actors develop different types of relationships when working together, which can go in either a positive or negative direction. So sharing the same set on six straight films can either be a torturous stretch or a dream come true. Luckily, it was the latter for actors Lacey Chabert and Alison Sweeney, who both costar in the Hallmark Channel movie series, "The Wedding Veil," which has now gifted fans with back-to-back trilogies. In fact, the making of these movies made their friendship even stronger.
Sweeney, in addition to her 25 years on "Days of Our Lives," has done her share of Hallmark movies. She revealed to Media Village that during "The Wedding Veil" run, her off-camera friendship with Chabert and her other costar, Autumn Reeser, only increased over time. "We were close before and now it's deeper," she said. "We've had the most meaningful [times] together doing these, and you get to know someone so well when you're traveling, or when you're exhausted and it's two o'clock in the morning." Sweeney added that the real-life friendships only enhanced what fans saw onscreen: "We all have this lovely ebb and flow where we can support each other in the way we work and be there for each other."
The unique advantage to working with a friend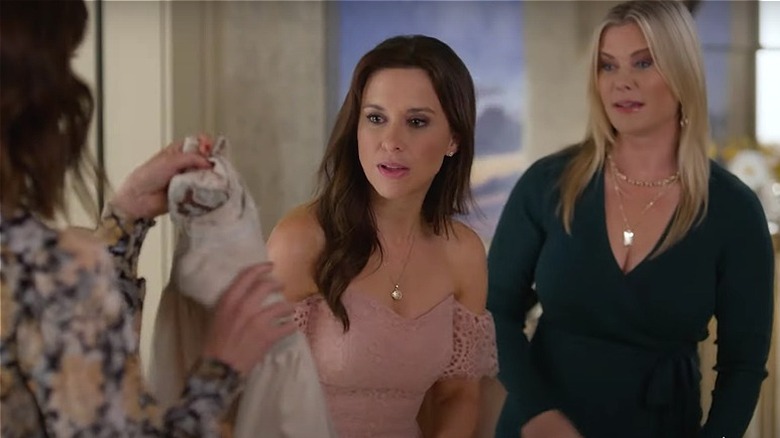 Hallmark
Back In January 2022, Hallmark Channel introduced fans to "The Wedding Veil," the debut installment of the first trilogy, which revolves around three college friends who discover a mysterious old veil that connects its wearer to her true love. "The Wedding Veil Unveiled" takes the story to Italy to investigate this phenomenon, while the trilogy concludes with "The Wedding Veil Legacy," where the last of the three friends partakes in the veil's powers to help her find romance. The popularity of these movies led to a second trilogy a year later, with "The Wedding Veil Expectations," "The Wedding Veil Inspiration," and finally, "The Wedding Veil Journey." For the cast, that meant spending plenty of quality time together.
Luckily for friends Alison Sweeney and Lacey Chabert, the making of these movies over a significant stretch of time led to an enjoyable experience and enhanced their off-camera bond. Meanwhile, Chabert believes that this series, along with the many others churned out by the Hallmark Channel, has become so popular due to the times we're living in. "You know, I think it's the goodness," she said on "Live with Kelly and Ryan." "I think it's the hopefulness. I think more than ever, we all need just like a feel-good." Hopefully for Chabert, she'll be able to continue those good feelings with her friend Sweeney as fans wait to find out if another "Wedding Veil" trilogy is on the horizon.