Lacey Chabert Always Puts A Personal Touch In Her Hallmark Movies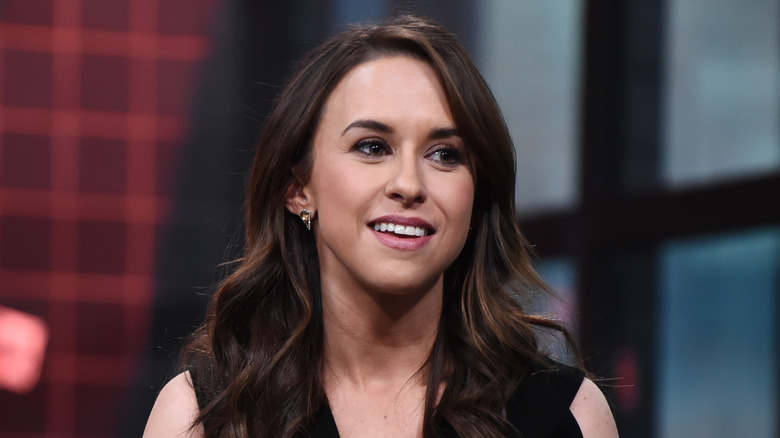 Daniel Zuchnik/Getty Images
Lacey Chabert has carved out a real niche for herself on the Hallmark Channel, having appeared in over 30 movies on the network. These don't seem to be typical work-for-hire jobs for the actress, who has a personal emotional investment in the roles. And she once elaborated on these "personal touches" in an interview with The Pop Culture Principle.
During the interview, Chabert was asked about the tendency of her Hallmark Channel performances to include some component or element from her own real life. Her answer should be of interest to fans of the star. "In 'A Royal Christmas,' I wore my own wedding dress. In 'A Wish For Christmas,' I was seven months pregnant," Chabert recalled, reflecting on her ever-growing body of work in Hallmark Christmas movies.
At the time of the interview, Chabert was promoting her 2017 Hallmark effort, "Moonlight in Vermont." The 2017 film was shot shortly after the birth of her daughter, Julia, in the fall of 2016, which gave the experience of shooting a particularly special resonance for her.
Chabert's experience filing Moonlight in Vermont was particularly special
Sometimes Lacey Chabert's personal touch in a film has more to do with what was going on in between takes, rather than what is appearing on-screen. "For me, the personal touch in ['Moonlight in Vermont'] was that Julia was on set with me and it was my first experience working away on location as a family," Chabert told The Pop Culture Principle. "We created some wonderful memories."
Chabert has continued her prodigious output with the Hallmark Channel since that 2017 interview, having released three "Wedding Veil" movies on Hallmark in 2023 alone.
What keeps Chabert so happy working with the Hallmark Channel? According to Chabert, it's not just the fact that she gets to incorporate her real life into her performances. "I love that Hallmark movies always have a happy ending," Chabert said. "Fans of the movies always express to me their appreciation that they can always count on an uplifting message. Personally, I also appreciate how my friends at Hallmark take such great care of me." Chabert went on to say that the Hallmark team has become like family to her.
With this in mind, one thing is for sure: Chabert's Hallmark work is likely to always have that personal connection for her. This is undoubtedly one of the many reasons Chabert loves filming Hallmark holiday movies.