Why Lucy Chen From The Rookie Looks So Familiar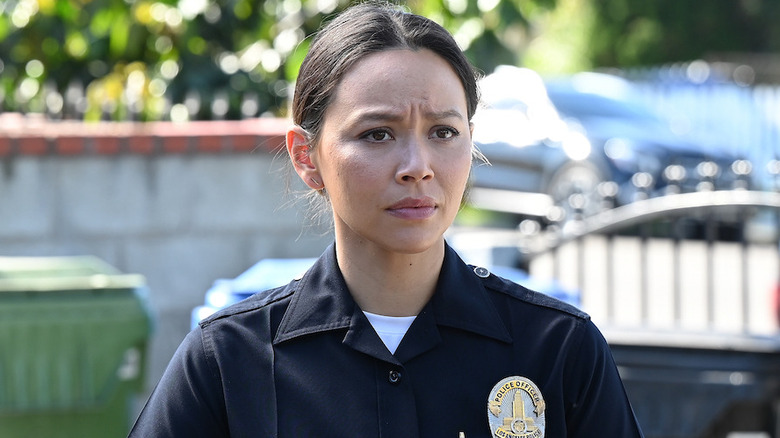 John Fleenor/ABC
Taking down bad guys, mentoring a teenager, and protecting her friends. That's a day in the life of Lucy Chen (Melissa O'Neil), the former rookie of the LAPD who is now using her crime-fighting skills to do undercover work as needed while juggling her regular patrol on the hit ABC crime drama "The Rookie." Season 1, Episode 1, "Pilot," begins with the introduction of rookies John Nolan (Nathan Fillion), Jackson West (Titus Makin, Jr.), and Lucy Chen, who is seen making her first arrest just hours before starting her first day on the job. Each gets paired with a training officer, and Lucy gets Tim Bradford (Eric Winter), who hopes that his tough teaching style will keep them safe while out in the field.
A lot has changed for Lucy since Season 1. She starts going undercover in Season 3, Episode 9, "Amber," posing as a chemist. She also becomes a mentor to Tamara Collins (Dylan Conrique) after the teenager steals her car during Season 3. The two eventually become roommates, giving her Jackson's room following his death, which is revealed in Season 4, Episode 1, "Life and Death." The changes have since continued for Lucy, who is now in a romantic relationship with Tim.
But before she was taking down bad guys on "The Rookie," O'Neil was making a name for herself on Broadway as well as another popular TV show. Here is why Lucy Chen looks so familiar.
O'Neil is well-known for her musical talent
Melissa O'Neil made "Canadian Idol" history in 2005, becoming the show's first female winner and taking the crown while she was still in high school. And it's a reference that "The Rookie" worked into Season 2, Episode 16, "The Overnight." Lucy and Tim make an arrest at an "American Idol" audition site. While Lucy is searching for the suspect's backpack, a crew member mistakes her for a contestant and brings her to the audition room where she shows off her musical talents in front of Lionel Richie, Luke Bryan, and Katy Perry.
And she's also worked to combine her musical and acting talents through stage performances. In 2012, she would join the Broadway cast of "Jesus Christ Superstar," playing Martha and a maid. She would return to Broadway in 2014, playing a member of the ensemble in the revival of "Les Misérables," which was filmed for home audiences to enjoy.
She has since been stealing scenes on the small screen and gained attention for her roles in popular shows based on well-known literary works.
O'Neil can be spotted on two popular sci-fi shows
Melissa O'Neil is one of six people who wake up in the 27th century with no memory on the Syfy series "Dark Matter," based on the book by Blake Crouch. O'Neil played Two during the show's three seasons. During an episode of SYFY's behind-the-scenes show "After Dark," it is mentioned that O'Neil turned down a Broadway role in order to audition for her role in "Dark Matter."
She would then trade outer space for Earth in 2018, taking on the role of Suki during Season 4 of the CW series "iZombie," based on the DC Comics titles of the same name. The show follows Olivia "Liv" Moore (Rose McIver), a zombie who is a medical examiner for the Seattle Police. Suki enters the fold in Season 4, Episode 6, "My Really Fair Lady," as a member of the group Renegade, which is trying to turn terminally ill people into zombies.
As O'Neil continues to see success in her acting career, she has admitted that this was a path that she didn't imagine for herself when she competed on "Canadian Idol." While working on "Dark Matter," she told CTV Your Morning, "I thought that, essentially, I'd just go back to school and be a teacher, or something like that."