Community's Exhausting Schedule Made It Hard To Keep Writers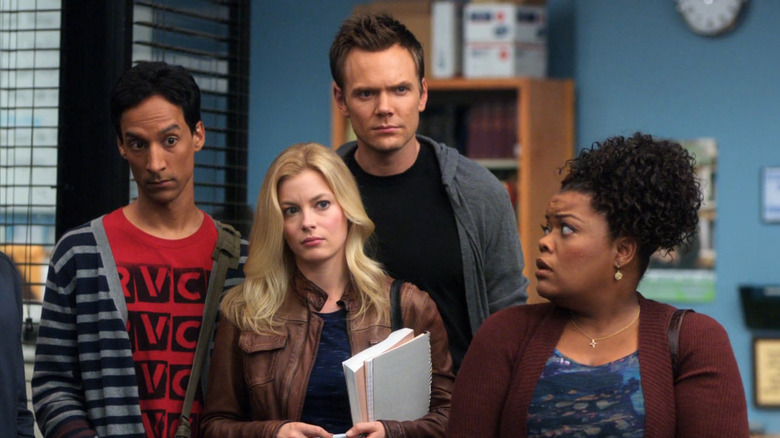 NBC
Even now, when it has gained new life in syndication and the Internet is filled with memes from its most memorable moments, "Community" feels like a scrappy underdog of a show. The sitcom created by Dan Harmon had a simple premise — a group of friends navigating life in a bottom-of-the-barrel community college —that belied its experimental ambitions. While it was never the ratings bonanza NBC hoped for, it earned a dedicated fanbase who reveled in its willingness to break sitcom norms and delve into heady philosophical territory.
In the years since its untimely demise (though it lasted six seasons, and a "Community" movie is still apparently in the works), many of the show's cast have soared in their careers, a testament to how well-received the show was. Its most notable alum, Donald Glover, is among the most sought-after actors and writers working today.
But while "Community" has gone on to be one of the most beloved shows of its era, it was no dream job for many of its creatives, especially its writers, who were forced to grow accustomed to extensive rewrites, last-minute crunch sessions, and Harmon's moody whims.
Grueling hours and rewrites proved too much for some Community writers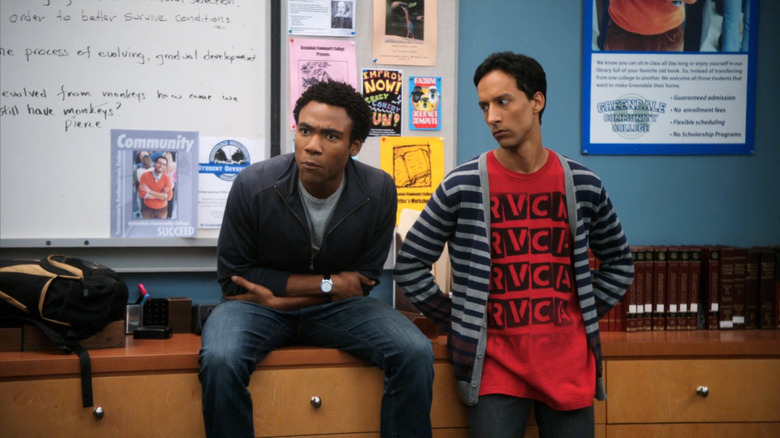 NBC
Dan Harmon has long admitted to being a perfectionist and has been described as obsessive by outlets like GQ. He famously utilizes a modified version of literary scholar Joseph Campbell's theory of the hero's journey to write scripts, using what he calls a "story circle." His dedication to the art of storytelling may result in episodes that unfold like a carefully assembled line of dominoes on shows like "Community" and "Rick and Morty," but his pedantic approach has led to burnout from writers.
"Community" showrunner Harmon dished out the details on the show's behind-the-scenes struggle to retain writers in a 2011 Reddit post. The unique writing process that kept the show feeling fresh and original was also unconventionally grueling, as each episode was written within a week.
"Each episode had a week to be conceived and executed from scratch," Harmon wrote, "almost as if we were doing a pilot each week." Understandably, not every writer was amenable to those conditions, even in the name of making great television. "Several of the writers are quitting because the hours are insane," the showrunner added.
Dan Harmon isn't the easiest showrunner to work with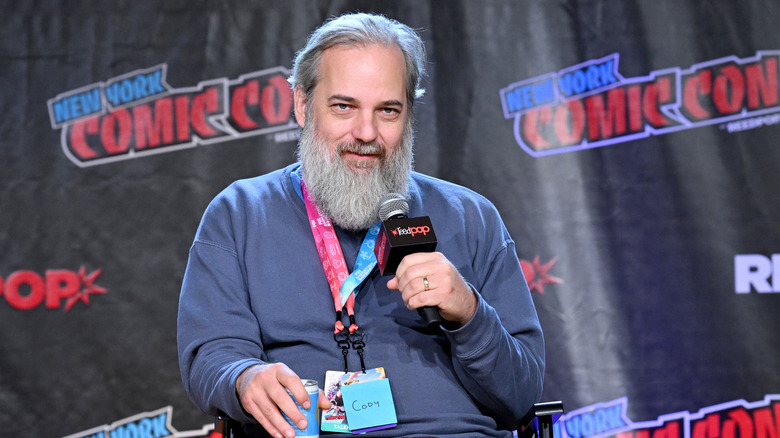 Bryan Bedder/Getty Images
Though Dan Harmon would later reflect publicly on the behavior he exhibited toward the "Community" staff, apologizing for his behavior, he was notoriously prone to outbursts and other off-putting behavior. Eventually, he was fired from the show for a season after clashing with the network. While working on "Community," he could be especially toxic toward women in his employ.
In 2018, he admitted on an episode of HarmonTown that he misused his power as showrunner over a writer he was attracted to. "I crushed on her and resented her for not reciprocating it, and the entire time I was the one writing her paychecks and in control of whether she stayed or went and whether she felt good about herself or not, and said horrible things," he said at around 25:20 of the episode. "Just treated her cruelly, pointedly. Things that I would never, ever, ever have done if she had been male and if I had never had those feelings for her. And I lied to myself the entire time about it, and I lost my job. I ruined my show. I betrayed the audience. I destroyed everything, and I damaged her internal compass."
While the writer in question publicly forgave Harmon, Variety noted that she also expressed that the abuse she suffered while working on "Community" made it difficult for her to work in the industry afterward, writing to Harmon in a since-deleted Tweet, "You want relief? So do I. I want to watch the first episode of television I wrote again without remembering what came after."