The Rookie's Nathan Fillion Had Casting Concerns About The Spin-Off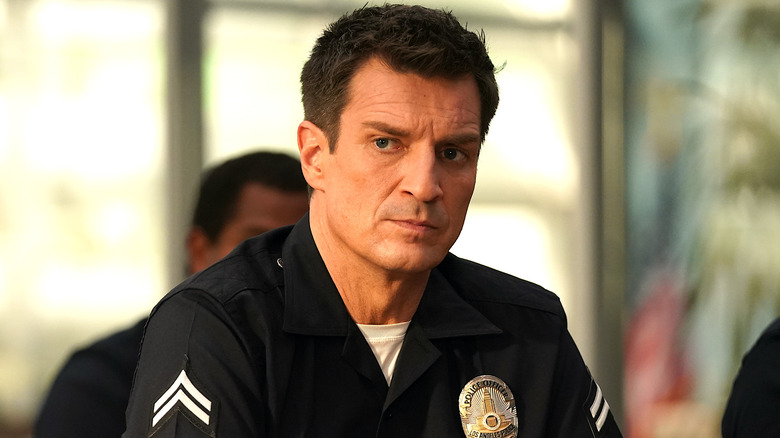 Gilles Mingasson/ABC
It hardly feels like it's been around as long, "The Rookie" is soon to air its fifth season finale. And when its already greenlit sixth season plays out, the Nathan Fillion-fronted drama will eventually eclipse the 100-episode mark. Given the episode count alone, "The Rookie" easily qualifies as an unmitigated hit for ABC. Recognizing as much, network bosses doubled down on the series' success by green-lighting its first spin-off, "The Rookie: Feds." 
The said spin-off debuted last fall and has proven a success in its own right. But as "The Rookie" star Nathan Fillion told "Feds" headliner Niecy Nash during a 2022 interview published by Entertainment Weekly, he was a bit wary of the spin-off as he feared it might lead to a casting shake-up on his own show.
During the interview, Fillion admitted he was initially excited by the prospect of a spin-off as it clearly reflected the success of "The Rookie," saying, "First, they say 'spin-off,' and you go, 'Oh my God, that's such a great idea. We must be doing well if we're going to get a spin-off show.' That's the up." Fillion went on to claim his mind soon turned to a more upsetting thought, noting, "Then there's a down. You go, 'Wait a minute. Does that mean they're going to take one of our characters?'" And the thought of losing one of his "The Rookie" cast mates to a spin-off didn't sit well with Nathan Fillion.
Fillion was happy The Rookie spinoff didn't require a cast shakeup on his own series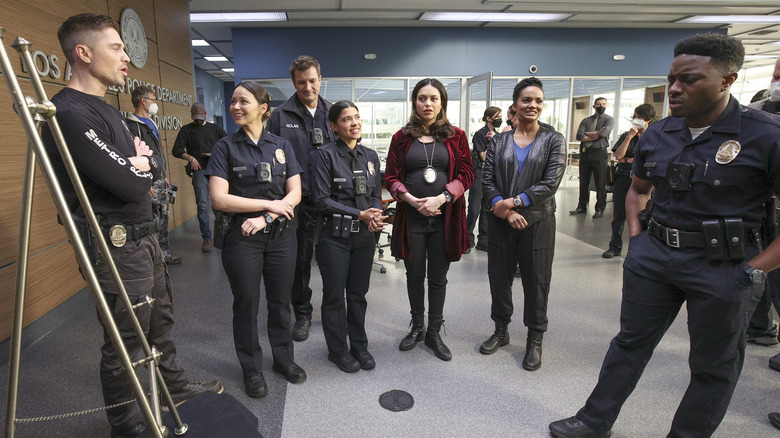 Raymond Liu/ABC
As Nathan Fillion would go on to tell Niecy Nash in that Entertainment Weekly interview, he still knew that was possible given the general rules of spinning off a series, claiming he asked himself, "'They're going to break up this little troop of ours? Are they going to break someone off, and they're going to spin that person off into another show?'" The actor claims the most important question quickly became, "'Who do we lose?'"
Fillion followed that ominous question by cracking wise, telling Nash, "Then I started looking around at people like, who do I want to lose?," though he quickly backtracked the joke with, "No. I didn't do that." The "Firefly" star was understandably relieved when he learned nobody from "The Rookie" was leaving to front "The Rookie: Feds." Rather, producers opted to use Fillion's series as a backdoor pilot for the spin-off, bringing Nash in for a brief arc as FBI rookie Special Agent Simone Clark before sending her off on her adventures.
As Fillion told Nash, he was much more on board with that concept. But once he'd traded lines with her on "The Rookie," Fillion realized he was gonna miss working with her too. "I really enjoy Niecy. I get along really well with Niecy," he said, adding "And I like working with Niecy because Niecy does all the hard work." Thankfully, creatives have already re-teamed the "The Rookie" and "Feds" stars in one crossover episode. And that seems likely to happen again moving forward.