Iron Lung: Markiplier Will Star And Direct Video Game Adaptation Film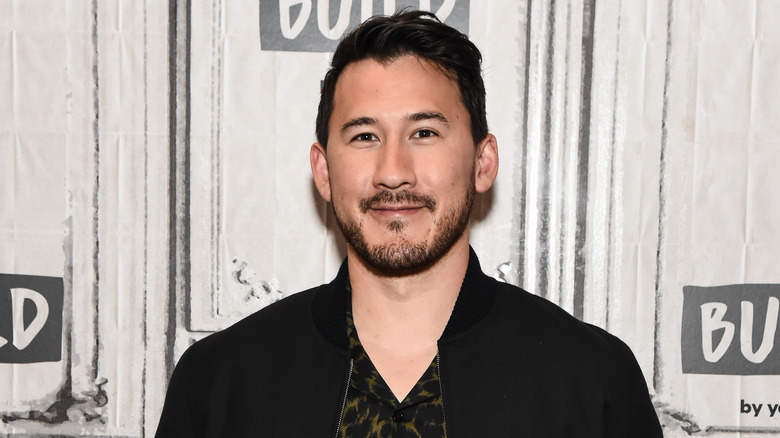 Daniel Zuchnik/Getty Images
Video game adaptations are the next big thing in Hollywood, with many upcoming projects set to bring some of the industry's biggest games to the big screen. In one of the biggest surprises of 2023, famous YouTuber Markiplier (real name Mark Fischbach) is throwing his hat into the ring, going all-in on an adaptation of "Iron Lung." 
Deadline reports that Markiplier has begun production on the movie, a horror film he will star in and direct. He also wrote the script and is funding it on his own, so it looks like a passion project for the content creator. "Iron Lung" is based on David Syzmanski's best-selling video game from last year, which is a crazy turnaround for an adaptation. Although the production is keeping plot details under wraps, we know that Caroline Rose Kaplan will star alongside Markiplier, and Will Hyde and Jeff Guerrero join him as producers. 
While video game adaptations have gained a lot of steam recently, with "The Last of Us" receiving widespread critical acclaim and "Super Mario Bros" breaking box office records, Markiplier is a massive figure for the booming genre. With over 30 million subscribers on YouTube, his name alone is sure to make a pretty penny at the box office.
What is Iron Lung?
"Iron Lung" is one of those indie games that flew under the radar in 2022. Not a popular or well-known title, the first-person immersion horror game received critical praise from those who played it.
Developed by David Syzmanski, the video game is set in a world where humans have colonized space. After an event called the "Quiet Rapture," all planets and stars disappear from the universe, leaving those aboard spaceships the last surviving hope for humanity. Players control an unnamed, silent convict tasked with exploring a desolate moon where an ocean of blood recently formed. Because of the drastic underwater pressure, the convict utilizes the "Iron Lung," a tiny rusted submarine welded shut to withstand the depths.
We won't get into spoilers, but the player has to explore the ocean of blood, using only its camera to take low-quality pictures of what's outside. It's a simple game that only takes about an hour to beat, but Syzmanski packed a solid punch with its story and immersive atmosphere. To announce his movie, Markiplier posted a trailer on his YouTube, showing their recreation of the game's submarine setting.