Jack Ryan: The Cast Helps Form The Show's Dialogue, According To John Krasinski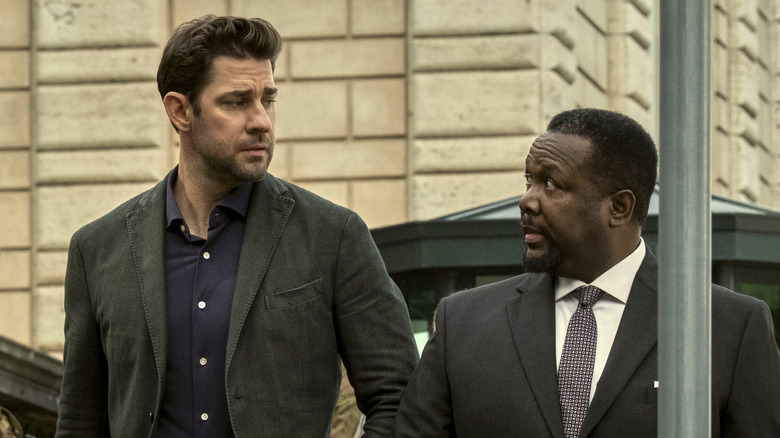 Philippe Antonello/Prime Video
John Krasinski may be an accomplished director, but he keeps his talents in front of the camera for Prime Video's "Jack Ryan," a series based on the novels by Tom Clancy. Krasinski stars as Ryan, a CIA analyst-turned-spy. It's the type of role Krasinski seemed to be gearing up for when he jumped into the action genre and changed the "Office"-look most associated with him when he starred in Michael Bay's "13 Hours."
Bay is one of the executive producers of "Jack Ryan," and so is Krasinski, but a tad surprising is the fact that Krasinski didn't work behind the camera for the show's first three seasons. At this point, the actor has directed some sizable hits with "A Quiet Place" and "A Quiet Place: Part II." He even directed three episodes of his previous show "The Office." But Krasinski still makes sure to have some direct influence on the show, revealing in an interview promoting the show's third season that he and other actors can give a final polish to the dialogue.
"We had an incredible producing team and great writers, so it was never just me doing it, it was more about because I take the show really seriously, I just wanted to make sure that it was the best that it could be. I never changed Wendell [Pierce's] lines though, just his, I wonder what that says," the actor told Collider.
Jack Ryan ends with Season 4, but Rainbow Six Is Next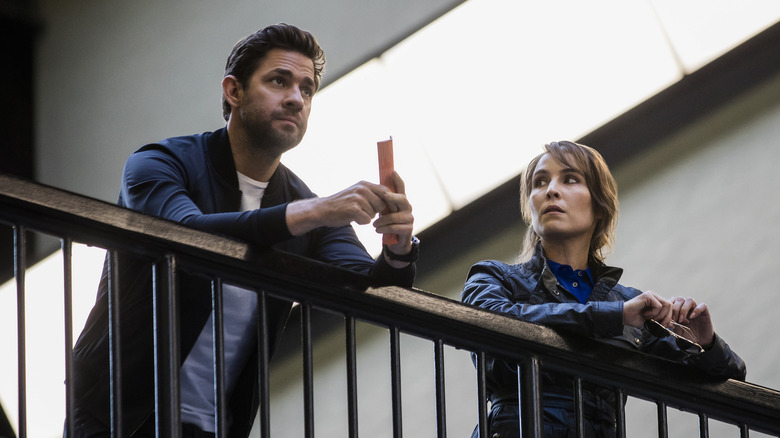 Sophie Mutevelian/Prime Video
John Krasinski's time to tinker away in front of and behind the camera on "Jack Ryan" comes to an end with the show's fourth season, but Prime Video doesn't sound interested in letting the valuable Tom Clancy franchise die. 
According to a Deadline report, Prime Video is looking to continue its "Jack Ryan" universe through a series focusing on Ding Chavez, another Clancy-created CIA-employed character. Michael Peña is being eyed to take the lead role in that spinoff series. One of the novels Chavez appears in is 1998's "Rainbow Six," which was adapted into the popular video game the same year. 
Also in the works is an actual adaptation of "Rainbow Six" titled "Rainbow." The film will be a followup to Prime Video's "Without Remorse" starring Michael B. Jordan as Navy SEAL-turned-CIA-spy John Clark. According to The Hollywood Reporter, the sequel is set up at Paramount and the studio intends to release it theatrically. Jordan is reprising his role and producing the project, according to the report. This is despite the fact that "Without Remorse," which saw Clark going on a mission of vengeance after his wife is killed, was released straight to streaming through Prime Video in 2021. 
It's unlikely the separate Tom Clancy adaptations will be rolled into one universe, but it's clear that the franchise isn't going anywhere anytime soon, and there is a healthy amount of his fans paying those Prime Video subscriptions.