VPR: A S10 Deleted Scene Takes On A Whole New Meaning Post-Scandoval
Emma Mcintyre/Getty Images
The devil works hard, but reality TV stars work harder. The Scandoval news from "Vanderpump Rules" won't stop coming, and this deleted scene is making waves in the wake of this absolutely insane, drama-filled scandal.
The tenth episode of Season 10 of "Vanderpump Rules" takes place during cast member Scheana Shay's wedding in Mexico, and the entire cast is, naturally, in attendance — even Katie Maloney and Kristina Kelly, who weren't even invited. (They watch the festivities from various places, including resort restaurants and their balcony, but that's not the point right now.) Now, a deleted scene has come to light featuring the three people at the center of Scandoval — Rachel "Raquel" Leviss, Tom Sandoval, and Ariana Madix — and it's pretty freakin' weird to watch now that we know exactly what was going on at the time.
In the clip, Madix, Sandoval, and Leviss are all in a hot tub together snapping selfies, at which point Madix, without knowing that her boyfriend and Leviss are actively having an affair, jokes, "It looks like we're a throuple. It looks like we're in a throuple on a romantic vacay." It actually gets even weirder when, after seeing the photos, Leviss says the snaps "better never surface." Uh, why's that, Rachel, you absolute snake in the grass?!
The timeline of Scandoval makes this clip all the more damning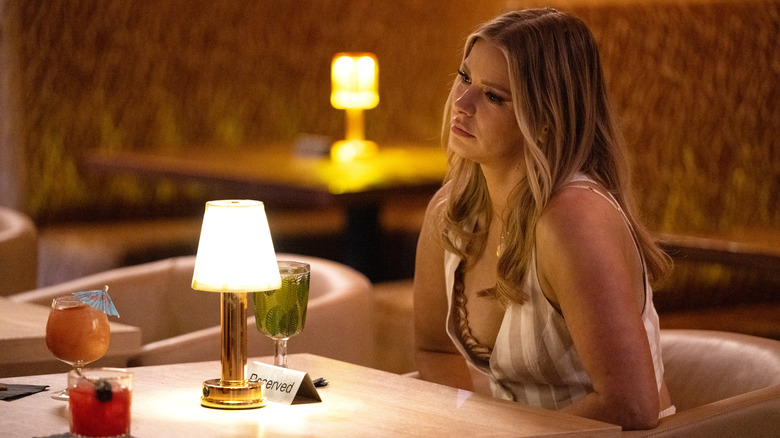 Amanda Edwards/Getty Images
As if this clip wasn't awkward enough now that we all know Leviss and Sandoval had a months-long affair, the timing makes it even grosser. By the time Shay got married and everybody was in Mexico, Sandoval and Leviss had, by his own admission, at least kissed — so Madix's little joke makes the entire situation that much worse.
Ever since early March, when Madix discovered explicit videos on Sandoval's phone that involved Leviss, news about Scandoval has broken constantly — which makes total sense, considering that "Vanderpump Rules" is a show about messy, hot idiots who can't keep their mouths shut about literally anything. Sandoval was the first person from the cursed trio to sit down for a full interview — putting aside Leviss' very weird staged TMZ interview in a strip mall — which he did with Howie Mandel, and Madix hasn't spoken widely about the affair just yet aside from an Instagram post where she thanked anyone supporting her and dropped the iconic line "what doesn't kill me better run."
Plenty of other cast members, though, have felt compelled to talk about the scandal, including Shay (on her podcast), Lala Kent (on her podcast), former cast member Kristen Doute (on her podcast), and former cast members Jax Taylor and Brittany Cartwright (on their podcast). 
The following episode of Vanderpump Rules offered the first real mention of Scandoval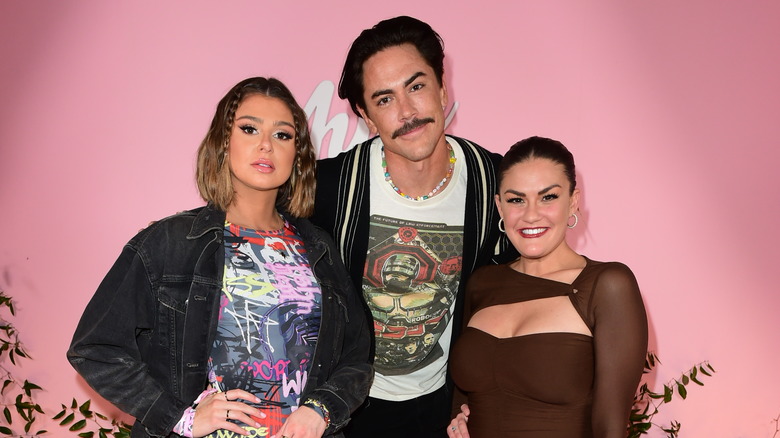 Vivien Killilea/Getty Images
Clearly, at Shay's wedding, there was absolutely zero suspicion surrounding Leviss and Sandoval... but that all changed in the following episode as the cast members returned home to Los Angeles. Ally Lewber, new girlfriend to Leviss' ex-fiancé DJ James Kennedy, innocently mentioned to her boyfriend that she saw Sandoval and Leviss out late dancing at a bar one night... and with the first signs that something was up, people like Kennedy and Katie Maloney started to speculate.
Maloney even went so far as to bring it up to Sandoval himself; when he accused her of finding "joy" in Leviss' public struggles involving a different guy, Maloney retorted, "You get a lot of joy out of Raquel as well, I think," at which point Sandoval doesn't even bother denying it outright. At the time, this probably seemed relatively small, just like Madix's hot tub joke, but now, it has much more meaning than anyone could have anticipated.
"Vanderpump Rules" will keep dropping new episodes up until Season 10 ends on May 17, at which point the multi-part reunion — which will offer the biggest look into Scandoval yet — starts airing on May 24. Until that airs, we can certainly expect more news about Scandoval on a basically constant basis.