Taylor Sheridan Saw 1883's Storyline Flash Through His Mind When He Met Isabel May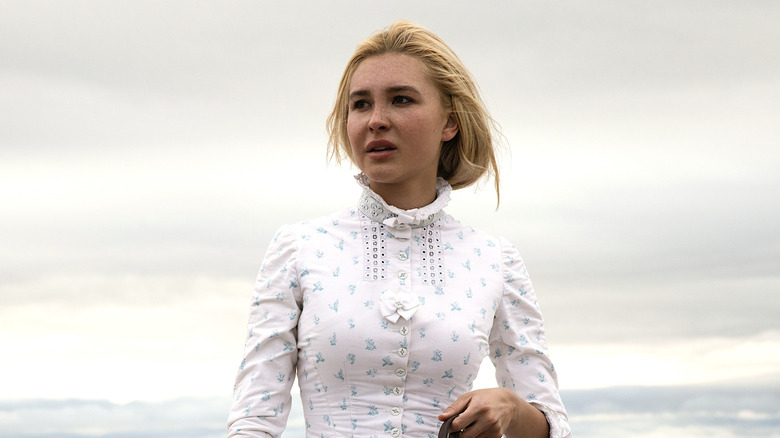 Emerson Miller/Paramount+
Most filmmakers would quickly tell you that casting can make or break any film or television project. And it's a safe bet Taylor Sheridan holds that particular theory quite dear. Tales of Sheridan's casting feats have become quite common of late, with the writer, director, producer, and actor displaying an uncanny ability to put the right actor in the right role in several film and television projects. He's even been celebrated for writing great parts specifically for an actor if one doesn't already exist.   
Turns out that was more or less what Sheridan did when he found Isabel May, the star of his "Yellowstone" spin-off, "1883." Set more than a century before the events of the flagship series, the limited series told the harrowing tale of how the Dutton family came to settle the vast ranching lands so coveted in "Yellowstone." Much of that story revolved around young Elsa Dutton, played by the then-all but unknown May.
As Sheridan told Deadline during a 2022 interview, upon meeting May, Elsa came into sharp focus in his mind, as did the entire "1883" narrative. "When I met Isabel," he said, "the whole story, all 10 episodes, went right through my head." And for her part, May hilariously told the publication she still doesn't know what it was that so inspired Sheridan, stating, "I don't understand what I did or what it is about myself that may have influenced Taylor in that moment."
Seems 1883 as we know it may not exist if not for May's unexpected inspiration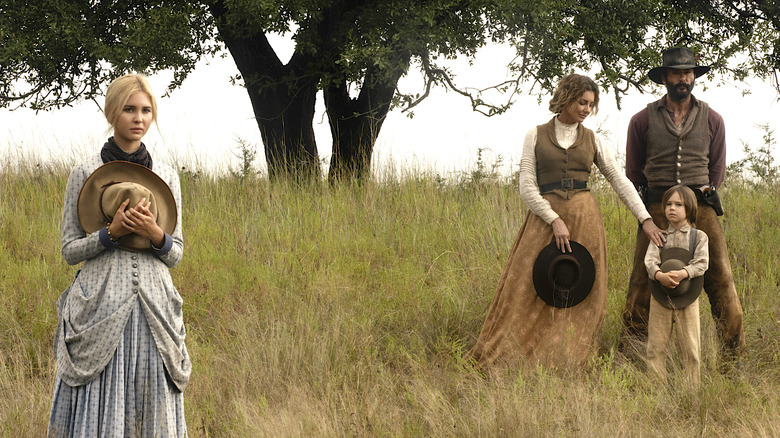 Emerson Miller/Paramount+
As "1883" fans likely know, the casting of Isabel May as Elsa Dutton was sort of miraculous. The Deadline article recounts that story, noting that May first met Taylor Sheridan when Elsa was barely a thought in his head. She did so while auditioning for a role on one of Sheridan's other shows, "Mayor of Kingstown." But that role didn't pan out, with both May and Sheridan agreeing she just wasn't right for the part.
The fateful audition was obviously not in vain, as May became the key to unlocking the "1883" narrative. As the "Yellowstone" mastermind told Deadline, the spark came when he realized May's youthful naivete and fragile beauty would serve as a stark counterpoint to the savagery of the untamed West, noting, "I saw she could represent innocence and hope." Sheridan further added several characters and actors were already in the "1883" mix, but admitted, "I had not found the bridge between them all."
As penned by Sheridan, the character became the eternally optimistic, if ultimately tragic thread stitching each disparate "1883" narrative together. To the surprise of May, that meant she essentially became the star of "1883." Though she more than made the most of the moment, she's still not sure what to make of the fact, saying, "I played potentially the greatest role I might ever have the opportunity of playing, and I still don't know how to take it."