Schmigadoon! Season 2: All The Musicals Spoofed This Season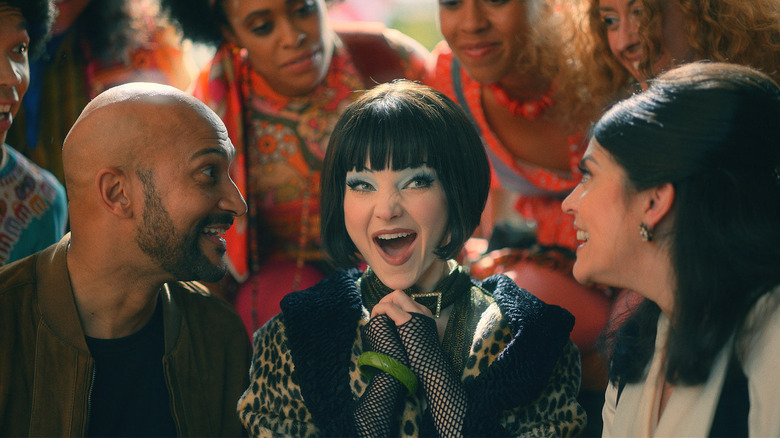 Apple TV+
Broadway fans the world over are cheering this spring, because the AppleTV+ series "Schmigadoon!" is back for Season 2. And it's even more musical, spooftastic, and hilarious than ever.
The musical series, created by Cinco Paul and Ken Daurio, stars Cecily Strong and Keegan-Michael Key as Melissa and Josh, a couple on a backpacking trip looking to rekindle their relationship when they stumble upon the idyllic hidden town of Schmigadoon. As anyone familiar with the classic 1947 musical "Brigadoon" can guess, it's a direct parody of that famous Scottish village that appears once every 100 years. But the series goes further in its references, satirizing many classic musicals from Broadway's Golden Age. From Rodgers and Hammerstein's "Oklahoma!" "Carousel" and "The Sound of Music," to "The Music Man," "Kiss Me, Kate," and "How to Succeed in Business Without Really Trying," the parodies abound.
"Schmigadoon!" also stars a cavalcade of Broadway royalty, including Kristin Chenoweth, Alan Cumming, Aaron Tveit, Jane Krakowski, and Ariana DeBose, who are all back for Season 2. But as Josh and Melissa search for Schmigadoon again, they find in its place a darker, sexier, sinister town called Schmicago — clearly referencing the 1975 Bob Fosse musical "Chicago." It's still chockablock with brilliant musical references, this time from the experimental and concept musicals of the 1960s and '70s, from creators like Stephen Sondheim, Stephen Schwartz, and John Kander and Fred Ebb. Let's take a look at the musicals spoofed in "Schmigadoon!" Season 2 through the four episodes available so far.
Most of the songs in Schmigadoon! Season 2 are direct parodies
For musical theatre lovers, the "Schmigadoon!" songs especially are smack-you-in-the-face obvious. Its self-titled opening number is a direct parody of "Magic To Do" from "Pippin," complete with white gloves and Bob Fosse-esque choreography (there is so much Fosse in Season 2) — not to mention the introduction of the Narrator (Tituss Burgess), a new character based on the Leading Player. Jenny Banks (Dove Cameron), aka Sally Bowles, sings "Kaput," a brilliant parody of "Mein Herr" from the movie version of "Cabaret." Ariana DeBose also plays the "Schmigadoon" version of the Emcee.
Fans can probably tell from the first two measures which specific songs are being spoofed. "Doorway to Where," is a direct hit on "Corner of the Sky" ("Pippin"), "Do We Shock You" references "Big Spender" and "Talk to Daddy" covers "Rhythm of Life" (both "Sweet Charity," and more Fosse), and "I Need to Eat" nods to the opening audition from "A Chorus Line," "I Hope I Get It," complete with some of the original choreography. Kristin Chenoweth sings "The Worst Brats in Town." Swap brats for pies and town for London and you've got the big number from "Sweeney Todd."
Some songs combine two or three different tunes. Jane Krakowski's show-stopper in Episode 3, "Bells and Whistles," references songs from three very disparate musicals, melding bits of "Roxie" and "Razzle Dazzle" ("Chicago") with "Dance Ten, Looks Three" (aka "T**s and A**" from "A Chorus Line") — and the incredible patter song "Getting Married Today" from "Company." It's brilliant, and not all the references are this obvious.
Other Schmigadoon! references are more subtle
While your average viewer can probably recognize the songs in "Schmigadoon!," there are plenty of easter eggs for diehard fans to enjoy too. The characters and their names are spoofs: Jenny Banks is clearly Sally Bowles from "Cabaret," Bobbie Flanagan combines Billy Flynn and Roxie from "Chicago" with Val from "A Chorus Line," and butcher Dooley Blight is our favorite demon barber. Topher (Aaron Tveit) is an amalgam of Pippin, Claude from "Hair," and Jesus from "Godspell," and Miss Codwell (Kristin Chenoweth) combines Mrs. Lovett from "Sweeney Todd" with Miss Hannigan from "Annie." Some names are deeper cuts, like the murder victim who lands Josh in jail is Jenny's roommate Elsie — Sally's dead roommate in the song "Cabaret."
There are blink-and-you'll-miss-them locations and shop names, such as Sondheim's Children's Place, Kander Absinthe Café, and Herman's Hummable Tunes, the latter of which not only pays homage to Jerry Herman, but hilariously comments on his hummable melodies — a criticism frequently directed at Sondheim. Miss Codwell and Blight live on Quick (not Fleet) Street. And there's so much in the lyrics and dialog that it's impossible to count them all.
The season is primarily focused on "Chicago" and "Cabaret," hippie musicals "Hair" and "Godspell," orphan-centric shows "Annie" and "Oliver!" and concept musicals "Company," "Pippin," and "A Chorus Line," while incorporating bits of "Sweet Charity," "Jesus Christ Superstar," "Les Misérables," and "Bye, Bye Birdie." While there are plenty of references for fans, the question is whether viewers not familiar with musical theater will pick up on them — or if they're watching in the first place.