Joshua Jackson Blew A Disc In His Spine From Dr. Death Stress
Ever since his breakout roles in "The Mighty Ducks" and "Dawson's Creek," Joshua Jackson has built a steady career of playing memorable and just plain likable characters. But for Peacock's 2021 limited series, "Dr. Death," Jackson took on the unique challenge of portraying someone who many would probably deem a real-life villain. In "Dr. Death," Jackson plays Christopher Duntsch, an actual neurosurgeon who gained infamy for permanently maiming numerous patients and killing two. It can't be easy to get into the head of someone who performed such despicable acts and attempt to become them onscreen.
And although "Dr. Death" received deserved acclaim from both critics and fans, it all wasn't without a heavy price for Jackson. In an interview with The Hollywood Reporter, the actor revealed that all the stress from acting in "Dr. Death" had a detrimental effect on his health. "A disc in my back exploded after finishing Dr. Death," Jackson told THR. "I think it's because I was so stressed out for so long, living in that ugly place. I couldn't walk for six weeks." Besides suffering a significant injury, Jackson added in the interview that all the weight gain we witnessed for his role in "Dr. Death" didn't help either, as he put on 30 pounds. 
It appears "Dr. Death" may not have been the healthiest project for Jackson, especially as the actor did everything to truly understand and transform into Duntsch, short of meeting him.
Jackson was okay with not having to meet Duntsch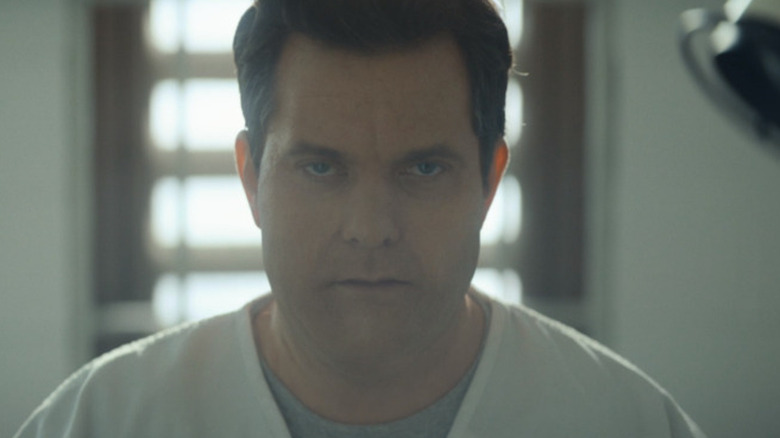 Peacock
When it comes to some projects based on true stories, sometimes it's not uncommon for actors to meet with the actual people they'll end up portraying. Then again, in many of those types of projects, the person of interest is usually shown positively. Understandably, that's not the case for Christopher Duntsch in "Dr. Death," who is currently serving a life prison sentence. According to an interview Joshua Jackson did with Variety, Duntsch's prison stint, along with the COVID-19 pandemic during the production of the series, made it too tricky for the actor to meet with him.
However, in the same interview, Jackson explained that he was actually okay with that, as Duntsch probably wouldn't have been the most reliable source of information about himself. As Jackson further noted, a possible meeting between the two could have basically amounted to Duntsch seeing himself as the victim in his own story, despite what may have really happened. "I'm not sure you can ask a liar a direct question to try to get to the truth," Jackson told Variety. "So, at the end of the day, I wasn't too upset I didn't have access to him." "Dr. Death" was already stressful enough for Jackson, but meeting with the real Duntsch could have added even more for him.