Whatever Happened To Joshua Jackson?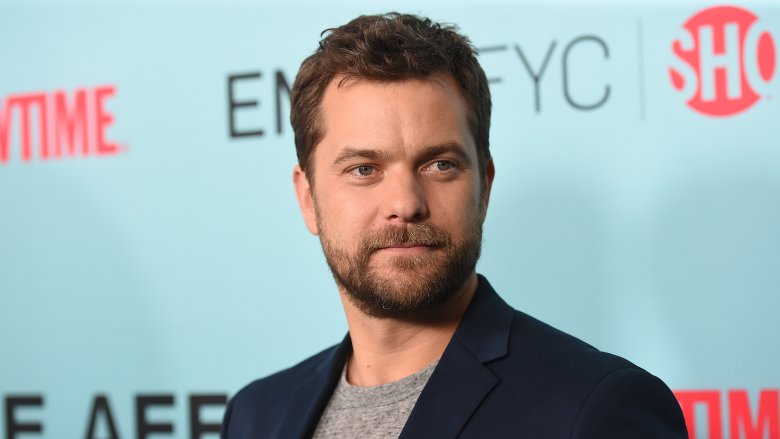 Getty Images
January, 1998. The days were short, the nights were long, and TV fans were settling in for a long, cold winter. Little did we know that the fledgling WB Network was about to set our screens ablaze with a soapy teen series about a tight-knit group of friends struggling with life and love and all sorts of other issues in the small town of Capeside, Massachusetts. Conceived and produced by Scream mastermind Kevin Williamson, Dawson's Creek took a refreshingly candid approach to teen drama with its blend of crackling dialogue, poignant, timely plot lines, and frank, honest talk about sex. While that approach earned the ire of parents and watchdog groups before the series even premiered, the show's "of the time" aesthetic made it an instant hit with its key demographic: teenagers.
It also made overnight stars of its young leads, James van der Beek, Michelle Williams, Katie Holmes, and Joshua Jackson. They've all seen their share of professional ebbs and flows since their Creek days ended — particularly Jackson, who's been all but absent from both big and small screens of late. That doesn't mean the onetime captain of the "True Love" hasn't been busy since the show that made him a star went off the air, so let's have a look at what he's been up to over the years.
From Ducks Dynasty to Creek Daze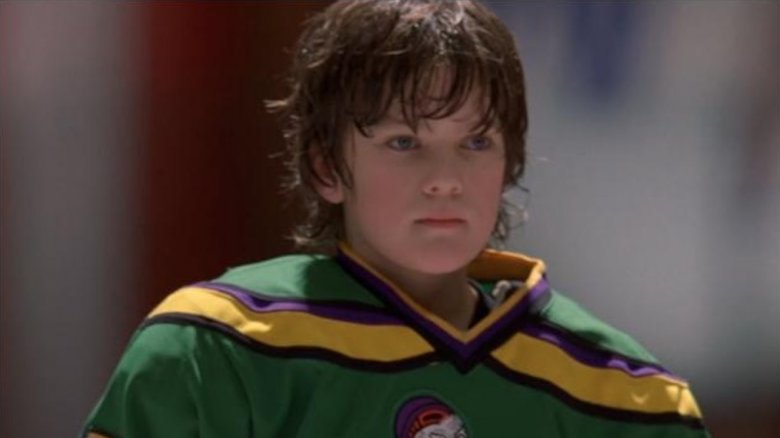 It's easy to forget, but while Dawson's Creek easily qualifies as Joshua Jackson's biggest break, it wasn't his first. In fact, he landed a starring role in a Disney franchise at the ripe old age of 12, opposite Emilio Estevez in the feel-good hockey comedy The Mighty Ducks. The series saw Jackson portraying a talented young hockey player stuck on a little league team full of novices. His fortunes — and the team's — change when a former pro is sentenced to community service, which means becoming coach and mentor to the rag-tag team.
The Mighty Ducks is basically The Bad News Bears on ice, but it's the film that put Jackson (who would reprise the role in two Ducks sequels) on the road to stardom. It also helped get Jackson's foot in the door when Kevin Williamson was casting Dawson's Creek — though he initially wanted Jackson for the lead role of Dawson Leary, but balked after deciding Jackson was too good-looking for the part. He instead cast Jackson as Dawson's wisecracking bestie Pacey Witter, and the rest is history.
He went West ... West End, that is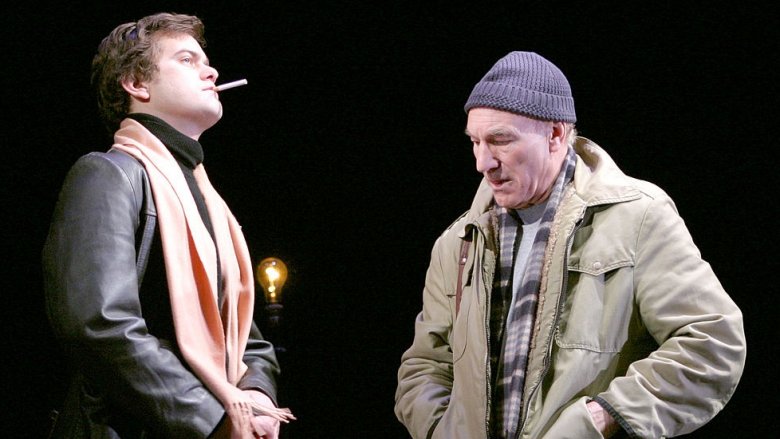 Getty Images
Joshua Jackson would play the part of Pacey Witter for the next five years (and a whopping 128 episodes) of his life. In that time, he landed a handful of film roles, Cruel Intentions and The Laramie Project among them. With big-screen projects rolling in, many expected to Jackson to stay the course once Dawson's Creek ended its run. In a surprise move, Jackson — who fell in love with theater after playing Charlie in Willy Wonka and the Chocolate Factory in his youth — chose to return to the stage for one of his first post-Creek gigs.
The actor actually moved to the UK in 2005 and made his professional theater debut in a West End production of David Mamet's two-person play A Life in the Theater, starring opposite none other than Professor X himself, Sir Patrick Stewart. While the play premiered to largely mixed reviews, Jackson proved himself opposite the legendary Stewart — and proved his post-Creek days would be nothing if not interesting.
He didn't quite become a movie star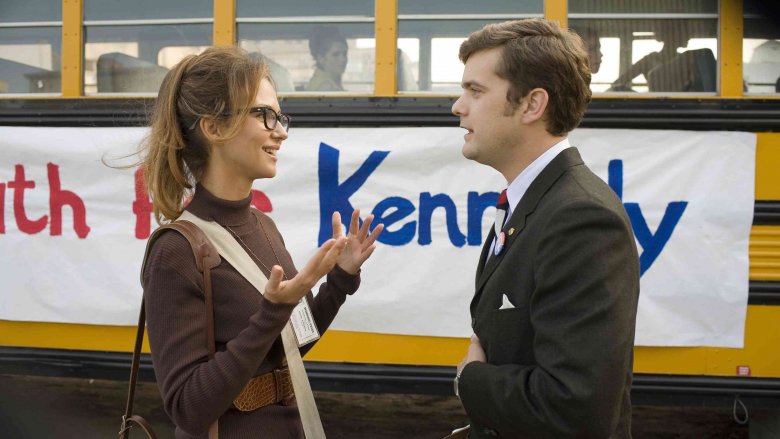 In spite of his desire to do more theatre, Joshua Jackson's fanbase still fully expected the actor to go full blown movie star once Dawson's Creek ended — and given that he'd already turned in memorable performances in a growing list of films that included Scream 2, Urban Legend, The Skulls, and The Safety of Objects, it seemed he was indeed destined for big screen glory.
Surprisingly, outright movie stardom has eluded Jackson over the years. Save for a Genie-winning turn in the indie drama One Week, the actor has largely avoided leading roles altogether, opting instead for supporting turns in smaller films. As it happens, one of Jackson's most memorable big-screen performances came as an idealistic young staffer to Robert Kennedy in the Golden Globe-nominated ensemble drama Bobby, which also happened to be written and directed by his old Mighty Ducks co-star Emilio Estevez.
Lived life on the Fringe and beyond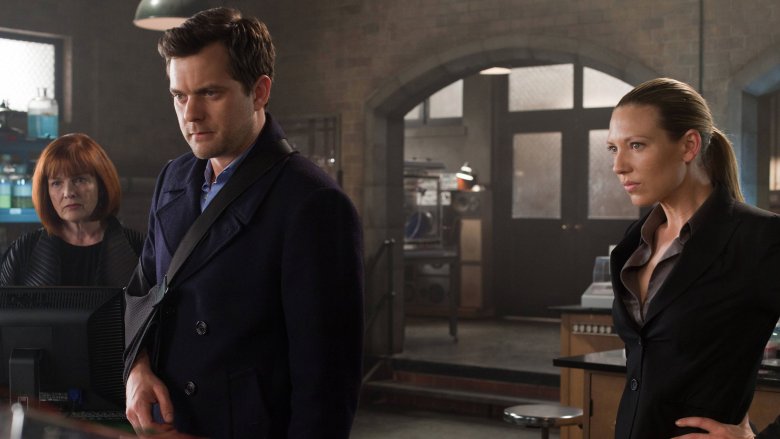 Though his film career still hasn't quite taken off they way many expected, Jackson's television career got a huge bump in 2008 when he signed on for a starring role in J.J. Abrams' trippy sci-fi procedural Fringe. The series found Jackson playing Peter Bishop, a brilliant but shifty young man whose mad scientist father is sought by the FBI to help them solve some of their less conventional cases. The show, which co-starred Anna Torv (Mindhunters) and Lance Reddick (The Wire, John Wick franchise) premiered in 2008 to critical success and strong ratings. Sadly, even as Fringe remained a critics' darling over its five-season run — and featured career-best work from Jackson and the rest of the cast — the ratings didn't last, and the show aired its finale in January of 2013.  
Still, Fringe's disappointments didn't stop Jackson from branching out for a little life beyond the show. Between the series' season 3 finale and season 4 premiere, he actually tried his hand as a comic book writer, penning the first chapter of DC's Beyond the Fringe series. He wrote a wild story, too — the sort that makes you wonder if he shouldn't do a little more writing in the future. Or in the past. Or in some parallel dimension while tripping acid and battling evil versions of the people he loves. Gah, Fringe was amazing!   
Made Lisa Simpson swoon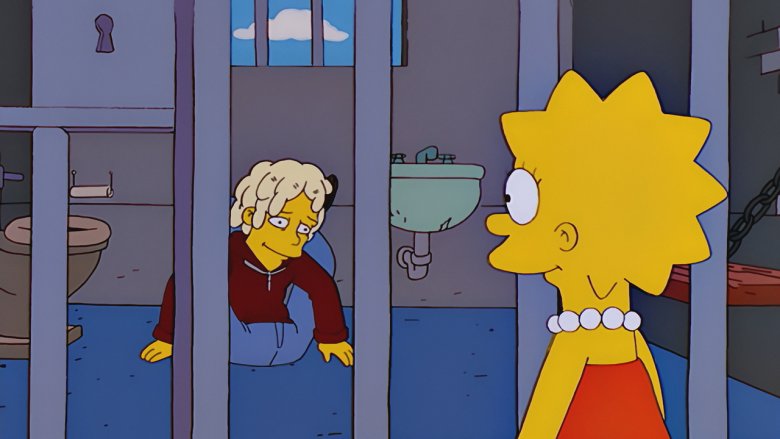 Of course, Fringe is far from Jackson's only television appearance since his Dawson's Creek days. He's also made a handful of memorable cameos over the years, most notably as radical environmentalist Jesse Grass on a 2000 episode of The Simpsons that found Jackson's character (a level five vegan) leading a group of Springfield environmentalists called Dirt First. Lisa Simpson falls in with the group and takes a particular shine to Jesse, eventually setting out to impress the hunky treehugger by saving an ancient tree from destruction. In true Simpsons style, matters get a bit silly from there. Still, the episode remains a sweet, funny, surprisingly poignant treatise for environmental awareness, and features a solid vocal performance from Jackson as well. The actor (in his first voiceover debut) lends his character a humanity that bolsters both Grass' stodgy nobility without undermining the character's overall idiocy — and leaves a lasting impression on the grand tradition of Simpsons star cameos to boot.
Made Kimmy Schmidt blush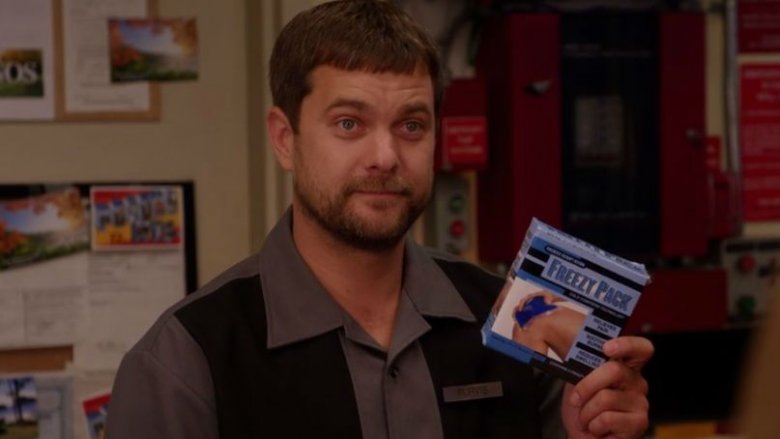 Jackson's cameo on The Simpsons is great, but it may not be his finest. That honor arguably belongs to his hilarious appearance on a season 2 episode of Netflix's The Unbreakable Kimmy Schimdt that finds Kimmy reeling at the thought of another Fake Christmas come and gone, and seeking solace in a romantic evening away with her would-be beau Dong. The night unfolds in a deserted upstate hotel, and (after some Home Alone-style shenanigans) finds Kimmy and Dong on the verge of taking their relationship to the next level.
They'll need condoms first, of course. That's where Purvis the convenience store clerk (Jackson clad in a bowling shirt and sporting Pacey bangs) comes in. When Kimmy — who's only seen season 1 of Dawson's Creek "for totally normal reasons" — lays eyes on him, things get seriously funny as Purvis proceeds to lay out some very specific opinions about the ins and outs of sexual relationships on the Creek, and one hilarious insight about sex itself.   
He (almost) did time in North Carolina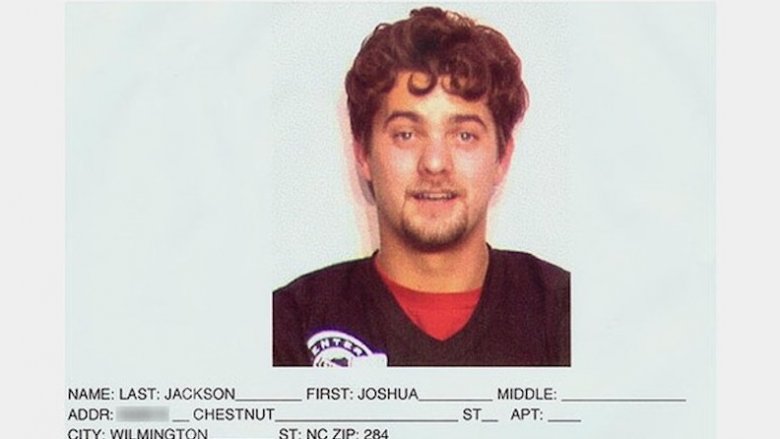 Joshua Jackson's acting career has remained steady (if surprisingly low-key) since his days on Dawson's Creek. Unlike many celebrities, he's largely managed to keep his personal life low-key as well (save for his now defunct relationship with actress Diane Kruger). So much so that most people don't even know that Jackson was actually arrested in 2002 after a drunken dust up at a hockey game in Raleigh, North Carolina.  
Seems the former Mighty Duck — who's a Vancouver native and diehard Canucks fan — took advantage of some Dawson's Creek downtime to watch his home team face off against the local NHL franchise, and after a few too many drinks, found himself on the wrong side of a local security guard. Though it remains to be seen who or what instigated the trouble, a tipsy Jackson reportedly got into a tussle and was arrested for assault. Fortunately, Jackson didn't have to do any time, instead being released on a $1000 bond and a sentence of 24 hours community service. No word on whether that service included coaching a little league hockey team.
Two words: Pacey Con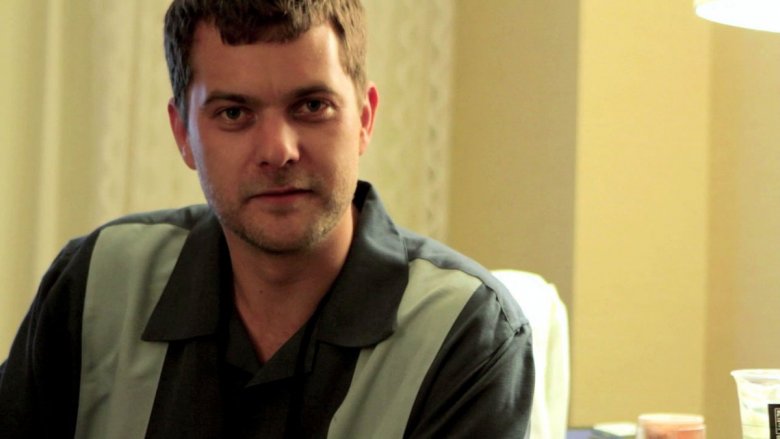 That hockey brawl aside, Joshua Jackson appears to be a charming, refreshingly down to earth sort of guy with a wicked dry sense of humor. He's also never shied away from the show or the role that made him famous. More often than not, he embraces fans' love for Dawson's Creek — and, of course, their undying adoration for his character, Pacey Witter.
While promoting Fringe at San Diego Comic Con in 2010, Jackson took his own love of all things Pacey to new bold heights with the advent of Pacey Con, a convention celebrating "The greatest character in television history. Ever. Period." Among the planned events were a Pacey-centric Q&A and dramatic readings of Jackson's own Pacey Witter fan fiction. We can only imagine that most Comic Con fans were more than a little bit bewildered at the sight of Jackson cruising the grounds in full Pacey attire with a Pacey Con banner and a bullhorn, but it should be noted that he was clandestinely shooting a skit for Funny or Die the whole time — and that skit turned out to be one of their funniest bits. Ever. Period.
Pacey and Joey forever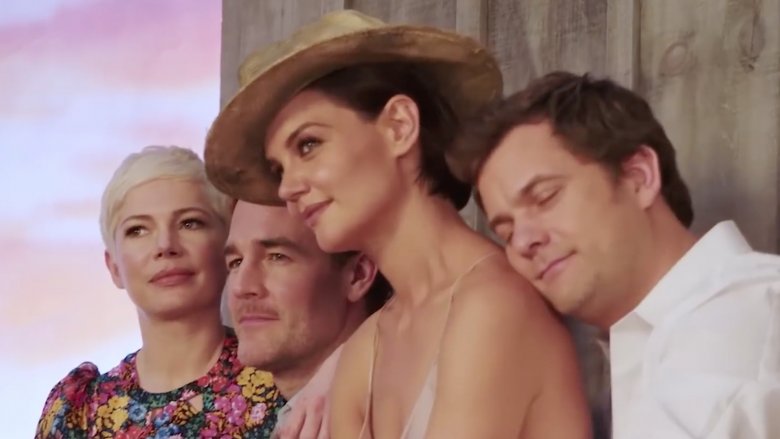 Hard as it is to believe, 2018 marked the 20-year anniversary of the premier of Dawson's Creek. In celebration of that staggering landmark, Entertainment Weekly decided it was high time to reunite the gang — van der Beek, Williams, Holmes, and Jackson, with Kerr Smith, Meredith Monroe, and Busy Phillips in tow — for a photo shoot that nearly broke the internet.
While it was great to see all those faces together again, people particularly freaked out over the pictures of Jackson and Holmes (who played Pacey and Joey, a.k.a. the only Dawson's Creek couple that mattered). The pair were very touchy feely throughout the shoot, but the shot that really had fans losing it was an adorable photo of Jackson sweetly resting his cheek on Holmes' shoulder. We know, the True Love sank long ago, and they haven't been a couple (in real life or on TV) for close to two decades, but that shot still sent hearts a-fluttering. Now, when's somebody going to greenlight that Pacey & Joey spinoff series we're all secretly pining for?
The Affair, Broadway, and beyond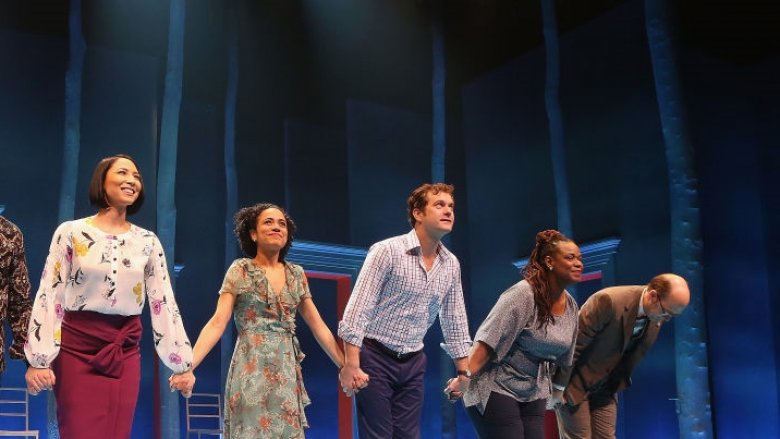 Getty Images
Of course, part of the fun of that reunion was seeing how the original cast had grown up over the years. While Jackson still has a bit of a baby face in real life, he's certainly grown up in terms of the roles he's chosen to play of late. The actor proved he was more than ready to tackle heavier material when he signed on as co-star of the Showtime series The Affair in 2014. The show found Jackson playing Cole Lockhart, a husband on the wrong end of an extramarital affair, and proved a critical hit over its 34-episode run.
The actor continued his recent run of patently adult fare by returning to the stage for a Broadway revival of Mark Medoff's Tony-winning romantic drama Children of a Lesser God — and earned rave reviews for his performance. As for what that future might hold, Jackson has nothing booked beyond his Broadway debut, but given that he still seems to be coming into his own as a performer, fans should be more than a little bit excited to see what he does next.