Moana Has A Little Mermaid Easter Egg Hidden In The You're Welcome Scene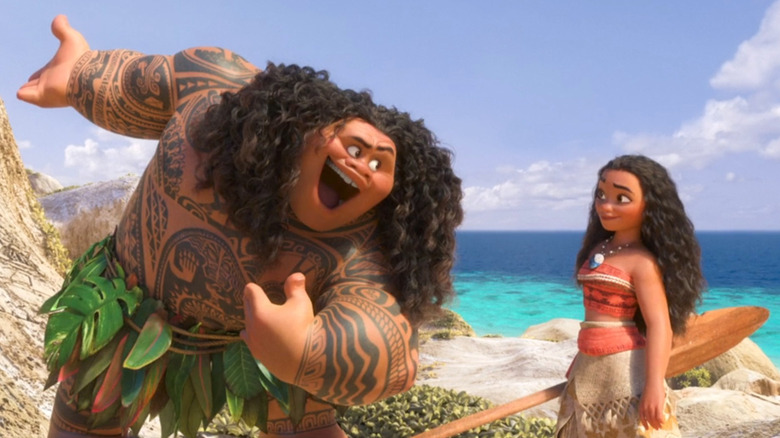 Disney
"Moana" is a colorful film with fun musical numbers, engaging characters, and a heart-warming story about family and perseverance at its core, so it wasn't all that surprising to hear Dwayne Johnson announce that a live-action remake is in the works at Disney. As the company proceeds full speed ahead into this era of adaptations, the animated originals continue to uphold a time-honored Disney tradition: using each new movie as an opportunity to hide Easter eggs that reference their other films. Some are more obvious than others, although "Moana" features a one-blink-and-you'll-miss-it Easter egg that pays homage to a character from "The Little Mermaid."
Songs like "How Far I'll Go" and "We Know the Way" are triumphant tracks that are jam-packed with emotion, but "You're Welcome" captures the film's playful spirit. Moana (Auliʻi Cravalho) has finally located Maui (Johnson), though he's more full of himself than she expected. As he sings about his many accomplishments, viewers are treated to a sort of dream sequence that includes a brief appearance from Flounder (Jason Marin). Around the 40:45 mark of the film, the audience is shown a group of sea creatures providing backup vocals, and Flounder's signature design is hard to miss once you notice it.
Flounder provides back-up vocals for Maui while he sings You're Welcome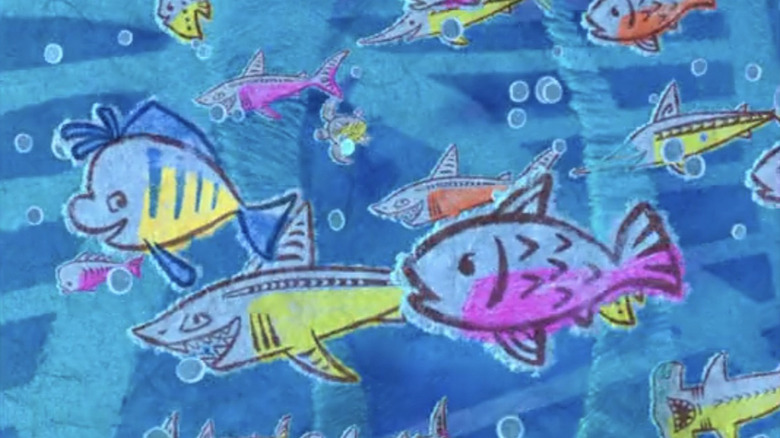 Disney
Pretty much all of the action in "Moana" happens in or around the ocean, so it makes sense that a character from "The Little Mermaid" is featured in the film. While Heihei (Alan Tudyk) in "Moana" isn't the smartest or most helpful side-kick by a long shot, Flounder in "The Little Mermaid" is always doing his best to help Ariel (Jodi Benson), even when she's living on land with Prince Eric (Christopher Daniel Barnes). Flounder also pops up during the "You're Welcome" song featured in "Moana," giving a nice callback to the first hit animated aquatic adventure from Disney.
It's nice to see Flounder pop up in another animated Disney movie, especially because the trailer for "The Little Mermaid" shows that the character has gotten a bit of a makeover for the live-action remake. Moviegoers will just have to wait and see what other changes the upcoming adaptation has made to set itself apart from the animated original.
Flounder's cameo in "Moana" is brief, so it will be interesting to see if the minds behind the remake choose to keep that Easter egg in the film, or if they'll find another way to sneak a Disney reference into the narrative. Including Easter eggs that allude to other Disney movies seems to be a practice that's more popular with the company's animated features, so fans will have to keep their eyes peeled for anything familiar when the live-action version of "The Little Mermaid" premieres in theaters on May 26.