Dwayne Johnson Announces A Live-Action Remake Of Moana (Is He Back As Maui?)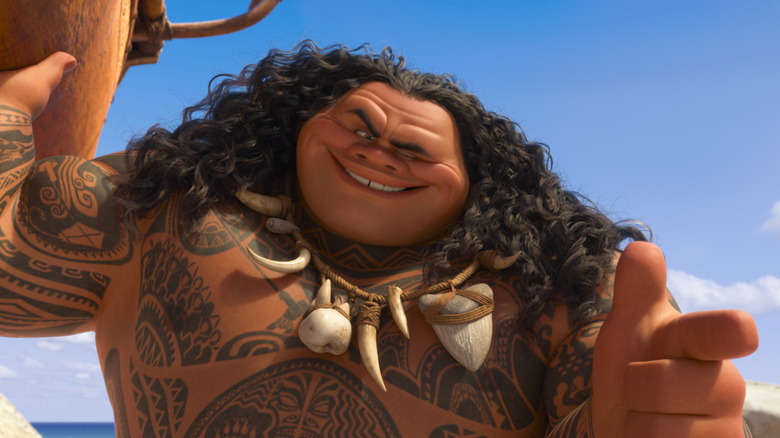 Disney
Disney's live-action remakes of its beloved animated properties are par the course in the current state of pop culture. Normally, the company only reimagines classics that are at least a few decades old, with some of the newer remakes consisting of "Beauty and the Beast" and "The Lion King." However, Disney is finally getting into its 3D animated offerings with the latest announcement that a live-action adaptation of 2016's "Moana" is on the way.
Walt Disney Studios took to Twitter to give fans the news, along with a two-minute video of Dwayne Johnson with his daughters on a Hawaiian beach. After talking about his upbringing in the Pacific Islands and what the culture means to him personally, Johnson reveals that a live-action "Moana" is officially in the works at Disney that will bring back all of the songs and characters audiences loved so much about the original. And it sounds as though Johnson, at least, will be back to reprise his role from the original film as the demigod Maui. 
Original Moana voice actress Auli'i Cravalho is set to executive produce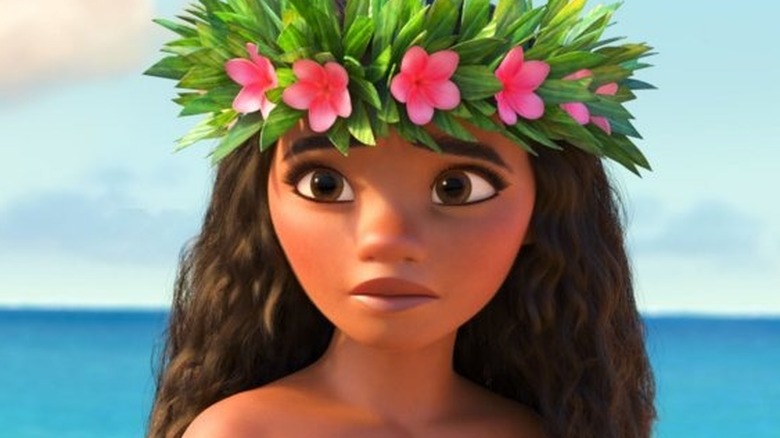 Disney
The live-action "Moana" announcement comes on the heels of the Disney 2023 Annual Meeting of Shareholders Webcast, which took place on April 3. Dwayne Johnson also took to his own personal Twitter account to express his excitement over the role: "Humbled to say we're bringing #MOANA's beautiful story to the live action big screen! #MAUI changed my life (miss you grandpa) and I'm honored to partner with @DisneyStudios to tell our story thru the realm of music & dance, which at the core is who we are as Polynesian people."
Later in the video, Johnson spoke more about drawing inspiration for Maui from his late grandfather, "We found so much inspiration for Maui in the mana and the presence of my late grandfather, the legendary High Chief Peter Maivia. He would walk in light up the room — the energy, the tattoos, the hair, the bod." So far, there's no word on who else would reprise their roles, if anyone. Auli'i Cravalho, who voiced Moana in the original film, will executive produce the movie, but there's no confirmation if she'll come back as the titular character or if someone new will take on the mantle.
Could a live-action "Moana" indicate quicker turnarounds for Disney properties? Could live-action remakes of "Frozen" and "Tangled" be far behind? For now, parents can rest assured their kids won't stop singing "You're Welcome" any time soon.