Ted Lasso S3E6: Ted's Triangle Tactic Means Way More Than You Think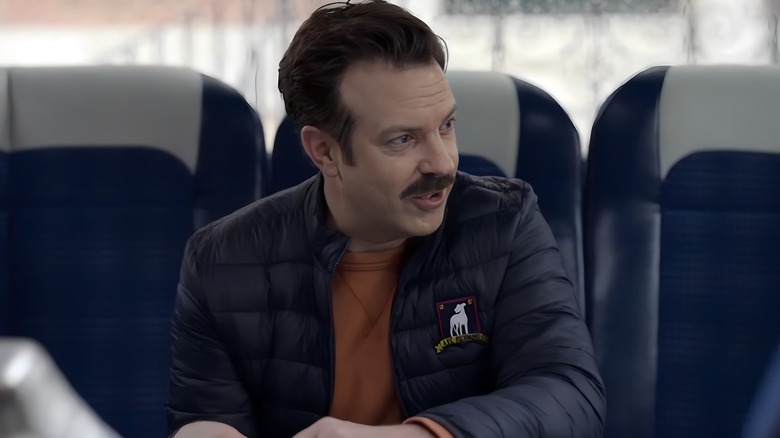 Apple TV+
Every dog has its day, and after this week's "Ted Lasso," one could be arriving for our favorite pack of Greyhounds. So they lost 5-0. So what? It's a "pretend match" anyway. The hit led to some key characters taking it and moving on their own. Rebecca (Hannah Waddingham) had a bit of unexpected fun without her best mate Keeley (Juno Temple) at her side, and Ted may have finally formed a winning tactic to turn Richmond's losing streak around. However, the road to recovery doesn't have to end on the football pitch. In fact, a little glimpse of Ted's breakthrough tactics could be fortifying a theory/hope that fans are still pushing for in the season we don't want to see the end of.
After giving the team the night off, Ted tries to take a walk on the Beard side with herbal tea that is initially expected to provide some interesting side effects. It's an alternative option he takes after texting Rebecca and not getting a reply (given that her phone is at the bottom of a canal). Taking barely a sip, Ted heads off on his own, where a taste of home sparks a brilliant idea of how to change Richmond's play style for the better. This isn't just some major game-changer for the team, though, because besides potentially putting Richmond back on a road to success, it could also see him on course to becoming what fans have always wanted him to be: Rebecca's knight in shining armor.
Ted is sketching out plans that could line up with Rebecca's future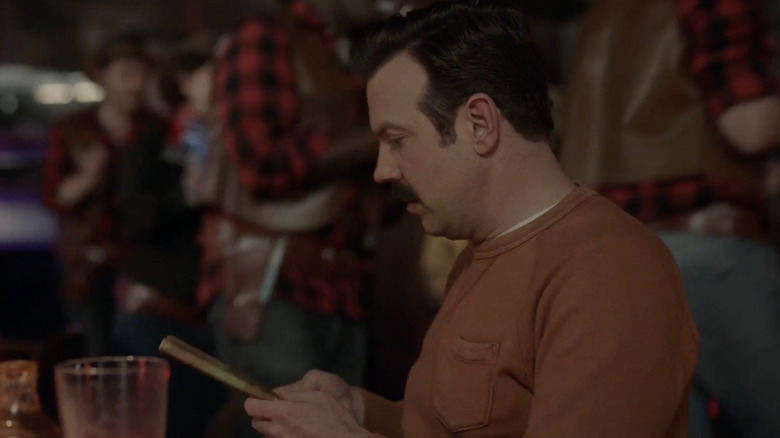 Apple TV+
After being caught up in the fleeting romance of a total stranger, Rebecca's mind for once shifts away from what has been following her since this season's third episode — her psychic's predictions. Foot massaging boatmen tend to do that. But just because the predictions aren't present in Rebecca's side of the story doesn't mean they couldn't be seen elsewhere. One of the key signs AFC's manager hasn't been able to shift is the appearance of a green matchbook that felt like a big red herring, which she receives from Sam shortly after her visit to the psychic.
As much as the writers may have tried to start a fire with this little MacGuffin, evidence suggested the contrary and that it might be a literal green football matchbook or playbook that we should be on the lookout for. Well, would you believe it? Ted's book covered with Van Gogh's "Sunflowers" is as much green as it is yellow, and it's full of his future plans of triangles and "Try Angels." More importantly, though, it's how Ted perceives his recent revelation that could prove to be a breakthrough both on and off the pitch, if he does everything by the book.
Ted's view of Total Football says everything about his potential future relationship with Rebecca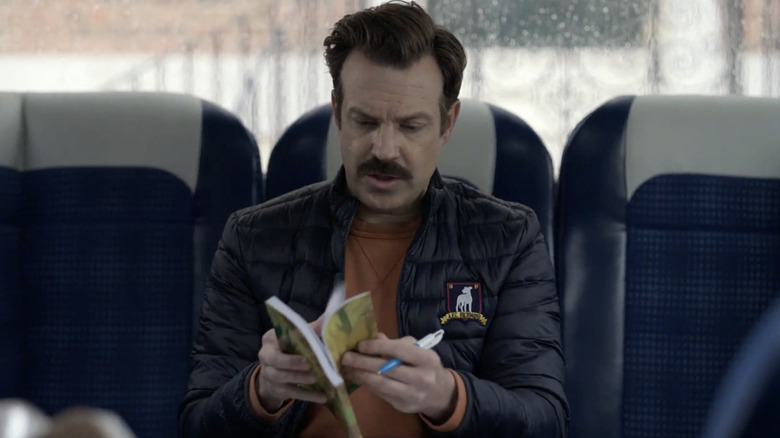 Apple TV+
After Ted's eye-opening evening, he explains his ideas to Beard (Brendan Hunt, who also wrote this week's episode), breaking down his thought behind his new pyramid of success. "We've been playing too rigid. Our guys need freedom. Go wherever they wanna go," Ted explains. "Follow their guts, their hearts. As long as they remember to fill in the space that someone left behind. They've gotta have one another's backs, that's for sure."
At the moment, many of the core characters of the show are going through this journey of "filling a space that someone left behind." In the case of Roy, for example, it's Keeley. For Ted, it's Michelle, from whom he is finally moving on. For Rebecca (whether she has tried to ignore it or not) it's been Rupert (Anthony Head). Since the beginning, Ted has stepped in to save her, having her back when she needed him the most and having little chats that hinted at bigger things between them. For now, we can only wait and see if this theory or Ted's new plan works out for both the team and himself. More importantly, we'll finally see if this tulip of a theory blooms into something real.