The Importance Of Amsterdam In Ted Lasso's History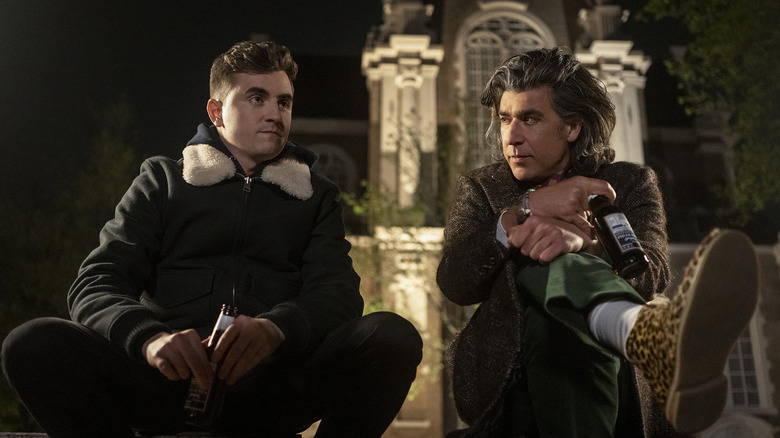 Apple TV+
Correction 04/20/23: A previous version of this article stated that "Ted Lasso" was conceived in Amsterdam. Series co-creator Brendan Hunt has since stated this is false on Twitter, citing that the show was conceived in 2013 while filming NBC spots with Jason Sudeikis and Joe Pompliano.
In Season 3, Episode 6 of "Ted Lasso," titled "Sunflowers," the team is down on their luck after losing a series of matches followed by a friendly exhibition match in Amsterdam — and from there, each of them embarks on their own adventure, exploring the gorgeous Dutch city by night. Throughout the hour-long episode, every person gets something they need. Rebecca (Hannah Waddingham) finds companionship with a friendly stranger, Colin (Billy Haris) unexpectedly bonds with Trent Crimm (James Lance), Roy (Brett Goldstein) and Jamie (Phil Dunster) repair their friendship and share secrets, and Ted himself (Jason Sudeikis) has an epiphany about the team. (Brendan Hunt's Coach Beard also returns in the morning dressed as "Piggy Stardust," but the show doesn't really get into that whole thing.)
If Amsterdam seems like a random choice for this episode, it definitely isn't. In fact, Amsterdam is a crucial part of the legend of "Ted Lasso," according to a Twitter thread by Joe Pompliano. While Hunt was living in Amsterdam back in 2001 and working with the improv group Boom Chicago's overseas outpost, he got really into European football, learning each rule by heart. Before long, Sudeikis also joined Boom Chicago in Amsterdam but knew nothing about soccer, until the two became close friends and played endless games of FIFA together. After they thought it might be really funny if an American coach with limited knowledge about the sport coached a European football team, the concept of Ted Lasso was born.
Ted Lasso went from Amsterdam to the States and back abroad again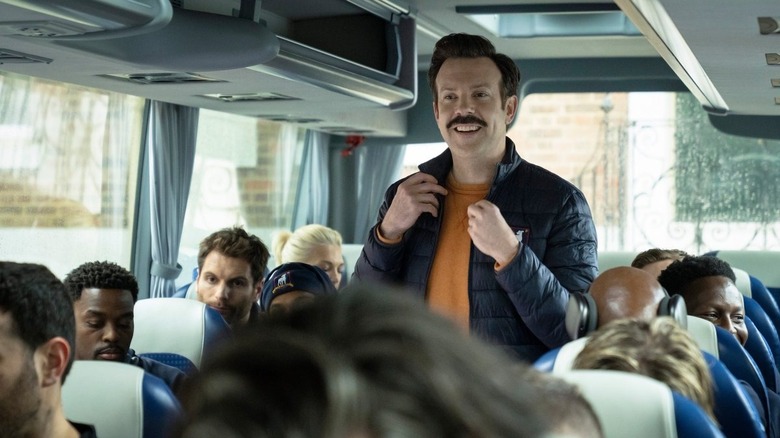 Apple TV+
The vague idea for Ted, a Midwestern coach who doesn't know the first thing about football abroad, came to Hunt and Sudeikis in 2001, but it wouldn't come into play for over a decade. In 2013, Sudeikis was tasked with creating commercials for NBC when the American network started airing Premiere League football games, and he and Hunt fleshed out the character of Ted, a mustachioed, well-meaning Kansas transplant who is endearingly clueless about the sport he's tasked with coaching.
Great television shows don't typically come from commercials (see: Geico's Cavemen series). "Ted Lasso" is, clearly, the exception to this apparent rule. Along with producer Joe Kelly and "Scrubs" creator Bill Lawrence, Hunt and Sudeikis launched the full adventures of the character in Apple TV+'s "Ted Lasso" in 2020, and it became a global phemenon. A cheerful, heartwarming show imbued with very real emotion and stacked with an insanely talented cast, "Ted Lasso" quickly became one of the biggest shows on any streamer, racking up award nominations and winning several. The series won the 2021 Emmy for Outstanding Comedy Series, and Sudeikis has won several awards on his own alongside Goldstein and Waddingham.
This episode of "Ted Lasso" might have felt random for some fans, but for Hunt and Sudeikis, it was deeply personal. The third season of "Ted Lasso" drops new episodes on Wednesdays on Apple TV+.