Ted Lasso Season 3 Episode 6 Drives Home Roy's Ulterior Motives For Training Jamie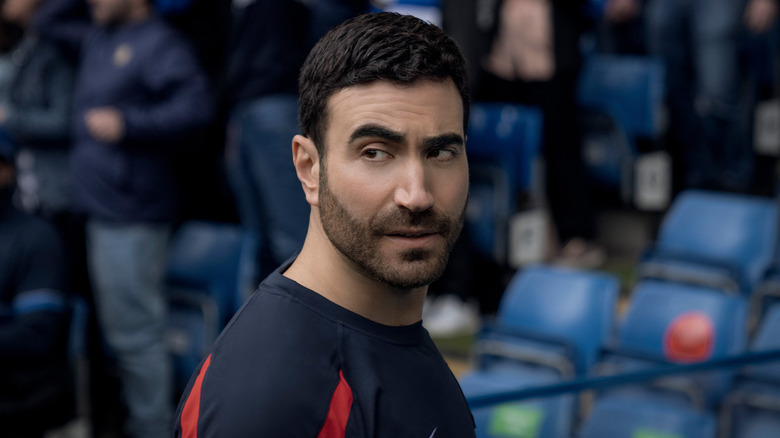 Apple TV+
Contains spoilers for "Ted Lasso" Season 3 Episode 6, "Sunflowers"
One of the strangest friendship developments "Ted Lasso" has nurtured over its three seasons is, without doubt, the relationship between Roy Kent (Brett Goldstein) and Jamie Tartt (Phil Dunster). The two were at each others' throats for much of Season 1, but it eventually transpired that Roy's biggest frustration with Jamie is that the young striker's arrogance reminds the aging star of his own younger days. After the pair's final on-pitch confrontation ends Roy's career, he transitions to a coaching role — and after Jamie adjusts his attitude, their relationship starts defrosting (although very, very gradually).
Come "Ted Lasso" Season 3, the pair's already at a stage where Roy is training Jamie to become better. However, Roy's also been going through a rough patch both professionally and personally, and the show has hinted at the possibility that his extremely intense training methods might in part be a way to deal with his own stress. In "Sunflowers," we finally receive a confirmation that this is Roy's ulterior motive for training the young star.
Roy is taking out his negative emotions on Jamie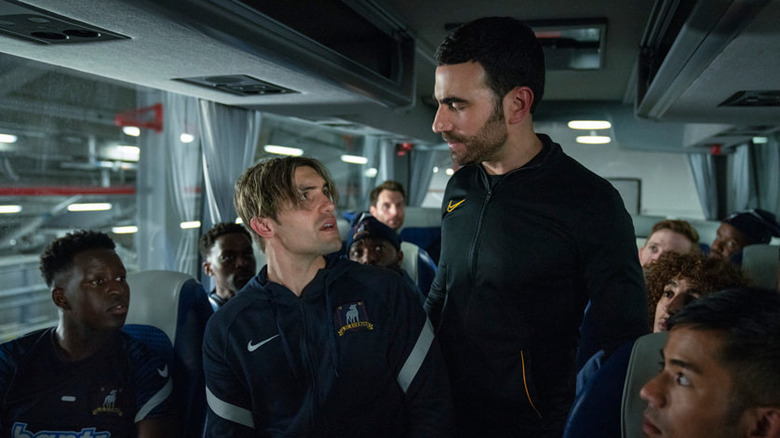 Apple TV+
Jamie's been quite eager to get along with Roy for a while now, and since he's more than willing to tap into the former world-class player's wealth of knowledge, he doesn't complain when Roy bluntly informs that the player isn't allowed to have the night out in Amsterdam with the rest of the squad. "Ted Lasso" Season 3 Episode 6 goes on to make clear that — in this particular instance, at the very least — Roy's using Jamie as a stress ball at least as much as he's training the kid for his own benefit.
Roy's got a lot on his plate, after all. He's in a huge mood because of the massive Ajax loss, the Zava (Maximilian Osinski) situation, and Rebecca's (Hannah Waddingham) casual revelation that Keeley (Juno Temple) is seeing someone. His immediate reaction to remove Jamie from Ted's (Jason Sudeikis) blanket permission to skip curfew for the night is an extremely strong hint that his harsh training methods — which he also participates in himself — are a way to channel his own frustration and displeasure. If that's not enough of a clue, Roy later admits as much as he shares his grandfather anecdote.
Fortunately, Jamie is a much more mature person than he was a couple of seasons ago and doesn't make a huge deal out of this. Instead, he deftly defuses the situation by reversing the trainer-trainee relationship and teaching Roy to ride a bicycle. Though the two may never be the best of friends, the conversation and experiences they share in this episode will no doubt improve their relationship greatly ... though don't expect Roy to take it any easier on Jamie going forward. He's still training the kid, after all.